Boating in England

Canalboat Escapes for Beginners
As our lives become more stressful holidays boating in England - or boating vacations as many visitors would call them - are becoming more and more popular.
The idea of exploring England's beautiful countryside from the deck of a narrowboat at a leisurely pace seems very appealing when your life is normally run by alarm clock, phone and diary.
In addition, there's a certain romance attached to a boating holiday. And you'll get to see a part of England's industrial heritage the way it was meant to be seen. It matters little that you don't get far on your travels. Despite the slow speed, you'll be amazed by the sites you'll see. I'm convinced that you'd miss most of them were you to take a similar route by car.
So have we been on our very own boating holiday yet? No, we haven't.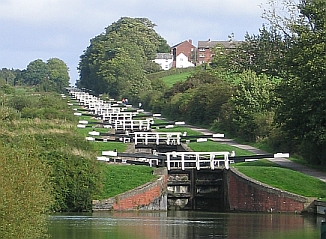 And it isn't for lack of choice or lack of encouragement from friends who've been there, tried that and went back for more.
For me, it's simply a case of nerves. Boating in England is not something I've done before. And even a small narrowboat is much larger than a car. How can I be sure that I can learn to drive it?
How long will it take to stop? What if we have to go through a lock? Where do you find a place to moor up overnight? And how do you navigate a tunnel?
If you've had similar qualms about boating in England, help is at hand. Meet Karen and Richard, who run their narrowboat hire business - Canalboat Escapes - on the border between Lancashire and Yorkshire. They have kindly offered to answer some of our newbie questions.
But first, I wanted to know a little about them and why they'd chosen to make their living on England's canals.
What made you start a narrowboat hire business?
We had our very first holiday on board a narrowboat and were truly bitten by the boating bug. We bought our own boat in 2002 and in 2007 decided that we wanted to expand our passion for canals. We now have two boats, Grace and Genevieve, both of which are available for hire.
How did you choose your boats and how/why did you kit them out the way you did?
We choose our boats based on their quality and suitability for hire. This includes having top quality hulls with ultra reliable engines.
Grace is our premium class boat with all the beds being fixed (i.e. guests do not have to make up the beds at night from the seating areas). Our extras are similar to a top quality B&B e.g. luxury cotton sheets and towels, bath robes, toiletries, tea/coffee and we enhance our bathroom and kitchen essentials.
Have you always lived in Yorkshire or did you move there specifically to start your business?
We are both from Yorkshire but the business is actually in Lancashire, very close to the border between the two counties.
Does this area lend itself particularly to a boating holiday?
More than people know ! The area is on the edge of the Yorkshire Dales, one of England's National Parks and also close to the Forest of Bowland, both areas of outstanding natural beauty.
The Leeds Liverpool Canal is also a relatively quiet and unexplored canal. There are just 35 hire boats in 127 miles of canal compared to over 200 on the 40 mile Llangollen. As a result boaters rarely have to queue at locks (whereas stories of 5 hour queues are not unusual on the Llangollen) and boats can share locks resulting in new contacts and a chance to share boating experiences.

Who are your customers? Experienced boaters or novices?
We have had a very balanced mix of visitors. We welcome all who want to try their hand at boating in England. And we have had guests from Scotland, London and South Africa but interestingly, the majority have been people who are living within a 50 mile radius.
Is it difficult to learn to steer a boat and do you give tuition?
Boats are very easy to steer. The golden rule is slow down and you will be fine. We pride ourselves on the tuition we offer. For new boaters we give comprehensive hands-on training. We will always spend whatever time is necessary with our guests until they feel comfortable with initial boat handling. If they have any additional issues, we are at the end of a telephone.
Do you still take a boat out yourselves?
We have had a short holiday this year, oddly enough with another hire company - a true busman's holiday! However, during the summer season there isn't usually enough time, but we do try and take the family away on a boating holiday every year. Our daughter has been boating since she was 3 months' old, and our son not many months after that. They are now 5 and 1 respectively.
What do you love most about boating in England?
Kingfishers. Tranquillity and true relaxation (that was before the children)!
What's your favourite stretch of canal and why?
Our favourite stretch on the Leeds Liverpool Canal is probably the contour based stretch from Barnoldswick to Bank Newton (Marton Pool). It is absolutely stunning.
We do have other favourites: the Trent Flashes near Middlewich are just wonderful.
Can you recommend a few good pubs in the area and why would you?
The Sair at Linthwaite on the Huddersfield Narrow is brill. and the Black Lion at Consall Forge on the Caldon is unique.
On the Leeds Liverpool there are a couple, the Cross Keys at East Marton is in a lovely spot and the Narrowboat in Skipton does a great range of real ale and Belgian Lagers.
What's the one item that newbies starting their first boat trip should not forget to bring?
Their patience and sense of humour genes.....we would have said a torch and waterproofs but we do provide them on board.
Any funny boating stories?
Blimey I'm stuck here. Lots of examples of grounding, and strong bywashes - oh and Richard falling in on our first holiday.
Many thanks to Karen and Richard from Canalboat Escapes for taking the time to educate us a bit!
Well, the way they make it sound it does not appear remotely frightening, rather the opposite. If you would like to try a narrowboat holiday for yourself, check out Canalboat Escapes' website where you can find out all about Grace and Genevieve.
Make sure you read Karen and Richard's tour suggestions, because they sound just fascinating, especially the tunnel! And with a handy tour planner and their experience, you'll be guaranteed a great holiday boating in England.
|
More about boating in England can be found on the following pages: