A Barge Cruise on the Thames

A Luxurious Introduction to Boating in England
Welcome to river barge cruising, English style. In this report, Kathy Newbern and J.S. Fletcher, American travel writers, photographers and romance novelists, share their memories and impressions of exploring a beautiful part of England just outside London aboard the luxurious barge Magna Carta
After high tea at London's Stafford Hotel, Capt. Dominic Read whisks his passengers off by van to the English countryside to board his pride and joy, the Magna Carta.
Chances are you haven't been on a cruise like this: so close to land on both sides, you can talk to passers-by; dinner seating that totals eight; and a maximum cruising speed of 5 mph.
Magna Carta is a luxury barge whose hull dates to 1936. She once plied the waters of Holland carrying sand and gravel.
Today she caters to only four couples at a time - or charter groups - in accommodations equal to a floating, five-star hotel.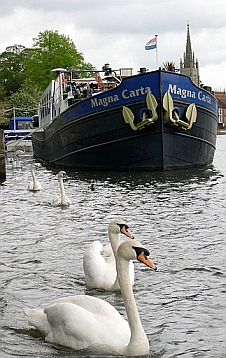 The destination - the River Thames - is just as impressive.
"It's been called 2,000 years of floating history," says Capt. Read, who actually designed and helped build Magna Carta from the hull up before she went into service in 2002. Like a proud papa, he'll happily share the construction photos if asked.
The result is elegant and spacious. Cabins and in-suite bathrooms, both with climate-controlled floors, are exceptionally roomy.
Cabins feature free-standing dressers and armoires plus king beds with white, down comforters and linens accented by nautical blue curtains and throw pillows exuding that private yacht feel.
We fit right into that motif spending of our first cruise day going through Hurley sipping champagne in the on-board hot tub.
Beside it, two steamer chairs are perfect spots for oh-so-English afternoon tea service or coffee and morning papers (which Read retrieves daily). Bicycles for guests are also stowed here.
The main salon, appointed with four, nautical-blue, leather settees, is well equipped with CDs and DVDs (each bedroom suite's TV plays both) plus games and books including a great regional selection.
The well-stocked bar with complimentary drinks is always open; help yourself or allow the staff to serve you.
Oversized windows are perfect for watching the passing scene, which might include picnickers, bikers, runners, walkers and soccer players sharing the shoreline and fields.
The salon's large dining table is situated next to the galley, where cooking demonstrations can be arranged. Wonderful aromas, such as bread baking, fill the air all day.
For lunch and dinner, hand-picked, complimentary white and red wines are presented by two young ladies who serve as crew hands by day and waiting staff by night.
The dining table - which seated 10 comfortably for our farewell gala - gleams with china, crystal, silverware, and candlelight at every meal. Background music and fresh flowers complete the mood.
Dinners feature a starter, entree, dessert and cheese course. You might coax Capt. Read to join you for the latter (he's a huge cheddar fan) to recount his outings on England's longest river (225 miles).
Read welcomes guests in the wheelhouse any time (it's candle lit at night) and even invites them to take the wheel. "I sailed as a child," recalls the slim, captain, looking every bit the sailor from his post at the huge ship's wheel.
In order to manoeuvre through this trip's 16 locks, Capt. Read occasionally hops on a short step stool at the wheel's base to poke his head through an opening in the roof.
Earlier, we watched in amazement as he and the staff disassembled the wheelhouse canopy in order to squeeze the barge under a bridge.
Read has worked around boats the past 14 years after discovering he wasn't cut out for civil engineering studies.
His smile brightens as he describes a book close to his heart, Jerome K Jerome's "Three Men in a Boat," written in 1898. What he found in those pages on Thames River life closely mirrored his own experiences.
Then he went after his dream.
"When I was skippering for other people, in '96 and '97, I decided that designing a barge was what I wanted to do really." Read got his chance in 2000, when a partner invested with him. "I was very relieved it all actually worked," he says. "You don't know how seriously I mean that. I was really quite pleased that the shower drained."
On the Thames, the 116-foot Magna Carta - from the Latin for "great charter" - turns heads. Curious onlookers pose questions at all of our six stops.
"I think people coming on this cruise are surprised by the fact that it is so rural once you get outside of London," says Capt. Read.
"You really get involved, don't you, with the locks, the people passing by? You wave and talk to them. On this trip, you're probably going to see all the things you think of when you think of England - old pubs, castles, cathedrals, thatched cottages, all of it."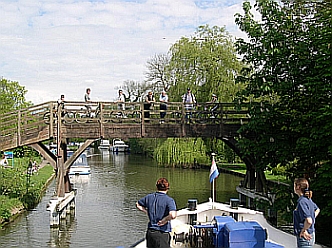 Our cruise began at Henley, famous for the Royal Regatta; then called at Hurley, crossed under Marlow's often-photographed suspension bridge and continued past Oakley Court Hotel where "The Rocky Horror Picture Show" was filmed.
We moored at Windsor Marina for our tour to Windsor Castle with Read, overnighted by Runnymeade (spa available) after passing by Magna Carta Island, where King John signed the 1215 document.
The tour concluded outside the gates of Hampton Court Palace, where, King Henry VIII lived, Shakespeare produced plays and Cardinal Wolsey schemed.
We spent our last hours wandering through grounds that include breathtaking gardens and a world-famous maze that's covered hilariously in "Three Men in a Boat."
If You're Going
To book a cruise or enquire contact TempleRead Cruises, who operate the Magna Carta.
A six-night Thames cruise starts at $3,200 per passenger sharing a cabin and covers everything (transfers, meals, wine, cocktails, admission to all sites).For 2009 prices start at $3,800 per passenger.
Customized charters are available.
Theme cruises can be arranged: for instance, golf, tennis, antiques, London theatre, haunted England, gardens and art and architecture.
---
The authors, Kathy M. Newbern and J.S. Fletcher, are travel writers, photographers and the romance novelists Fletcher Newbern.
This barge trip inspired them to write a personalized romance novel. Through their website, you, too, can experience the River Thames and the Magna Carta cruise by starring in their book Holiday on Thames with 26 details you provide online about you and your special someone. You have choice of paperback or hardback and can even add your photo to the book's cover.
---
|