Books about Prehistoric England
England's ancient past is full of mystery. When I went to school, little was known about prehistoric peoples. The builders of Stonehenge were as much a mystery as the monument they created so long ago. Why is that? Mainly because they did not write down their thoughts - which is something the ancient Egyptians did at length.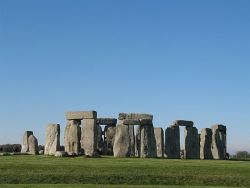 So all that's left to us are their monuments, hill forts and graves to find out what lives they lived, what they believed in and how they died.
Fortunately, archaeology has come a long way since I went to school. A great number of prehistoric monuments have been studied and documented in detail.
And even though the meaning of Stonehenge may still elude us, there are several interesting or amusing titles in the shops that try their hand at an interpretation.
For my online bookshop I have selected books, DVDs, photos and small gifts about prehistoric England that I either own myself, or that are on my wish list. Check out What am I reading? for reviews and comments. And if you would like to add a comment or review of your own, you can do so on this form.
Choose your region to visit the Prehistoric England Bookshop
What am I reading?
My favourite books about prehistoric England
There are numerous books that cover the story of prehistoric England. Whether they're glossy coffe-table issues with glorious photography, write-ups of the latest research, a new interpretation or unashamedly fiction, many of those books about prehistoric England make fascinating reading. So here's are a few that grace my bookshelves. And if you have one that's dear to your heart, then please share it with us.
Bernard Cornwell's Stonehenge
When the Evening Standard called this book "A really excellent historical novel", they could not have been more correct. Bernard Cornwell is probably better known for his Sharpe novels set in the Napoleonic era, but that does not mean that he cannot turn his hand to prehistory when he chooses.

And fortunately for us, he does choose, bringing the physical struggle to move the huge stones as vividly to life as the mental and political struggles needed to conceive of such an enormous project and execute it successfully.
---
Prehistoric Cookery
I discovered this book while selecting books for the shop and it really got my imagination going! I had no idea that we were able to reconstruct the diet of prehistoric Britons in such detail.

And while I'm quite aware that such staples as potatoes, yeast and even wheat may not have been available, I could not imagine England without rabbits or onions!