Crumpets vs. English Muffins
by L
(United States)
So what IS the difference between crumpets and English muffins? Is there a difference at all? And when are they traditionally eaten?

In England, crumpets and English muffins are eaten for breakfast, brunch and as a treat at teatime. Both can take sweet or savoury fillings. Both are made from flour, milk and yeast.

But the end results are quite different.


Crumpets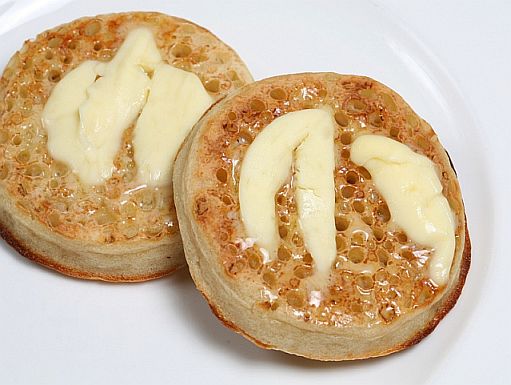 For
crumpets
, flour, yeast, salt and milk are mixed as if you're making pancakes.
After resting the batter for a while to activate the yeast, the crumpets are cooked in a frying pan or griddle pan - again, similar to pancakes.
Crumpet or English Muffin Rings
are used to hold the batter while the crumpets cook.
This helps keep the shape, and also make nice thick crumpets. While they cook, the yeast in the batter bursts, opening channels or holes in the top - and so giving the crumpets their typical appearance.
Check out this
recipe for crumpets
and ideas on what to do with them.
English Muffins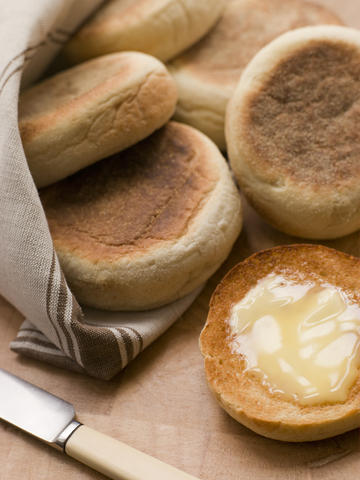 English Muffins
, on the other hand, are more like flat bread rolls.
The ingredients are mixed into a dough and left to rise. The dough is then rolled out into flat round muffins, but rather than bake them in the oven, muffins are also cooked in a ring, in a frying pan or griddle.
To serve, they are split round the middle and buttered, or halved and toasted and served with scrambled or poached eggs on top.
Check out this
recipe for English muffins
.
Hope you find them tasty and have fun making them.