England Recipes
by Catlina Rotia
(Perm, Russia)
What are the most loved recipes in England?


Answer: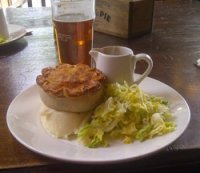 That's a really difficult question! There are so many traditional recipes in England, that's it's very hard to choose. Each family has their own favourites, and there are many traditional foods - like potted shrimps, Devon scones, Kentish cherry pie or Lincolnshire Plum Bread - that are firmly rooted in certain parts of the country.
Exploring England's traditional recipes is a wonderful journey and here are a few of our favourite English recipes to get you started.
An English Breakfast
Nothing sets you up for the day like a proper 'fry-up'. For many of us it's a treat now, rather than the norm, but it's a nice treat.
See what's part of a real English breakfast here.
Fish and Chips
Fresh, succulent cod or haddock in rustling batter, thick-cut chips with salt and vinegar and mushy peas on the side... Fish & Chips is a true classic, and one that tastes best eaten right beside the sea. We love it so much, that it was one of the few foods not rationed during the war.
Roast Beef and Yorkshire Pudding
Another classic English dish, and still a firm favourite for Sunday lunch. Most of us like our beef a little rare and with a nice crust on the outside.
Yorkshire puddings
come in sizes. Smaller ones are served as part of the Sunday lunch, while the large ones make a fine supper for one filled with leftover beef and gravy.
Puddings
As a nation, I think the English have a sweet tooth. So it's not surprising that some of England's most famous traditional recipes are for puddings and cakes. Steamed puddings like
Spotted Dick
are beloved by children, while the grown-ups love Scones and Cream for tea.
I've been collecting traditional English recipes for a long time now, and you can find many of them in the
recipes sections
of the site. Why not take a look around?
I'm not the only one who loves to explore our favourite traditional English recipes. Many cooks and food aficionados have come before me and I love their work...


Seven Centuries
of English Cooking
A Collection of Recipes




Jamie Oliver's Great Britain
130 of My Favorite British Recipes




England's Heritage
Food and Cooking