Greenway: On the Trail of Agatha Christie
by Hannah Dennison
(California, USA)
My parents were avid readers. Every other Saturday we'd all troop to the library to select our next read. Naturally, Agatha Christie was often among the stack of books we brought home to devour.

Greenway was Agatha Christie's summer home in England and is just five miles from where my mother now lives in Totnes, Devon. Mum has worked as a volunteer for the National Trust for 30 years and this summer, she added Greenway to her ever-growing list of activities that keep her busy. Not bad for someone who has just celebrated her 80th birthday.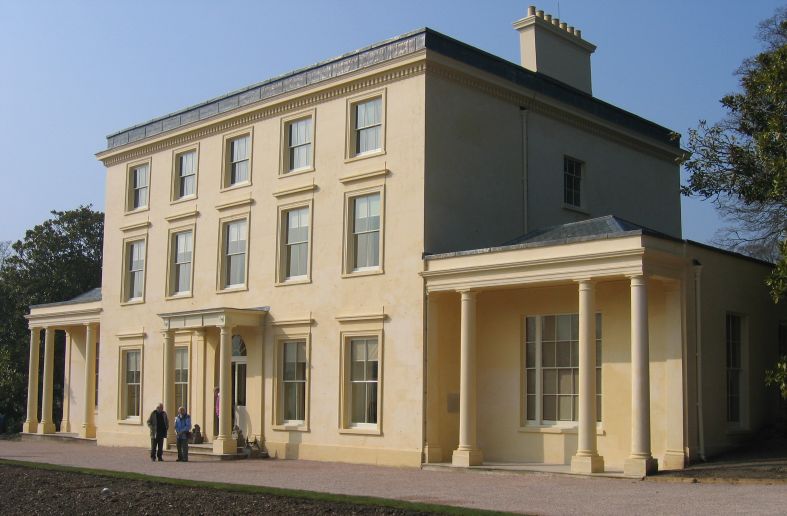 We'd known for ages that Greenway had been undergoing a massive restoration process — to the tune of $7.8 million. The house and glorious woodland garden with its romantic pathways were given to the National Trust in 2000 by Agatha Christie's daughter, Rosalind and her second husband, Anthony Hicks, and Rosalind's son, Mathew Prichard. When Rosalind and Anthony passed away in 2004 and 2005 respectively, Mathew took the generous next step of gifting virtually the entire contents to the National Trust.
Mathew Prichard said his parents were fiercely protective of the Greenway legacy. His greatest wish was for people who visit Greenway to feel some of the magic and sense of place that he felt as a child in the 1950's and 1960's. Hence the house has been recreated in the style of those years that Mathew remembers as his happiest — during his grandmother's heyday.
The current house was actually built in 1790 by an American from Boston called Roope Harris Roope. Over the years, Greenway was rebuilt, altered and extended by various owners who included local MP's, merchants and bankers until Agatha Christie—known locally as plain Mrs. Mallowan— or just, "Mrs. M"— bought the house for £6,000 in 1938 with her second husband, Max, the famed archeologist.
They too, undertook massive renovations—although Christie was to remark later that she wished she'd had the foresight to add a small kitchen next to the dining room. It had never occurred to her there would come a day when there was no domestic help!
Shortly afterwards World War II came. As part of the preparations for D-Day, the Admiralty eventually requisitioned Greenway for the use of the United States Navy. Greenway became the Officers Mess for the 10th US Coast Guard Flotilla based in the Dart Estuary. Among them was Lt. Marshall Lee, who was to become their unofficial Greenway war artist. He created a vividly poignant frieze around the walls of the library that can still be enjoyed today.
The National Trust has kept their promise to Mathew Prichard. Greenway remains in a 1950's English time warp—right down to the thick Bronco medicated toilet paper in the Victorian lavatory.
Greenway is not a museum with "do not touch" signs and roped-off rooms that provide mere glimpses of the treasures beyond. It feels more like an open private home where the owners have just popped out and will be back shortly.
Anthony Hicks' hat collection is stacked on an oak gate-leg table, family photographs are scattered throughout and an antique drinks tray is set up ready for an evening cocktail. Visitors are invited to play the grand piano in the drawing room and use the tennis court. The dining room can also be hired for private dinner parties.
Some of the chairs can be sat on, making it more comfortable to leaf through wonderful scrapbooks filled with anecdotes. I particularly enjoyed the "Confessionals," listing each family member's favorite flowers, pet peeves, cherished values and fears.
In fact, Greenway is such a warm and welcome place to visit my mother related a story that caused much merriment among the volunteers. One afternoon, a four-year old girl was discovered, snuggled under the duvet, fast asleep in Agatha Christies' bed. She'd even taken off her shoes.
The Victorians were great collectors and Agatha Christie — born in 1890 — was no exception. The mind-boggling collections of antique furniture, house wares and accoutrements at Greenway span five generations. They include Tartanware, Meissen, Maunchlinware, papier maché, enameled boxes, Bargeware, Verge watches, Stevengraphs (my favorite) Treen and Tunbridgeware. Many items were collected from trips Agatha Christie and Max made to the Orient. I nearly fainted when a priceless Camel from the Tang dynasty just sits happily on the sideboard instead of being under reinforced glass.
The highlight of my visit was reading facsimiles of Agatha Christie's notebooks. It is of great comfort to know that even the Queen of Crime with more than 80 books under her belt, said, "To begin with I had no joy in writing, no élan. I had worked out the plot – a conventional plot – I knew, as one might say, where I was going but I could not see the scene in my mind's eye and the people would not come alive. I was driven desperately on by the desire, indeed the necessity to write another book and make some money."
---
Comment by Sue:
I was particularly pleased to find that Agatha's notebooks have been prepared for publication. Now all Christie fans can enjoy them...
Agatha Christie's Secret Notebooks
is a fascinating exploration of the contents of Agatha Christie's 73 recently discovered notebooks, including illustrations, deleted extracts, and even two unpublished Poirot stories.
Agatha Christie's Secret Notebooks
are also available overseas.
---
Another Agatha Christie gem is a tape recording of an interview she had with a BBC radio program in 1955. When asked to describe her writing method, she said, "… the real work is done in thinking out the development of your story and worrying about it until it comes right. That may take quite a while. Then, when you've got all your material together, all that remains is to find time to write the thing!"
Unfortunately, if anyone is expecting to see her writing room, they will be disappointed. Robyn Brown, Greenway's Property Manager, who has overseen the entire rebirth of Greenway, said that Agatha Christie wrote when traveling with Max on digs throughout the Middle East. Greenway was a family summer retreat and the place where she celebrated finishing a book. After dinner, she would read chapters of her completed manuscript—the annually anticipated Christie for Christmas—to assembled family and visitors, convinced everyone would know the identity of the killer. Only Max ever seemed to guess correctly despite seeming asleep throughout the reading.
Greenway was clearly the inspiration for many of her plots. Dead Man's Folly (1956) was set at the late Georgian, early Victorian Boat House—complete with plunge pool—overlooking the River Dart and the Scold's Stone, supposedly where disobedient wives were trussed up to drown in medieval times.
As my mother and I finished our champagne and ate the last of her birthday cake, a certain chill came over me. The dark waters of the plunge pool suddenly seemed to glimmer ominously. Was something lurking beneath the muddy waters or were our eyes tricked by the dappled sunlight that poured in through the half-opened door?
Now there's an idea for a story …

Hannah Dennison is the author of the Vicky Hill murder mysteries chronicling the adventures of a British obituary writer in the wilds of the Devonshire countryside. You can visit her website at www.hannahdennison.com.