Holiday Cottages in Kent
The Oast House
Smarden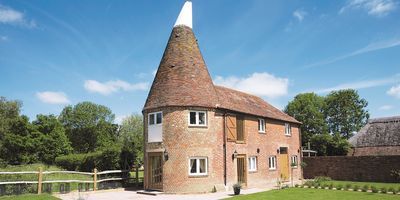 Kent is famous throught England for growing hops and oast houses were the places the hops were taken to be dried and processed.
This holiday cottage is a beautifully renovated, detached oast house. The top quality modern finish and furnishings - wooden floors, underfloor heating & the living room and double bedroom in the roundel of the Oast House - make a delightful contrast to the outside of the house and the village it stands in.
Smarden, in the Kentish Weald, is a wool village dating back to the 14th century. The half-timbered houses and white weatherboard houses in the village hint at Smarden's long history and provide a delightful backdrop for a holiday.
| | |
| --- | --- |
| | |
| Sitting Room | Cosy Bedroom |
Facilities
Holiday cottages in Kent come very well equipped and the Oast House scores very highly on this point. Bed linen and towels are included in the rental, as are electricity and gas central heating. The initial fuel for the woodburner is also provided, and additional fuel is available locally.
The Oast House has ample parking and an enclosed garden with furnitur and a BBQ.
Inside, the owners provide TV & DVD, radio/cassette/CD, microwave, dishwasher, washer/dryer anda freezer. A travel cot and highchir are also available.
The Oast House is a non-smoking property.
History on your Doorstep
Kent is not just England's garden, it's a treasure trove of history, too. From prehistoric times onwards, Kent has often been the entry port to England. So monuments here go way back. Here are a few attractions that should make it onto your must-see list when you're staying in one of the many wonderful holiday cottages in Kent.
Canterbury
Not just England's spiritual home, but a beautiful city in its own right with two Norman castles (I challenge you to find them!), wonderful little alleyways and streets to explore, great shopping, even better food and - of course - Canterbury Cathedral with all its marvels.
Dover Castle
This makes a LOOOONG day out, but is totally worth it. At Dover, you can really see history as a cake of many layers. From a prehistoric fort to WWII underground tunnels, Dover has it all. And now, it also has an amazing exhibition showing how the Great Tower would have looked during the times of one of England's most tempestuous kings: Henry II.
Sissinghurst
One of England's most famous and most popular gardens, Sissinghurst was a true labour of love for Vita Sackville-West and her husband Sir Harold Nicolson. Situated within the ruins of an Elizabethan house, it's now looked after by the National Trust. And with a charm and magic all of its own, it should be high on your list of places to visit if you're staying in one of the many holiday cottages in Kent close by.
Days Out and Things to Do
Holiday cottages in Kent make a great base for exploring and the Oast House is ideally situated. There's just so much to do in this part of Kent.
Sissinghurst, Scotney Castle, Leeds Castle, Ightam Moate and Hever Castle make wonderful days out. There are vineyards and ciderworks at Biddenden and if you love steam trains, then there's the Kent and Sussex Steam Railway to make your day.
On top of that, there's walking and cycling ... or just sitting quietly in a picture perfect pub and watch the world go by.
|