Essentially England Interviews


Howard Goodall

I first came across Howard Goodall listening to We Are The Burning Fire, and have always associated him with choral music.

More recently his album Enchanted Voices
captivated audiences on Classic FM.
So it came as a surprise when I had it pointed out to me that Howard Goodall is just as well known for his TV work, which includes music for Blackadder, Mr Bean, Red Dwarf and The Vicar of Dibley!
But that's nowhere near the extent of Howard Goodall's work. As I mentioned on this page, he's just finished a composing a suite of music to accompany Alan Titchmarsh's new four-part BBC programme The Seasons.
And during his work promoting the album, I got the chance to pose a few questions. Not something that happens too often. But I thought I'd share his answers with you. Enjoy!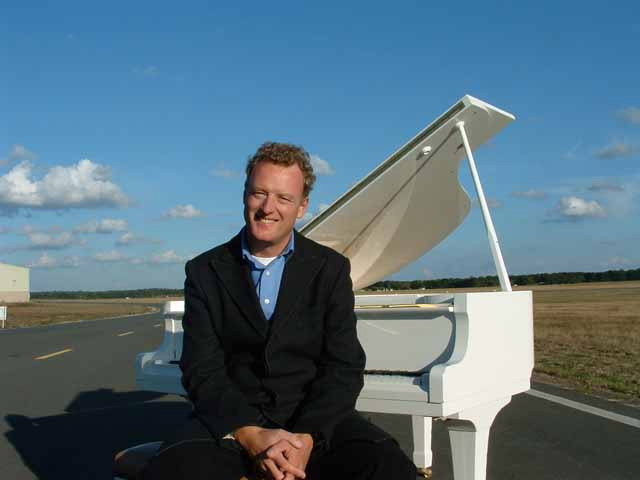 Question: How does writing film / TV scores differ from writing the choral music that many people associate with your name?
I approach every job the same way: what is the story? Who are the characters and what are they trying to say? What are they feeling and what is the setting? These questions can apply equally to a choral work as to a film score or a TV theme: it all boils down to one thing - what is the meaning of the music I'm hoping to compose? Once I have answered these questions for myself the music flows into my head, whatever the assignment, and my job is to write it down and/or record it.
Question: When do you as a composer get involved with a film or TV production? Do you write the music during the filming or do you get to see the complete programme and then write the score for it?
I am unusual in that, unlike most composers (if not all), I have a parallel career as a programme-maker, so my interest in the project is often on several levels.
I will normally discuss the nature of the commission at quite an early stage, before filming, but then wait several months until the film is more or less cut into shape. Then I take a copy of it to my studio and based on discussions with my colleagues, begin the process of adding music to the pictures on my own. After a few days I will be expected to share what I've been doing with producer. director or writer (or sometimes all three) and take suggestions for changes and revisions until everyone is happy. TV and film are highly collaborative so the process of revision and re-working is crucial to the end-product.
For a film these days, composers might expect to have 3-4 weeks to write, orchestrate and record a score: this is a very short amount of time for what could be an hour's worth of music, so an ability to work fast, work easily with colleagues and assess what's required quickly and without fuss is essential!
Question: To many people, music is a very private, individualistic experience. Do you find it difficult to write pieces 'to order' or is this just part of a composer's work day?
I haven't composed without a commission of some kind since I was a teenager so I can't really say what it would be like to write without the needs, aspirations and expectations of other people, especially if they are paying my bills. I actually like working to a deadline, believe it or not, and I am not at all phased by the idea of collaboration. I doubt Bach or Mozart ever wrote anything that wasn't commissioned by someone in some sense and I identify strongly with the 'jobbing composer' aspect of those masters. I suspect composing for the hell of it or for a notion of distant posterity, without a performance or performers or function in mind, would be quite dispiriting.
Question: What appealed most to you about writing the score for The Seasons?
Two things: the opportunity to write about the seasons as they progressed through the year - to compose a portrait of an English winter during an English winter, for example, something I think no composer has done before, movement by movement.
Secondly, to compose for the beautiful photography of this Alan Titchmarsh series, which reminds us that the British Isles can look just as stunning as other more exotic parts of world if only we stop to look properly at what is apparently so familiar to us.
Question: Are there any special places in England that inspire you to write music?
I travel widely round the country in my job as composer, TV broadcaster and National Ambassador for Singing and I am unembarrassed to say I am very patriotic: Britain is not only beautiful, it is full of mind-boggling diversity - you can travel for just 10 miles in any one county and see different architecture, different landscapes, different colours, different customs, different communities and customs. I live in West London and love its cultural vigour and richness - what musician wouldn't want to live in the world's musical capital? Having said that, we also have a home in rural France where I do quite a lot of composing.
Question: What do you like best about your job? If you weren't a composer, what would you be?
That's easy, I'd be a teacher like my parents, though many have pointed out that through my documentaries on TV about music I may have fulfilled that urge in me to teach anyway!
The best thing about my job is that no two days are the same. I am never bored and I love what I do: not many people are lucky enough to be able to say that and I am acutely aware of what a great privilege and good fortune this is for me. There is music playing in my head every waking moment of my life - what a blessing!
---
I would like to thank Howard Goodall for taking the time to answer my questions!
I can sympathise with anyone who's inspired by England and her landscapes everchanging moods. Howard Goodall's music certainly reflects that. And - for me at least - his choral music takes me right into English history, a place where I'm totally happy.
If you'd like to explore Howard Goodall's music and find out more about him, then try his official website, which is full of interesting information.
And if reading this interview has whetted your musical appetite, then why not check out Howard Goodall's work
and listen to a few samples at amazon or amazon.com