Howard Goodall

A Composer for all The Seasons
A question: What do Blackadder, Classic FM and Alan Titchmarsh have in common?
Classic FM's composer in residence and Classical Brit Composer of the Year Howard Goodall, of course.
He doesn't just write beautiful choral music. He's also the man responsible for a number of our best-known TV themes, amongst them Blackadder, Mr. Bean, Red Dwarf, Q.I., The Catherine Tate Show and The Vicar of Dibley.
Most recently, however, he's been engaged on a rather different project, writing the score for Alan Titchmarsh's new TV series The Seasons.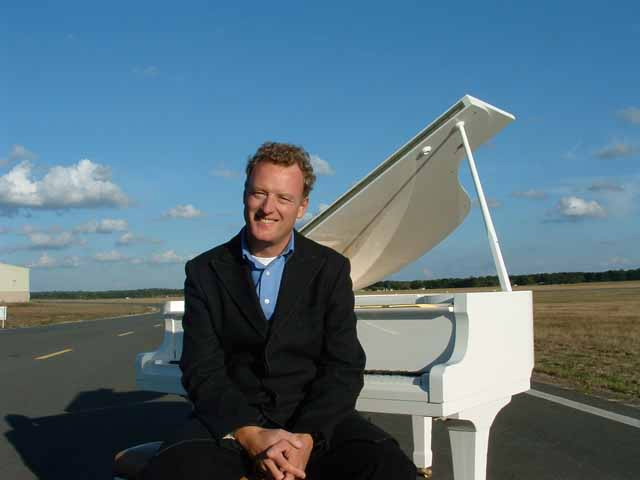 This, by all accounts was a very different K of F from his usual way of working.
"Several composers over the centuries have responded musically to the idea of the changing seasons, most notably Vivaldi, Haydn, Spohr, Verdi, Glazunov and Tchaikovsky," the composer told one interviewer, "but I believe I am the first composer to create my Seasons suite over the period of a year in the respective seasons themselves. I would like to take credit for this approach, but in all honesty the season-by-season time scale was dictated by the filming schedule of the ITV series The Seasons with Alan Titchmarsh, for which the suite provides a soundtrack."
If you've seen The Seasons with Alan Titchmarsh, you will agree that the imagery, as well as the music, were simply stunning. Just as some of the facts Mr Titchmarsh related were rather surprising. But he's good at that. And if you've missed it, you can get your hands on the DVD here.
Howard Goodall's The Seasons
So what about the music that took a year to compose?
Personally, I like it very much.
It has the feeling of time passing. And not just pleasant time.
It's by turns sad and uplifting, cheerful and contemplative.
English music to relax by. Equally good for looking through holiday photos with a glass of something nice to hand!
I'm a great fan of Howard Goodall's choral music. I'll play a lot of that when I'm working.
And I think that The Seasons will get just as much airtime. It has the same vibe I get from the choral music ... and that's a compliment!
The Seasons
album is available from amazon and all good music stores.
A special treat...
I don't often get the chance to ask questions of a famous composer, so I see it as a real bonus when that happens. While promoting his new album, Howard Goodall was kind enough to answer a handful of questions for Essentially England.
Read Howard Goodall's answers here...