Useful, Collectible and Oh So Beautiful


Mouseman Furniture

If you love beautiful, handmade wooden furniture that's also highly collectible, you should investigate Robert Thompson's Mouseman furniture.

Each item, from a small ash-tray or cheeseboard to a large dining table or sideboard is hand-made from air-dried, fumed, seasoned English Oak in Yorkshire by one of the master craftsmen of Robert Thompson's Craftsmen Ltd.

And each item carries the beautifully carved trademark mouse.

Robert Thompson of Kilburn, North Yorkshire - the man who gave the company its name - was born the son of a village joiner, wheelwright and carpenter, John Thompson.

He became a craftsman like his father but chose not to go to the city and join the route of mass production. Instead he remained at home and carved his beautiful furniture from naturally seasoned English Oak.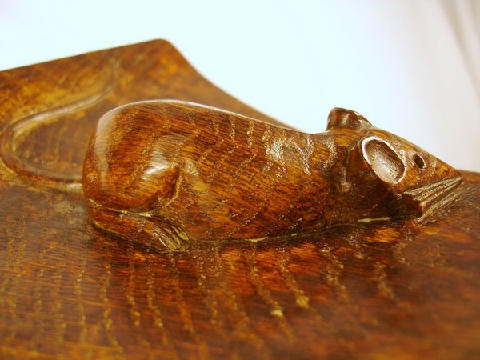 The Mouseman Trademark
© Robert Thompson's Craftsmen Ltd.
One day an offhand remark about being as poor as a church mouse, lead him to carve a mouse on the finished cornice he was working on.
And in that moment, a famous trademark was born - even though it wasn't registered until the 1930's.
Even though Robert Thompson adopted the mouse as his trademark, not all the furniture created in the early years had it.
The patina of the furniture, the colour and degree of adzing, the use of a specific tool to shape the timber, also aid in identifying the pieces that weren't marked with the mouse.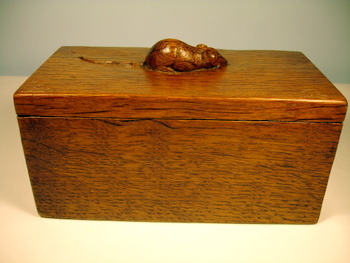 His mouse has changed also.
Thomson removed the front legs from the mouse design in 1930 because they tended to break off easily.
The facts the mouse has no front legs but clearly recognisable whiskers are important things to look for when you find a piece identified as Mouseman furniture for unfortunately, there are imposters. (If you're worried about fakes, check out the Vintage Mouseman Furniture Site, where a "Rogue's gallery" of known replicas and fakes is maintained.)
Each piece of Mouseman Furniture is truly unique. It's not made by committee. Each craftsman starts a piece of furniture and remains responsible for it from selecting the wood to carving the signature mouse. In fact, just by looking at the pieces, most avid collectors of Robert Thompson's furniture can tell which craftsman made the piece.
To find out more about Robert Thompson and the Mouse, and his wonderful range of handmade English oak furniture try reading Mouseman: The Legacy of Robert Thompson of Kilburn

This book is also available from amazon.com
Great detail goes into the furniture from start to finish. Only air-dried English Oak is used to make each piece and to air-dry an inch-thick piece of wood takes two years. Therefore, when you look at a two inch thick tabletop, you'll know that the project took at least four years before the wood was ready for use.
The famous honeycomb effect on the top of many tables and stools is achieved with a carpenter's adze. And each of the joints is mortise and tenon and dowelled to add strength. Unlike other furniture makers, even the dowels are created by the individual craftsman on the project.
Another thing that's nice about Robert Thompson's Craftsmen Ltd is that you can visit and watch the craftsmen at work. The workshop in Kilburn, Yorkshire has a viewing gallery open Monday through Thursday from 8:00 a.m. to 5:00 p.m. and on Friday from 8:00 a.m. to 3:00 p.m. all the time except Bank Holidays, Easter week and two weeks at Christmas.
Go and visit. You might find a mouse that's irresistible and end up with a wonderful family heirloom.
And if you can't make it to Yorkshire, but you would still like the odd mouse in your kitchen or on your dining table, then it pays to make friends with your local antique dealer ... or keep an eye on ebay.
Some very beautiful pieces turn up for sale from time to time. So check out the listings below every now and then, and bag yourself a famous mouse ...