Pictures of England


Cornish Reflections

November might not be the time that most people would consider a holiday in Cornwall.

With long beaches and good surf, Cornwall's busiest during the summer months.

But there's plenty going on in winter, too ... only the crowds are thinner and the pace may be a little slower.

We've spent a couple of November breaks in Cornwall and during one of these, we drove back from Padstow to Bude, stopping at various places along the coast to gaze and take photos.
I've always had a thing for reflections and the way they may show you things that aren't really there, or that you might miss at other times.
So when I looked over the photos Steve took that afternoon, I was really pleased with this one (even though I cannot precisely remember where we took it. Anybody out there who sees this view every day and can remind me?)
The sea and the weather were not really as calm as the image implies. But it reminds me of the clean, cold air as the afternoon drew to a close. And it has a certain peace.
The photo we took a little later is very different. Standing on an empty beach with only seagulls for company, you can feel the surf as well as hear it. And the sun going down behind the rocks is just glorious!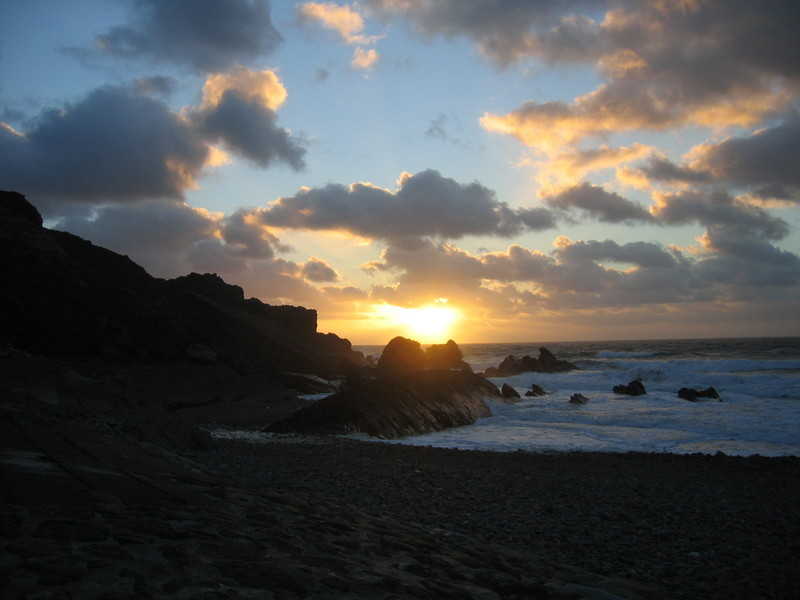 Cornwall always feels ancient, but when you wander round the small harbours and villages in late autumn and winter, this feeling increases ... to a level where you believe the legends of Merlin and King Arthur, of Druid magic, of sunken kingdoms far out to sea and spirits that restlessly roam the countryside.
And that's what these pictures of England remind me of: Cornwall at its most mysterious.