Products Made in England
As countries grow, they rely on their ability and ingenuity to make and produce things to fuel trade. And England was no different.
In earliest times England was famed for its tin and copper ore.
Later, English wool was so much sought after that scores of towns and villages grew rich on its trade. How rich you can see when you visit their churches or read the story of the late medieval boom town of Lavenham.
Later still we were exporting cloth, and china and steel.
The excellence of English tailoring has been a byword since the time of the Regency.
And when cars came along ....
I'm a history buff and finding out what has survived since times gone by - or been resurrected by producers with a passion - is a favourite pastime of mine.
So below is my growing list of products that are still (or again) made in England. Choose from:
And if you know of a great English-made product or a producer who really deserves to be known more widely ... then please don't keep them to yourselves. Share them with us instead!

Homeware
English furniture makers have always had a reputation for excellence. When you're next in Warwick Castle, take a look at the amazing sideboard in the Great Hall. It's been carved from a single tree!

England's reputation for outstanding needlework goes back even further. The Bayeux Tapestry, a very detailed depiction of the Norman Conquest, is said to have been worked in Canterbury. Carpets were a later invention, and Wilton and Axminster are justly famous for those.

Then there are the potteries of Staffordshire and Worcestershire, turning out fine dinnerware and decorative items fit for the Royal court, while Sheffield is famous for its cutlery.

A certain vacuum cleaner would have fitted onto this page a few years ago, but they're a case in point and have proudly moved their production abroad.

So at the moment we have the following in our list:
Royal Worcester
Sheffield cutlery
Axminster carpets
Royal Doulton Porcelain

Return to top of Products Made in England
---
Cloth and Clothes
In the Middle Ages, England was famous for its wool, which was shipped to Flanders to be turned into cloth.
More recently, with the introduction of cotton into England, cotton mills overran parts of the country, driving the Industrial revolution. Then they closed down again as manufacture moved to "cheaper" countries.
Now England has artisan weavers and small woollen mills who produce anything from blankets to jumpers. In due course, I'll let you know where to find them.
Return to top
of Products Made in England
---
Ships
The English, living on an island, have always built ships, and for many years shipbuilding was a major industry, especially in the north of England, on the Tyne.
I cannot even pretend to understand what it was like to work in a shipyard - the closest I've come was probably an oil rig.
But a couple of years ago, the BBC produced the most marvellous series of Radio Ballads, stories and memories with music, and The Ballad of the Big Ships is one of the best 'history lessons' I've ever heard.
Try this if you can find a copy. It's definitely worth listening to.
These days, of course, few ships are made in England - but if you've listened to the radio ballad, you'll know that it's hard to keep a good thing down. Shipbuilding in England is not dead!
Return to top
of Products Made in England
---
Cars and Motorbikes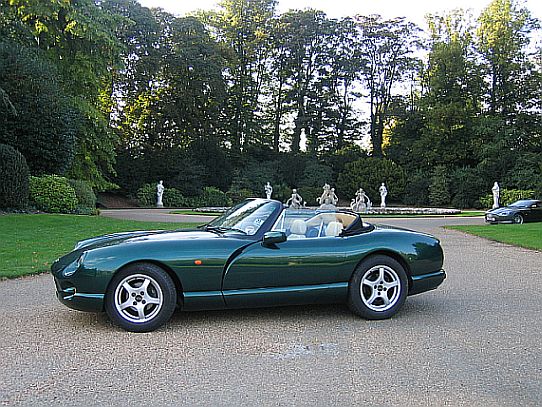 At the beginning of this century, England took to the new invention of motorised transport with enthusiasm and many small car companies sprang up.
They did well, they became successful - especially in races - and, eventually, they folded, were taken over or moved production abroad.
Not many now remain. TVR - pictured above - was one of the most recent to move production out of England. But Morgan and Triumph are still proudly "Made in England".
Return to top
of Products Made in England
---
Explore more examples of fine English products and passionate producers in the Discoveries section.
Or check out traditional foods and producers on the Foods made in England page.