Traditional English Christmas Desserts
by Karin
(Soest, Germany)
Most families in England will have a traditional Christmas pudding to finish dinner on Christmas day. Christmas pudding is a rich, dense pudding filled with dried fruits and Christmas spices and laced with brandy. Many families still make Christmas pudding at home, a few weeks ahead of the big day to give all the flavours time to mature.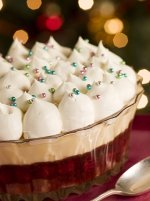 But you can also buy ready-prepared Christmas puddings in the shops or from specialist suppliers. Traditionally, Christmas pudding is doused in brandy and flamed at the table. It's served with brandy butter or pouring cream for an extra delicious end to the meal.

Sherry trifle is also a very popular choice for a traditional Christmas dessert. It's a little lighter than Christmas pudding and beloved by all children. A delicious concoction of layered sherry-soaked sponge fingers, custard, jelly or fresh fruit and covered with softly whipped cream, sherry trifle is served in a beautiful large glass bowl to show off the coloured layers. The top can be dusted with cocoa powder or sprinkled with grated chocolate, hundreds and thousands or silver balls.