Traditional teapots - made in England
by Dian Elvin
(Oxfordshire)
The loss of manufacturing in the UK worries me immensely. I was looking for a traditional teapot and found exactly what I wanted. Unfortunately it was stocked in the USA and could not be exported. Made in England, not in China, it is an 8-cup Brown Betty Staffordshire teapot, not expensive, but not available (correct me if I am wrong!) in the UK!


Answer:
Hi Dian,
I have good news for you - and everyone else loving good solid teapots to brew their cuppa.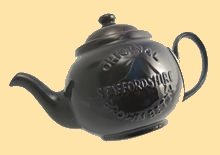 Amazon UK now has a decent selection of
Brown Betty Teapots
to choose from.
Another retailer in the UK, who sells
Brown Betty Teapots
is Edward's China, are online, and also offer blue and white Cornishware, which I have a particular fondness for.
And finally, I also like teapots in
Dexam's London Pottery range
, though I could not swear that they're all made in England. They have a very traditional shape and come in a variety of colours and sizes.
I hope that you'll soon find what you're looking for. There's nothing nicer than a proper English afternoon tea!