Some of the Finest Views in England
Happy Easter! And greetings from England, where the sun is shining and eating lunch in the garden doesn't require an umbrella or a fleece-lined jacket and hat. Doesn't happen all the time, of course, but this weekend promises to be sunny and warm, so we'll make the best of it.
I promised you a meander through Shropshire for this newsletter, and while I was looking through my notes and all the photos we've taken, I realised that I'd set myself a rather big task. Because Shropshire is simply brimming with history and fabulous places to see, I could almost write a book about it. And choosing what to pick and what to leave out became more difficult than I thought.
As a result, I started to share some of our favourite Shropshire places and days out on the Essentially England Facebook page – so if you'd like to see a bit more of Shropshire than I can cover in one newsletter, then please check out the page.
For today's newsletter, I'll stick to three things I often remember when Shropshire is mentioned.
First of those is Ludlow. It's often hailed as a mecca for food lovers, due to the abundance of great restaurants and welcoming cafes, and we did enjoy some lovely meals while there. But what sticks in my mind even more than the hospitality is the vibe of the town. It has a feel of old, but very well kept, and exploring it as a visitor is a delight. Gorgeous bridges, a ruined castle, narrow lanes to wander, and plenty of stunning old buildings.
Ludlow is a great place for a short break or a special occasion.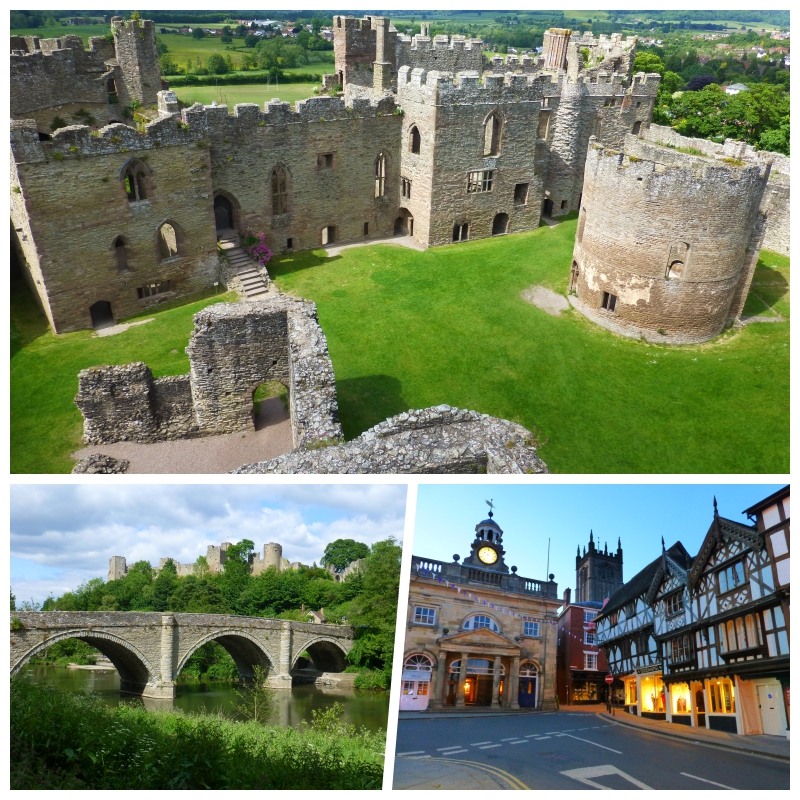 Marking the border between England and Wales, Shropshire has a somewhat violent history. The county has no shortage of both intact and ruined castles. It also has Offa's Dyke – an early medieval attempt at a border wall, turned fabulous hiking trail. It has abandoned mines and lost villages and – for my money at least – some of the best views in England. And looking at these photos, wouldn't you agree?
Finally, there's this: Stokesay Castle. Not far from Ludlow, we visited this beautiful place on our way home and could have stayed much longer. Built between 1285 and 1294 by Laurence of Ludlow – then one of the richest men in England - it's one of the finest fortified manor houses to survive the times. The great hall is largely unchanged since it was built and the tower – very much like an addition from a fairytale – has stunning views over the Shropshire countryside. If you're in the area, this is a must-see!

I'm sure there'll be more Shropshire in a future newsletter. The county is just too blessed with sites ideal for short breaks and days out. I'm convinced that both Steve and I could each write a book about Ironbridge Gorge!
If you fancy exploring Shropshire for yourself, you'll have a raft of beautiful hotels to choose from. Alternatively, why not rent a holiday cottage as we did for our second trip?
Better than Cheese
St. Georges' Day marks the official start of the English Asparagus season and – if you've been following us for a while – you'll know that we love the green spears and look forward to the season each year. But I'll reserve the asparagus recipes for next month! Because I'm still very much in a mood for cheese, and what's better than cheese? Cheese and biscuits, of course.

Not, I hasten to add, the kind of biscuits you'll have with gravy.

That's an American staple I'm only just experimenting with.

English biscuits for cheese are delicate or slightly more substantial crackers, mostly plain and sometimes flavoured with black pepper or chives. Or, as in the case of these oat biscuits, with more cheese.

They're low-ish in carbs, easy to make, and are great for a quick lunch with a few slices of cheddar and an apple. Or, served after dinner with brie, stilton, chilled grapes and a glass of port.

This recipe makes about 20 biscuits and this is what you'll need:
25g / 1oz butter
1 tbsp yeast extract or marmite
15ml / 3 teaspoons boiling water
125g / 5oz medium oatmeal
75g / 3oz plain wholemeal flour
50g / 2oz grated cheddar cheese
one small onion, chopped very finely
Making these couldn't be easier as long as you have a mixing bowl, a large lined or greased baking sheet, and an oven set to 375°F / 190°C / Gas 5.
Dissolve the butter and yeast extract in the hot water.
Mix oatmeal, flour, cheese and onions, then stir in the yeast and butter mixture, and mix into a dough. Chill for 15 minutes.
Roll out the chilled biscuit mix to 3mm thick. Use either a 5cm / 2in cutter or an upturned glass to cut out about 20 biscuits.
Place on baking sheet and bake for 10 minutes. Cool before serving.
Enjoy!
And if these tasty treats leave you starry-eyed for English food, then check out the British Corner Shop - the online store for expat Brits and Britfood lovers everywhere. They're having a HUGE sale until April 29th. Plus special discounts on tea until St. Georges' Day - that's April 23rd.
Just click here to check it out.
And Next Month …
...yes, asparagus season will be in full swing. And I'm thinking of heading to Worcestershire, for both asparagus and history.

Until then, please take care.





And why not join us on Twitter or Instagram and LIKE us on Facebook? I'll be very happy to see you!


P.S. If you think that some of your friends or colleagues might like to read our newsletter, then please forward them this mail. They can read newsletter back issues and subscribe here.