A Very Happy New Year
A very Happy New Year to you all! I hope you survived the festivities intact and in good cheer. We had a very peaceful time, with the only major casualty being my waistline! :-) So I see a lot of walks in my near future, however much work is piling up on my desk.
Going out when the sun decides to grace us helps with fighting the gloom that's so often a problem at this time of year. My other remedy is to remember places we've visited and sights we've seen, so this newsletter is a bit of a journey. Some are our favourites, others are places I'd love to go back to, but in one way or another, they've all been on my mind in recent days. So why not share them? To get us into a holiday mood, or offer a few minutes break when the day gets hectic... whatever works.
Blakeney
We spent Christmas Day on our favourite beach with the weather - yes, the sun did come out! - the sea, many seals, and very few people for company. It's a place that never fails to cheer me up and it invariably makes me stop in the headlong rush, stand still for a minute and take a deep breath or two. We've seen it wet, dry, sunny, and gloomy, but driving down the hill into Blakeney always feels like coming home and walking the marsh or stepping onto the shingle feels like the start of a new adventure every time.

Frenchman's Creek
If you haven't read the book you may not know why this place keeps coming up. For reasons I can't explain, Daphne du Maurier's historical romance is one of my ultimate comfort reads, so part of me was reluctant to actually go there. Just in case it wasn't as wonderful as it is in my mind. Needless to say, my worries were unfounded and our day wandering through Helford Passage and Frenchman's Creek was magical. Even if no dashing pirate was anchored in the creek.

Northumberland
Get me started on Northumberland, and you'll be here a long time listening to me. The county has too many wonderful places to count, and far too many castles and beaches to explore in one holiday. Warkworth Castle is a favourite, but don't miss the church in the village where a massacre took place, or the enchanted cave by the river where a hermit was said to have lived. 

Burnham Thorpe
I've been reading "around" the Napoleonic Wars during the last few weeks, which is probably why Admiral Nelson was on my mind. His birthplace is in Burnham Thorpe, a tiny village in a tangle of tiny roads which are excellent for exploring by tandem. Nelson's parents rest in the village churchyard and the church had an intriguing exhibition, including facsimile copies of the newspapers reporting the Battle of Trafalgar. Plus, it's one of the most peaceful spots I can imagine.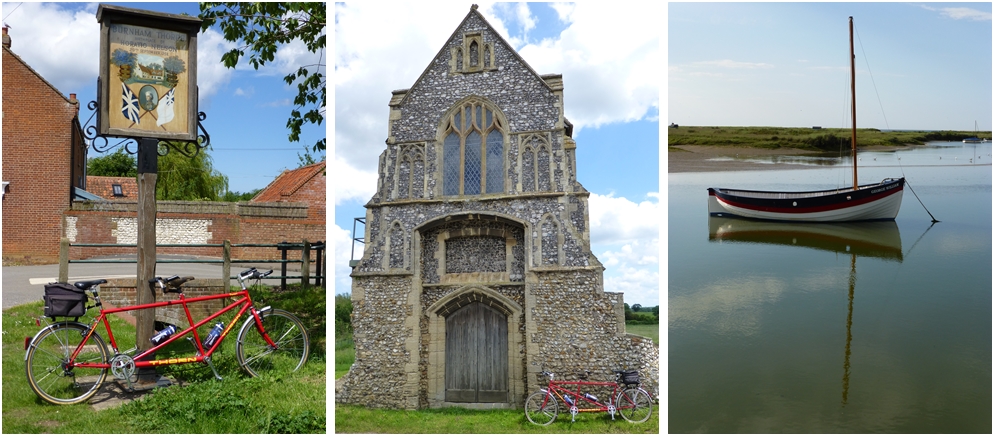 Battle Abbey
The place where King Harold of England and Duke William of Normandy faced each other in battle. The abbey is lovely and so are the grounds. Though if you bring your imagination, walk the battlefield trail - and borrow the very excellent audio guide English Heritage offers at the site - then you can end up with an experience that's a little more eerie and spine tingling. Even if you visit in the middle of the summer.
Old Sarum
When you know that you're standing in the place where William the Conqueror accepted the oaths of his barons, and walk the same flagstones Eleanor of Aquitaine trod during her long captivity... then Old Sarum will feel even more amazing. It towers over the city of Salisbury, a cold, windy, bleak outpost that once was Salisbury, and it left me wondering how anyone could have survived up there without modern heating and only candles for light. I'm assuming Old Sarum's inhabitants moved because the town outgrew the hill, but it could also have been because they tried to escape the cold and wind.

And Something Tasty... A Citrus Herb Liqueur
The sloe harvest was rather non-existent this year, so I'm without my usual batch of sloe gin to stir and shake and otherwise look after. Which is probably why this recipe caught my eye. I copied it from an old country house cookery book I found in a holiday cottage we stayed at one year, and never got around to trying it out. I'm thinking it will make a marvellous after dinner drink, or an even more marvellous base for a cocktail to sip in the sunshine when summer does arrive.
Here's what you'll need:
a 2-pint, wide-mouthed jar with screw top
1 l of vodka
1 lemon, 1 lime, and 1 clementine
2 vanilla pods
2 cinnamon sticks
2 cloves
6 cardamom pods
125g / 4oz / a small bunch of tarragon
1 sprig rosemary
Here's what you do
Pare the rind off the lemon and lime, leaving the white pith behind. Place the rinds in the jar along with the vanilla pods, cinnamon sticks, cardamom pods and the herbs.
Stick the cloves in the clementine and add that to the jar.
Pour over the vodka, close up the jar and keep in a dark, cool place for about 12 weeks, shaking the jar every now and then.
Test the finished product. You can strain it into a clean bottle it as it is and serve as flavoured vodka over ice. Or you can sweeten it with a prepared sugar syrup to create more of a liqueur.
And Next Month …
Next month, the drabbest, greyest month of the year as far as I'm concerned, there's pancake day to look forward to. And Valentine's Day. And then, the very first pink rhubarb from Yorkshire, all crisp and juicy and hinting that spring isn't too far away...

Until then, please take care.





And why not join us on Twitter or Instagram and LIKE us on Facebook? I'll be very happy to see you!


P.S. If you think that some of your friends or colleagues might like to read our newsletter, then please forward them this mail. They can read newsletter back issues and subscribe here.