Beans and Pancakes, anyone?
I hope February is treating you all well! It's actually the month I like the least. It's usually damp and chilly and mostly grey, and by the time it comes around I'm craving sunshine and time spent outdoors. For that very reason, February is also the month when I spend much time in the kitchen, especially now that I'm getting over this cold and have started to take an interest in more than raspberry sorbet and apple juice!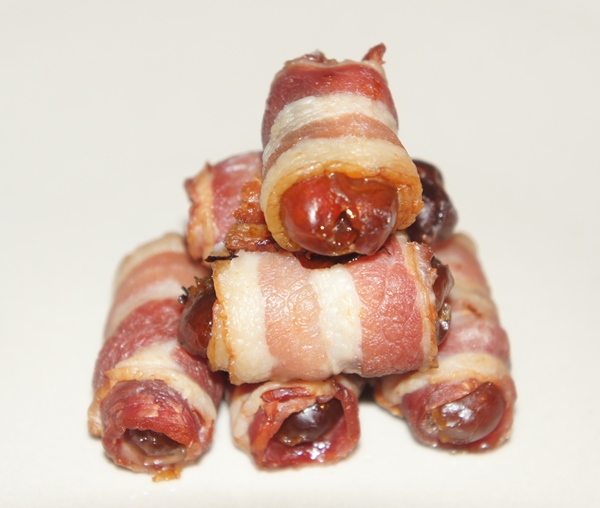 So I've decided to make this month's newsletter a bit of a food issue. I'll be talking baked beans and pancakes…not in the same dish, I hasten to add… and if you're so unfortunate as to be on a diet, I apologise in advance.
Before we get stuck in, though… did you know that the Brits eat 1,000 miles of chipolatas over Christmas each year?
I found that out while doing research for another article and it amused me no end. Chipolatas are small pork sausages, about the size of your little finger, that are usually wrapped in bacon and grilled to be served alongside the Christmas turkey. They're beloved by children of all ages, so the huge "food mileage" is, perhaps, no wonder.


---
Baked Beans - And not from a Tin!
I had an email a while ago asking about baked beans on toast, which made me remember my very first baked beans experience. I wasn't weaned on baked beans like many kids in England seem to be. In fact, I'd never seen, heard of or tasted baked beans before I came to England. The first time I tried them they were… cold. And to my palate at least, pretty disgusting. Sweet beans in ketchup - why?

But I soon got the hang of them, with grated Cheddar cheese in baked potatoes, to be precise. And not long after I was looking for ways to make the beans less cloying to my taste buds than the tinned version. After all, baked beans seem to have been a medieval staple - before potatoes and at a time when meat wasn't as easily available as it's now - and medieval food might have been sweet by today's standards, but it also made use of all sorts of spices.

So here's a recipe I like making every once in a while - especially when it's properly horrid outside or when we're having friends round. It makes a huge pot of wonderfully warming beans that go perfectly with sausages, freshly baked bread and a glass or two of red.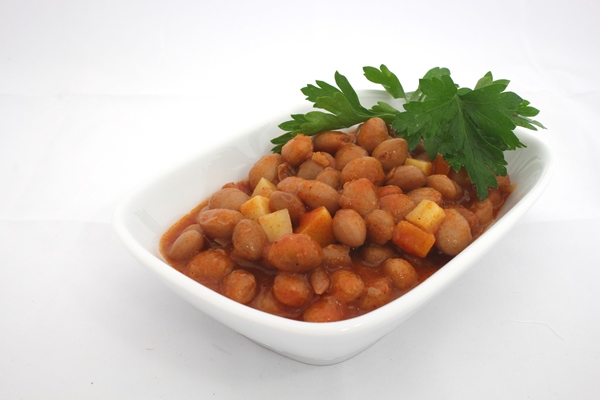 For 3-4 You'll Need
450g / 1lb dried haricot or pinto beans - soaked in cold water overnight
1 medium onion, peeled but left whole
1/2 head celery, strung, washed and finely chopped
100g / 4oz tomato puree
50 g / 2oz sun-dried tomatoes
5-6 cloves
1 tablespoon soft brown sugar
olive oil, salt and pepper
Start by preheating your oven to 180°C / 350°F / Gas 4. While the oven heats, bring the beans to the boil in their soaking water and boil for 10 minutes. Watch them like a hawk, since they love to boil over and make a mess on your hob! After the ten minutes are up, strain the beans and cover with fresh cold water. You want the water to come a finger's width (about 1cm) over the top of the beans.
Add the chopped celery. Stick the cloves in the onion and add it to the pot along with the tomato puree, sun-dried tomatoes and sugar. Add a glug of olive oil, then bring gently to the boil. Cover the pot and cook in the oven for 1.5 - 2 hours, until the beans are soft and have absorbed all the liquid. (Beans vary, so check periodically that the beans aren't cooking too quickly and drying out.)
Finally, take the cloves out of the onion, chop the onion roughly and add back into the pot. Stir your beans and add salt and pepper to taste. If you like your beans sweeter, you can also add a little more sugar at this point. Apart from that… grab the bread and the wine glasses and enjoy!


---
Pancakes come in all Shapes and Sizes!
And fillings, I should add… especially when settling in front of my computer after making spicy red cabbage kimchi okonomiyaki (or Japanese-style pancakes) for lunch. Where I grew up, pancakes were a sweet treat. For many others they're a much loved breakfast. And for large parts of the world, pancakes are comfort food of the highest order. We had a marvellous pancake adventure on our recent trip to Japan, when I somehow managed to locate a well-recommended pancake restaurant I'd read about back home. Everyone who recommended it said it was darned difficult to find, but we somehow ended up right in front of it. Fate, no doubt.
Japanese-style pancakes tend to be savoury and made with a mix of pancake batter, finely shredded cabbage and cheese. Then you'll add anything that takes your fancy, from shrimps to fish to seaweed and translucent slices of pork. The whole is then topped with a special pancake sauce, which sort of reminds me of HP's Brown Sauce, and mayonnaise. If you're brave you get to cook your own pancakes, right at your table. And yes, the above are my effort! They were very tasty and so much fun that I've been experimenting with making them at home.
Here, of course, pancakes are more often associated with dessert. And Pancake Day, which this year falls on February 9th. So since it's shortly going to be Lent, and butter, eggs and cream are going to be items on the banned list for many… I thought I'd share this midnight pancake feast that I dreamed up for one of my stories. Keep in mind that English pancakes are nothing like their transatlantic cousins. They're thinner - made without baking powder or bicarbonate of soda - bigger and more in the way of a crepe. But they appeal to worried teens just as much.
The two boys ate and ate. Pancakes filled with fruit and cream. Pancakes filled with preserves. Pancakes with chocolate spread and toasted hazelnuts, and pancakes with nothing but lemon juice and sugar.
The final pancake Gareth made was filled to bursting with dark chocolate, Jack's favourite tart morello cherry preserve, and the last of the cream. They all shared that one.
When it comes to favourite fillings, I'm firmly in the freshly squeezed lemon juice and sugar camp. What's your most favourite pancake filling? And why not tell me on Facebook?


---
And Next Month …
By next month, the England site rebuild should be well underway! The designer is doing a lovely job making it less cluttered and easier to read on smaller screens, and once she's done, I can get to work updating and revamping...

So please keep well, and I'll be back next month!





And why not join us on Twitter and LIKE us on Facebook? I'll be very happy to see you!


P.S. If you think that some of your friends or colleagues might like to read our newsletter, then please forward them this mail. They can read newsletter back issues and subscribe here.