Loving the Unexpected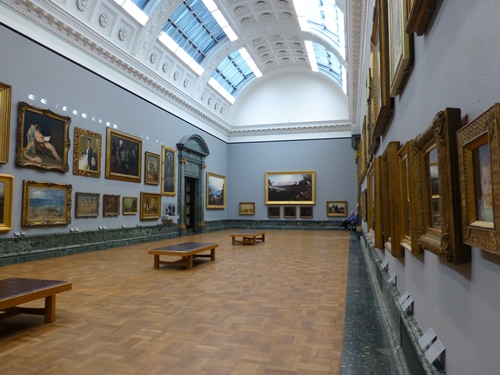 A cheerful hello from England, where summer's coming to an end.
It was, all things told, a very nice summer. A lot busier with work than I had expected, but that's all good. And we still had time to go out and explore historic houses and a couple of gardens...
We've been down to London a surprising number of times and these days, we tend to end up in parts of London we haven't been to before. Or haven't been to in a long while. As usual, my favourite memories are the unexpected ones, like having lunch in a reportedly haunted pub before going to see the Lowrie exhibition at the Tate Gallery. Complete with video surveillance of the haunted passage in the cellar. And no, we didn't see the ghost.)
So in today's newsletter, I like to share a few things I didn't see coming.


---
See London the Monopoly Way

So there we were, walking towards King's Cross Station, when I spotted a group of rather merry men. (Merry in the well-lubricated meaning of the word). A second look at the group revealed that they all carried clipboards and maps and big tick sheets and were clearly having a great time. And at third glance I realised that the group weren't just wandering the streets of London to have a laugh. Actually, they were on a serious quest.

With a guide who wore a giant Monopoly board around his neck.

A Monopoly Walk is a fine (free) way of getting to see a bit of London. There are guided tours, which are very popular with stag and hen parties, but as long as you have a monopoly board and a London map, you can easily DIY it. The idea is to walk all the squares of the London version of the famous board game... a tour of about 15 miles taking in famous landmarks and a variety of different neighbourhoods. You can do it all at once, or in installments, and the beauty of doing it in London is - of course - that there are eateries and watering holes galore if you fancy a break and refreshment in between crossing off squares on your monopoly board.


---
Feel the Magic of ... Hogwarts
School is starting, and while I've never got the idea of boarding school, many children have been dreaming about one particular one... and the way to get there.
I had great fun watching tumblr the last few days where kids were posting their (homemade) Hogwarts acceptance letters and shared plans what they were about to pack. Then there's the appeal of the famous Hogwarts Express, which you can see in the National Railway Museum in York.
But while we were in London, we ticked off another (new) attraction: Platform 9 3/4. Just follow the stream of kids of all ages, take your turn pushing the trolley and - you never know - you might find yourself in a magical world of quidditch and jumping chocolate frogs. The Harry Potter Shop next door can help you get kitted out in style for the journey to this most famous of boarding schools. They even sell chocolate frogs.
---
Very Quick Jam Tarts
Have you been making jam this summer? Whenever I do, I find that I have a number of perfectly filled jars, and then a little left over. But that's never a bother, because the little leftover bit comes in perfectly handy for a quick teatime treat.

All you need is some puff pastry. Roll out a block of pastry on a little flour or use a sheet of ready-rolled.

Cut the pastry into squares (5-6cm wide makes a nice size tartlet). Then score a line around all four sides, about 1/2 cm from the edge. Don't cut all the way through the pastry, you just want to create a puffed up edge.

Alternatively, press the dough into a shallow muffin tray or use a round cutter if you don't like square tartlets. But do make sure you score a line along the edge

Place a little jam in the centre of the pastry square and place the tartlets on a baking tray.

Cook in a medium-hot oven, I set mine at around 180°C, until puffed up and golden. Depending on your oven and on how thick you rolled out the pastry, this can take 8min - 12mins or so. Keep an eye on it and take out the pastry when it's done. Cool on a wire rack and serve with tea.




---
And Next Month …

We're off to spend some time exploring castles in Kent and Sussex and we'll be staying somewhere amazing: a restored showman's carriage in sight of Bodiam Castle. Look out for the pictures. Unless it rains constantly for a whole week, they're bound to be stunning.

So until then, thanks for sticking with me. Keep warm, keep well and think of England…





And why not join us on Twitter and LIKE us on Facebook? I'll be very happy to see you!


P.S. If you think that some of your friends or colleagues might like to read our newsletter, then please forward them this mail. They can read newsletter back issues and subscribe here.