Of Royal Weddings and Tea Party Treats
It's May, it's finally sunny - and we have a Royal Wedding to look forward to! And yes, the capitals are deliberate. ;-) We hope the weather gods will play ball and the wedding will be a joyous occasion for all.
These days, royal weddings tend to be grand affairs with much pomp and circumstance, and with cameras everywhere scrutinising every moment. But that wasn't always the case.

On May 1st 1464, for example, King Edward IV married Elizabeth Woodville, the ravishing young widow of Sir John Grey. The wedding wasn't a grand affair at all, taking place in a tiny village church in Grafton, Northamptonshire. The king was 22, had only been on the throne for a year, and while he was busy being married, his cousin, the Earl of Warwick, was busy trying to arrange a marriage for him with a French princess. Edward clearly had other ideas, but he didn't admit to being married until five months later!
Another royal wedding celebrated without fanfare was that of King Henry VIII and Anne Boleyn. The story goes that Dr. Rowland Lee, one of the royal chaplains received a very early summons to celebrate mass. When he arrived at the appointed place - a little-used turret in Whitehall - he found the king, Anne Boleyn, three witnesses, and was instructed to perform a marriage service.
Seven years later, Henry VIII, this most-married of all English kings, was seemingly not very fond of weddings at all. When he was asked to set a date to marry Anne of Cleves, he coolly announced he'd marry her the very next day and at 8 o'clock in the morning, to boot!
Henry VIII is, perhaps, not the best example when it comes to wedded bliss. There were other, more successful royal marriages, of course, that lasted even in the face of scrutiny and fate. Edward I, the king who ordered a string of beautiful crosses to be built to honour his late wife Eleanor's final journey through England, was said to have been entirely faithful to his wife throughout the many years they had together, despite the queen's numerous pregnancies and the customs of the time. And we don't need to look further than the monuments Queen Victoria had built to honour the memory of her late husband, Prince Albert, to know that here was another royal love match.
And so, while the world has its eyes turned to Windsor, while there will probably be pomp and circumstance, and definitely cameras galore, we wish Prince Harry and his bride all the best and many, many happy years together.
Tea Party Treats | Part 2
We covered savoury recipes last month, so it's only fair if I pull a couple of sweet recipes out of the hat today. Both of those will appeal to you if you don't have a super sweet tooth, so that works out very well for me. Let's start with 
Lemon & Spice Bread
And yes, my love of all things lemony is alive and well. That said, this is an utterly delicious tea loaf when warm from the oven, simply spread with cold butter and served with a cup of Earl Grey or Lady Grey. It's equally delicious the next day - if it lasts that long. I find that a slice of it, lightly toasted and just as it is, makes a lovely afternoon pick-me-up with either a cup of tea or coffee. For your Royal Wedding Tea Party you could make mini loaves, or bake the dough in tiny flowerpots.
So what do you need?
8oz / 225g plain flour
2tbsp sugar
pinch of salt
1 tsp mixed spice
15g / 1tbsp dried yeast
3fl oz / 90ml warm water
juice and grated rind of one lemon
4oz / 120g raisins
1 egg
4oz / 120g icing sugar
This recipe works well using the raisin/dough setting on a breadmaker, but you can make your bread by hand. In this case, mix the yeast with the warm water and half the sugar and set aside for 15 mins or so until the mixture is frothy.
Sift the flour into a bowl, add sugar, salt, grated lemon rind, mixed spice, and raisins, and combine.
Add the egg and the yeast mixture and mix until you have a stiff dough. Turn this out onto a floured board and knead until elastic and smooth. Then place in a lightly oiled bowl, cover with a clean tea towel and leave in a warm space until doubled in size, roughly 2 hours.
When risen, turn the dough out and knead it again for a couple of minutes. Then divide it in two and place each half into a 1lb loaf tin. Or take smaller portions and drop them into mini loaf tins or flowerpots.
Leave to rise until the dough reaches the top of the mould, then place into an oven heated to 200°C / 400°F / Gas 6 and bake until the top is golden and the bottom of the loaf sounds hollow when tapped. For the 1lb loaf tins, that will take 30-40 minutes. Smaller loaves will take less time to bake. Turn out onto a rack to cool.
To really gild the lily, mix the lemon juice with the icing sugar and drizzle the resulting (fairly stiff) icing mix over the warm loaf.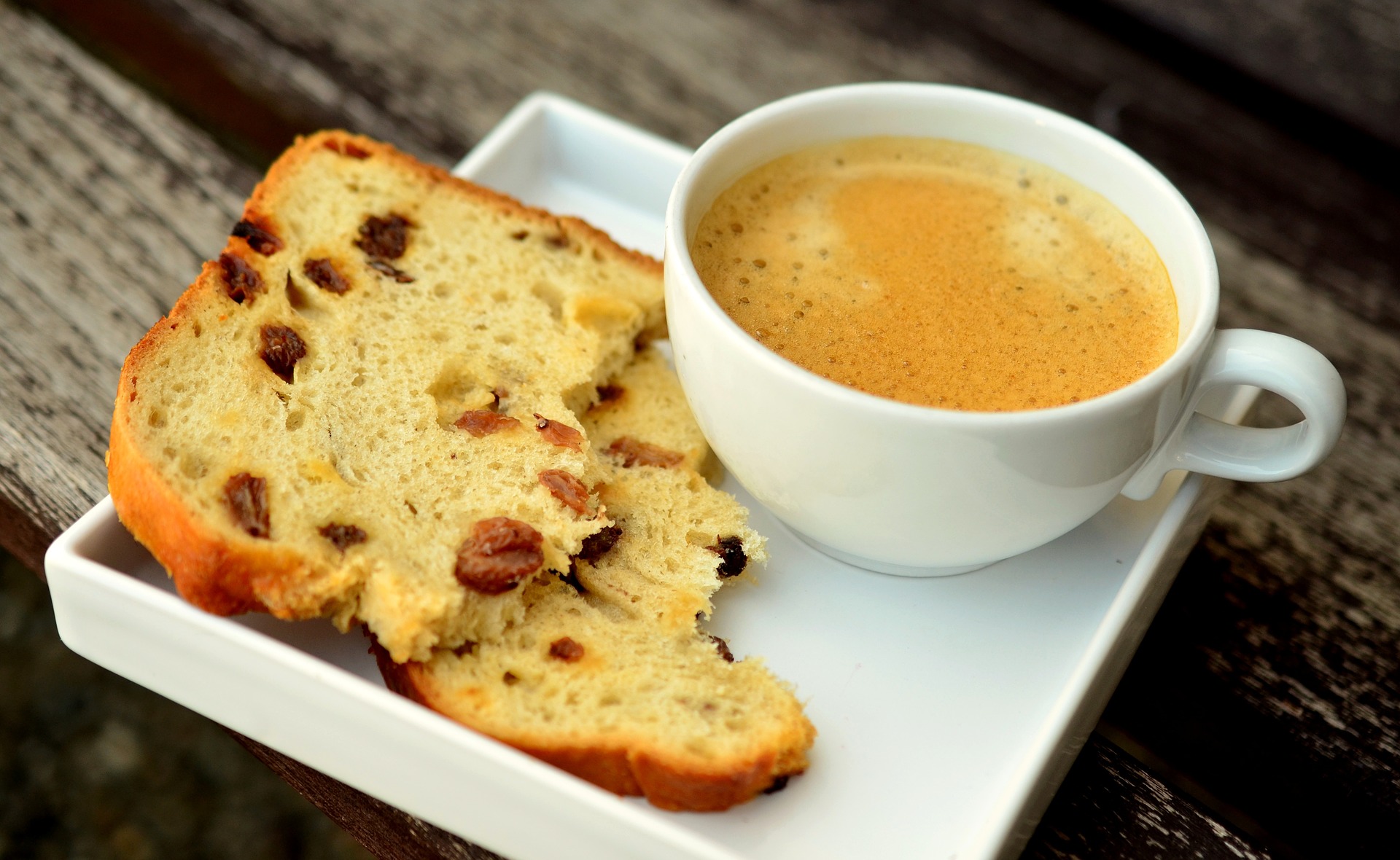 I hope you agree that there can never be enough lemony goodness and give this a try, because it's delicious. As is my next recipe, which cleverly combines apricots and Cheshire cheese - again keeping the sweetness to manageable levels. It's also very easy to make because measurements are approximate and you can add and subtract according to need or number of guests.
Apricot and Cheshire Cheese Pastries
Pastry, dried apricots, almonds (chopped and flaked), and Cheshire cheese are all you need for this afternoon tea treat. The pastry can be ready-rolled puff pastry, or you could opt for the lighter filo if you were aiming to create a less substantial treat.
The filling consists of a puree made from dried apricots and chopped almonds. Apricot puree is a useful thing to have in the fridge, and very easy to make. Start by chopping 350g dried apricots and stewing them in a little water with a dash of orange juice until they're soft and the liquid is almost gone. Leave to cool, then blend into a puree. Add sugar or a dribble of orange juice to adjust the taste to your liking. Then add 2-3 tablespoons of chopped almonds for texture.
When you're ready to assemble your pastries, heat your oven to 190°C / 350°F / Gas 5.
Cut your puff pastry into squares. If using filo pastry, cut the sheet into four, paint each quarter with melted butter and stack them on top of each other.
Spread the pastry with apricot puree, leaving an edge, and crumble Cheshire cheese over the top. Roll up the pastry either from a corner into a crescent shape, or cigar-style by folding in two of the sides first and then rolling up.
Place the pastry rolls onto a lined baking sheet, brush with butter and sprinkle with flaked almonds. Bake for 15-20 minutes until golden. Dust with icing sugar before serving.
And there you have it. Spiced lemon bread and apricot and Cheshire pastries for your afternoon tea party. Sorted.
And Next Month …
Next month, English asparagus season will still be in full swing and I'm thinking of sharing a lovely flatbread recipe. How's that?

Until then, please take care.





And why not join us on Twitter or Instagram and LIKE us on Facebook? I'll be very happy to see you!


P.S. If you think that some of your friends or colleagues might like to read our newsletter, then please forward them this mail. They can read newsletter back issues and subscribe here.