Olympic Fun and Tea Party Ideas
Welcome to the latest issue of Essentially England News!
Hasn't July flown by? I've been busy like a little bee and still feel I'm behind on almost anything. We even had ten days of seriously hot weather (25deg;C - if you're wondering what we would call seriously hot!) and finally a chance to have dinner outside and enjoy the green riot that's my garden after all that rain.
And now, we're all of a sudden in the middle of the Olympics. Did you watch the opening ceremony? Did you like it? When I saw the initial stage setting, I was immediately reminded of Peter Jackson's Lord of the Rings film - and things kept going nicely from there.
One thing I did miss, though: I was hoping the helicopter with Her Majesty and Mr Bond on board would fly through one of the Olympic rings on Tower Bridge.
My husband - keen racing cyclist - went down to Leatherhead last Saturday to watch the Men's Road Race. Getting up at 3am to catch a train wasn't fun, but the atmosphere was absolutely electric. Next to him were New Zealand fans, across the road a group of Belgians, plus French, Norwegian, Dutch, German and Slovak fans along the route. He thought it was great.
If you'd like to get an idea of the atmosphere, I've put a little video he made on Essentially England's Facebook page. You can watch it here.


---
I Never Knew That... about the Olympics

London is hosting the Olympic Games for the third time, after 1908 and 1948. So to see how far we've come, here are some facts from Olympics past that I found amusing:
London wasn't the original host city for the 1908 Olympics. The Games were scheduled to take place in Rome, but the eruption of Mount Vesuvius in April 1906 made it impossible for the Italian nation to host the event. So London stepped in to help out.
The 1908 Games were the first Olympics to have an Opening Ceremony
Motor boating was an official sport at the 1908 Olympics, as was Polo and Tug-of-war.
Much of London was still in ruins when it hosted the first Olympics after the Second World war, in 1948.
Food was still rationed in 1948, but the athletes attending the Olympics were given extra rations to allow them to compete at their best
The 1948 Olympics were the first Olympic Games to be shown on TV, even though very few people in Britain actually owned a television.
Good luck to all the athletes! And I hope you're all enjoying the games as much as we enjoy hosting them!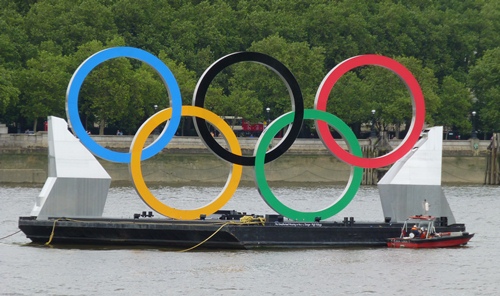 ---
Tea Party Ideas
With the weather being so nice, we try and spend as much time as we can outdoors. And tea parties, along with barbecues and picnics, are a great way to celebrate the weather and enjoy the Olympics.

And since I still haven't got round to write up our trip to the tea pot museum, I thought I give you a few ideas for a real English tea party by way of an apology.
First, though, the world's biggest teapot as photographed in the Tea Pot Museum in Norwich Castle. If this doesn't have you reaching for the kettle, nothing will.
It's not just big, it's also very very beautiful. I can only imagine what the craftsmen must have felt like when they wheeled it into the oven to be fired.
Were they worried it might not survive? Were they wondering how the colours would come out? Or were they wondering what treats would be served alongside the tea the first time they tried it out?
A real English tea party is a glorious thing. Yes, there's tea - more than one sort if you like. Then, there should be dainty sandwiches, scones and jam and - of course - a selection of cakes.
I'm in tea sandwich mood today, so I'd like to share a few tips I've picked up over the years.
First, sandwiches can be made from brown or white bread, but the crusts should be off.
Tea sandwiches should be bite-sized. And easy to handle while holding a cup of tea. So, no really messy, sloppy fillings.
Cucumber, egg and cress, roast beef and horseradish, salmon and cream cheese, and anchovy butter and watercress are all traditional fillings.
Flavoured butters are a doddle to make, taste great and can be used as toppings for steak, baked potatoes or steamed vegetables if you made too large a quantity.
Some Flavoured Butters to Use With Your Tea Sandwiches
All recipes here are for 225g / 8oz unsalted butter. Most freeze very easily and are a great standby to have in the kitchen. If using for sandwiches, defrost before using.

St Clement's Butter: Mix softened butter with juice and grated rind of 1/2 lemon and grated rind of 1 orange.

Lemon and Mint Butter: Mix softened butter with juice and grated rind of 1/2 lemon and 4 tbsp fresh chopped mint. Great with salmon, this one!

Chive and Parsley Butter: Mix softened butter with juice and grated rind of 1/2 lemon, 4 tbsp fresh chopped parsley and 4 tbsp fresh, chopped chives. Makes a great topping for steak, too.

Italian Butter: Mix softened butter with 1 tbsp each of basil, oregano and parsley. Add 1/2 clove of garlic, finely minced and a dash of lemon juice. Season with salt and pepper.

Mustard Butter: This is absolutely wonderful with cold roast beef or cold roast chicken. Just mix the butter with 1 1/2 tablespoons of grainy mustard.

See, none of those are difficult and all are useful to have round the house. Why not experiment a little a brighten your tea party with an unusual spread or two?




---
And Next Month …

I'm still busy adding our most recent Norfolk finds to the site. Someday, I'll even get the pages finished....

So until then, keep well and think of England…





And why not join us on Twitter and LIKE us on Facebook? I'll be very happy to see you!


P.S. If you think that some of your friends or colleagues might like to read our newsletter, then please forward them this mail. They can read newsletter back issues and subscribe here.