Of Bunnies and Peas
Welcome to our June newsletter - even though it feels more like February or something. We've had one lovely week so far…which I sincerely hope wasn't all of the summer we're going to get. But we've started to go out exploring and we're beavering away on the website, so it's all good. All the food pages are done... phew!
What have I got for you this month you may wonder? Well… there's a birthday girl, there's a lovely colourful soup that I can't recommend enough and yes, we've decided to stick with the Normans for the rest of the year…Seeing it's my favourite historical period, and it's 2016, I really can't not. :-)
Happy Birthday Miss Potter!
Were she still alive, author Beatrix Potter would be 150 years old on the 28th July this year. And even now, after all these years, people buy her books at a rate of one every 15 seconds! Millions of children have grown up with the tales of Peter Rabbit, Squirrel Nutkin and Jemima Puddle-Duck.

I wasn't one of those children. I didn't come across Beatrix Potter's stories until I was an adult, but that doesn't mean they've left me cold. I adore the vividness of her illustrations, twice over because I can't draw to save my life. And if you look at the quantity of artwork and merchandise her books have sparked, I'm not the only one.

Just a cursory glance through amazon will show you items that range from baby bedding to cross stitch patterns to tea sets. There are cuff links, and soft toys, pendants and charms, cup cake molds and… I'm sure you're with me here.

Most of all, there are her books and illustrations, and the stories she told. Beatrix Potter created characters that have stuck with many of us from the time we met them, and that's an achievement for any artist, especially one who had what we might consider a rather restrictive upbringing.

I enjoyed Renee Zellwegger playing Beatrix Potter in the film about her life, but it left me sad, too. She seemed a woman who made the best of what she was handed and to celebrate the wonderful stories that are her legacy, the National Trust is putting on quite a few events this year, around her Lake District home and in other parts of the country, too.
If you're in England or visiting, check out Hill Top in the Lake District, the house Beatrix Potter bought with the proceeds from her books and which the Trust is keeping just as it was when she lived there. Elsewhere in England, for example at the Beatrix Potter Gallery in Hawkshead or Melford House in Suffolk, the Trust is organising picnics and walks and sketching parties. You can find out more on the National Trust website.
And if you're looking for a Beatrix Potter themed gift for someone large or small, old or young, I've added a page to my amazon shop to give you a few ideas to get you started. You can find it here.


950 Years Ago...
1066 was a busy year for William, duke of Normandy. Having lost the English crown to Harold Godwinson in January, William was determined to win it for himself by force. He called men to arms and built a fleet, but he also made treaties with other European rulers and interceded with the higher powers for his success. The pope answered his request for aid and granted him a papal banner to fly over his army. And on June 18, William went even further: he gave his seven-year-old daughter Cecily to a nunnery, as a living sacrifice to god. By current accounts it was a solemn ceremony, conducted by the Archbishop of Rouen.

I often wonder how the little girl felt about the choice her parents made. And whether she was happy in the life they chose for her.
Let there be Peas
We were out on the tandem one summer a few years back, when we stopped for lunch in a small village pub. The trick with eating on a tandem tour, which we were still working out back then, is little and often. A huge meal with chips, while lovely, will leave you too sluggish to turn the pedals. So when we stopped for a break, we were looking for something that looked tasty and enticing, but wouldn't make me wish for a nap half an hour later.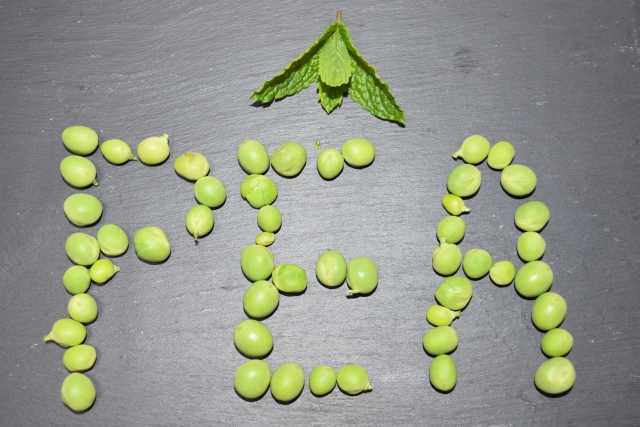 One item on the menu was Green Pea Soup. Freshly made and very, very green. And so tasty that I wondered why it had never occurred to me to make soup like that when I add peas to all manner of dishes. In early summer, I make freshly shelled peas in garlic cream and that's a wonderful meal all in itself. But green pea soup? I'd really missed out on something there.
And so you don't go the same way, here's one lovely pea soup recipe for you to try. I actually have more than one these days, but this one is a favourite.
All you need is 500-750g of fresh peas, more won't hurt, 2 small onions, 1 litre of stock and maybe a potato. Bring the stock to the boil with the onion and 2/3 of the shelled peas. Add a peeled, chopped floury potato if you want a thicker soup. When it's bubbling away, add 2 teaspoons of chopped mint and a little pepper.
Blanch the remaining third of peas for three minutes, drain and refresh under cold water to keep the colour.
When peas & onions are very soft, blitz the soup to a puree and adjust the taste. You can add a handful of spinach leaves at this stage if you want a very green soup.
To serve, add the blanched peas to the soup and divide into bowls. A little cream doesn't go amiss either. Or you could top your soup with toasted pumpkin seeds and a drizzle of bright green mint oil.
Then treat yourself to summer by the spoonful!


And Next Month …
The gooseberry season is getting closer and I never know what to do with those things, so there's a challenge. And then I'm thinking of taking you all to meet a Roman legion and their camp followers... Meanwhile, please keep well, and I'll be back next month!





And why not join us on Twitter and LIKE us on Facebook? I'll be very happy to see you!


P.S. If you think that some of your friends or colleagues might like to read our newsletter, then please forward them this mail. They can read newsletter back issues and subscribe here.