A City Within
Hello and a welcome to the latest Essentially England News. We hope you are all well and not beset by tech gremlins as my laptop has been over the last few weeks. That really isn't fun. It should be fixed now, but for the moment I'm still jumping every time something beeps or a screen doesn't open quite as quickly as I'm expecting it to.
Apart from that, we're moving towards a typically English summer. Bright sunshine and twenty-five degrees one moment and fifteen degrees and rain the next. The roses are loving it, of course.
Before the weather got properly underway, we had a lovely day out exploring a part of London we'd never really stuck our noses into: the Inns of Court and the Royal Courts of Justice.
The Inns of Court - and there are four of them - are the professional associations for barristers in England. Every barrister in England must belong to one of the Inns and they've been around since the late 1300s. If you're ever in London with a little bit of time to spare, head over to Chancery Lane or walk up from Victoria Embankment. Enter the Inns of Court and you'll find yourself in a what feels like a city within a city, a perfect little world, tucked just out of sight.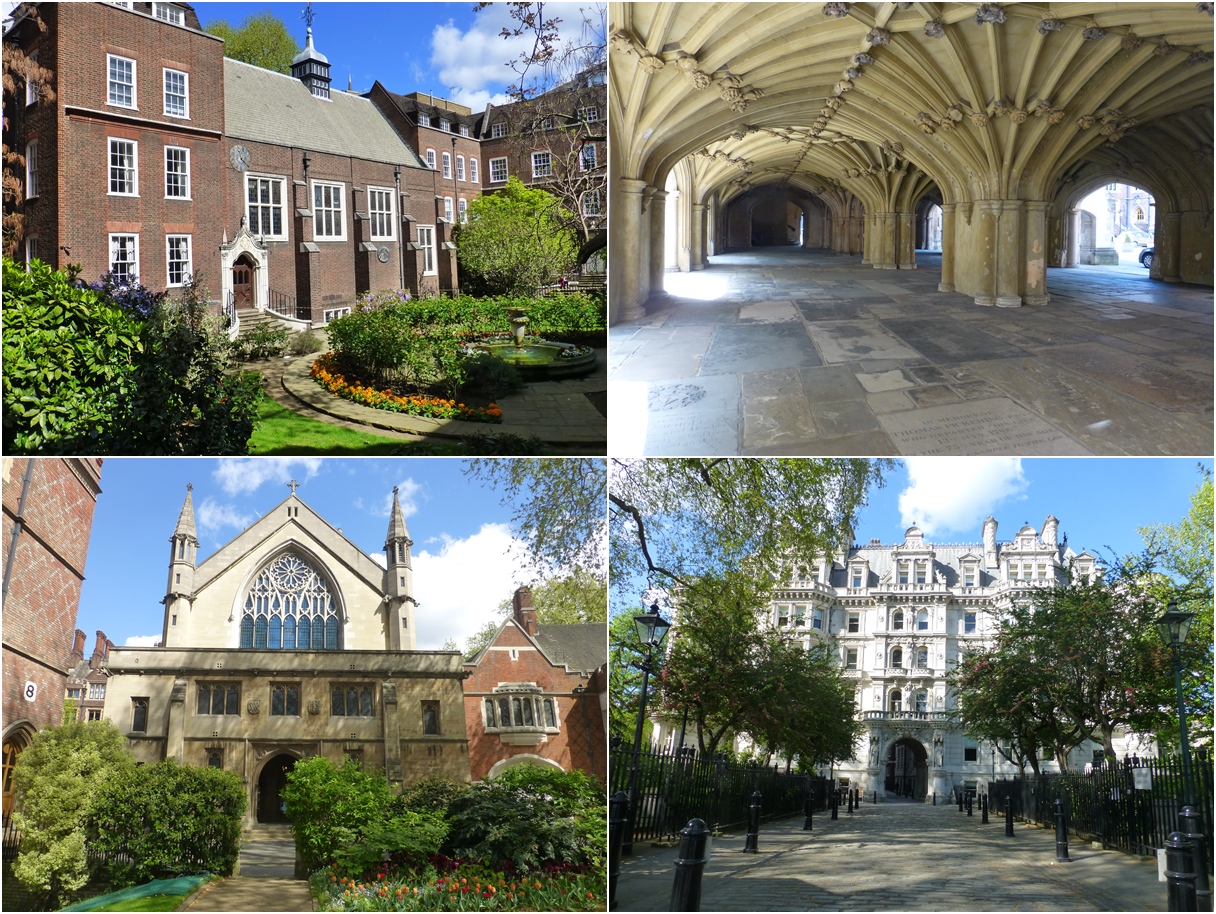 Each Inn has a chapel, gardens, dining hall, and chambers for its resident barristers and training facilities for students. We visited while the courts were not in session and the whole area felt as serene as a cloister. I should imagine that it will be quite different when the courts are working, and we have definite plans to go back for a peek.
While you're there, make sure you visit the Royal Courts of Justice, too. They're a fantastic example of Victorian design, all high vaulted ceilings, stately columns, gorgeous tile and acres of mellow wooden floorboards. You need to pass security to get inside - it's a working court house, after all - but once inside you are free to look around. No photography, unfortunately, but the reception desk has a very detailed self-guided tour that lets you wander the building from top to bottom and points out the sights along the way.

The plaque on the right can be found on the one of the houses on the opposite side of the Strand from the Royal Courts of Justice. It's one of those tiny bits of history I love to find and it lead us neatly to one of the larger pieces of history we were there to seek out: Temple Church.
Everyone who read Dan Brown's Da Vinci Code will be familiar with Temple Church, but what most people don't know is that it is the chapel of the Inner and Middle Temple Inns and has been so for centuries. And as well as its famous connection to the Knights Templar, it's also an important site for anyone interested in the history of King John, William Marshal and the Magna Carta.
In 1214-15, the Temple was King John's London headquarters and the Temple's Round Church is the final resting place of William Marshal, Earl of Pembroke, who mediated between John and the barons, and was on of the king's advisors at Runnymede. When John died, the Marshal became guardian of the boy-king Henry III and of the kingdom. He re-issued Magna Carta under his own seal in 1216 and 1217, and so ensured its survival.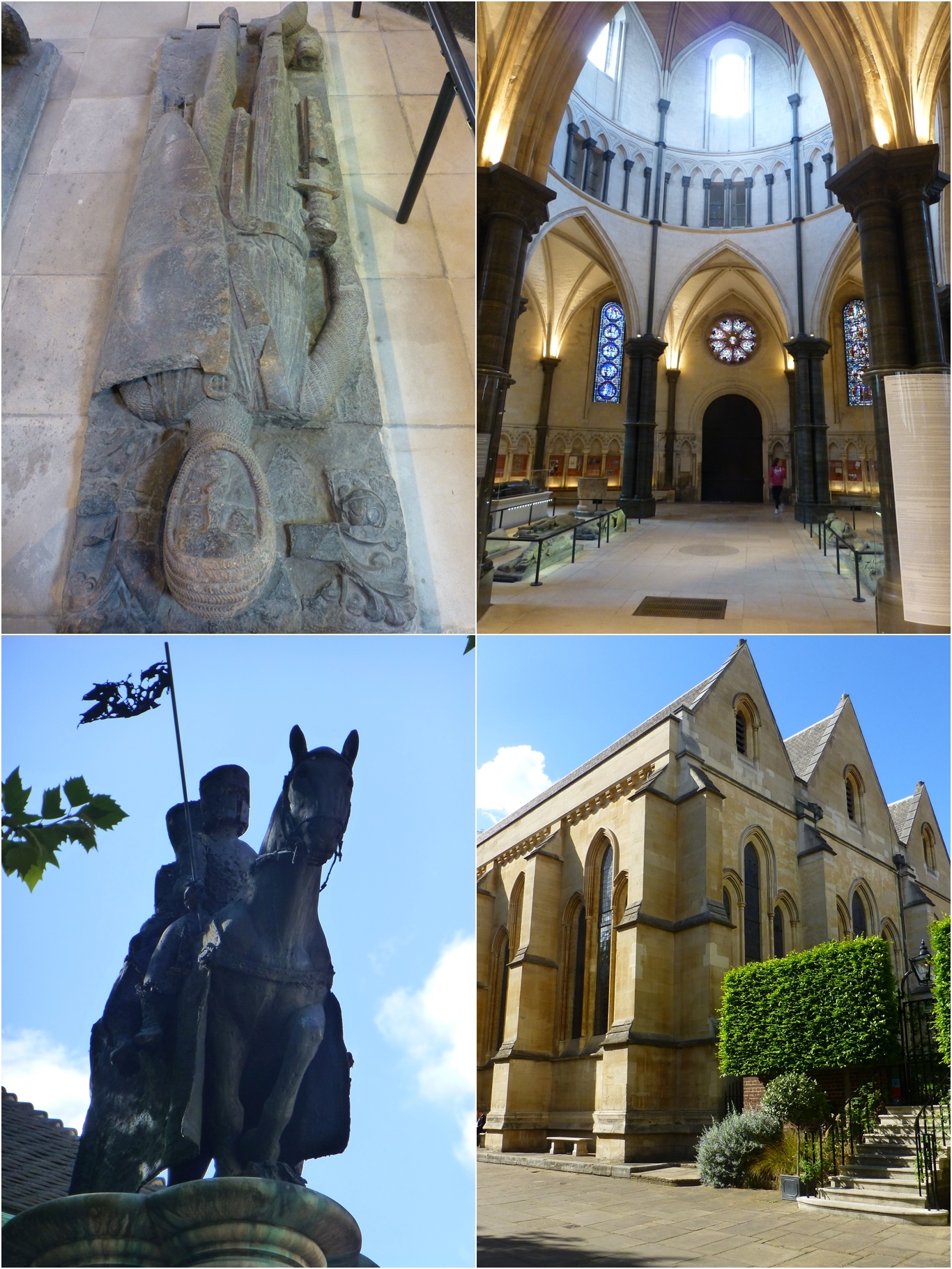 The Magna Carta exhibition inside the church is well worth visiting - along with William Marshal's grave. And while we were there, the church was also home to another fascinating exhibition that told the story of members of the Middle and Inner Temple Inns during World War I. It's not a period of history I read up on frequently and the panels and the stories told were simply riveting. Add to that the beautiful, peaceful environment and even some organ music and Temple Church made a perfect end to a day exploring a part of London that we'd previously passed by.

It's (Still) Asparagus Season!
We're right in the middle of asparagus season and I promised you another tasty recipe. So here's one I make with asparagus during the season and with ripe tomatoes out of it. Both versions are delicious and Steve and I can usually eat a whole tart for dinner… with a lovely salad on the side.

With a starter or a pudding, I suppose it could serve four. :-)

Here's what you need:
A flat baking tray
One sheet of ready-made puff pastry (or enough home-made flaky pastry to cover your baking tray)
One tub of cream cheese. I like the herby Philadelphia, but use whichever one is your favourite.
Plenty of green asparagus spears (or tomato slices)
Salt, pepper, olive oil, pine nuts and a bunch of fresh basil
Here's what you do:
Roll out your puff pastry sheet and cover the baking tray.
Score a line about 1cm in from the edge. Don't cut all the way through, just enough so that the edge will puff up when the pie is in the oven and create a rim for your tart.
Spread the cream cheese over the pastry sheet, avoiding the edge.
Arrange the asparagus spears or tomato slices over the top of the cream cheese, covering as thickly as you like.
Drizzle with olive oil and season with a little salt and pepper.
Bake in a medium oven until the pastry is golden and puffed up around the edge of the tart, and the asparagus is cooked.
Drizzle with more olive oil and decorate with toasted pine nuts and fresh basil leaves.
And that's all there is to it... Enjoy!


And Next Month …
By the time I write the next newsletter, it should be properly summer. Or so we hope. I'm not sure what to regale you with next month, but since I'm researching top ten lists and recipes for tea treats, maybe something along those lines.

Until then, please take care.





And why not join us on Twitter or Instagram and LIKE us on Facebook? I'll be very happy to see you!


P.S. If you think that some of your friends or colleagues might like to read our newsletter, then please forward them this mail. They can read newsletter back issues and subscribe here.