From Ships of the Line to Pie & Mash
It's the 109th anniversary of the battle of Trafalgar tomorrow. So spending a day exploring England's naval history seemed only fitting, especially since I hadn't been back to Greenwich since my very first summer in England 20-odd years ago.
And while most visitors head straight up the hill to the Royal Observatory and have their photograph taken across the Greenwich Meridian, our main goal was the National Maritime Museum and two of its major exhibitions.
One told the story of finding a reliable way to plot longitude at sea. It's a story of clocks and stars, of ships and men lost on the ocean - and of a few who doggedly worked away for many years to solve a difficult problem and claim a fortune in the process. If you love clocks… go see this one, as Harrison's clocks are on display - and they are truly gorgeous. Not just in execution, though they are beautiful to look at, but just imagining him designing the clock, by candlelight, with a quill pen, is inspirational.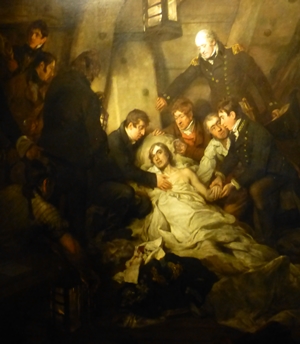 The other exhibition is bound to leave a lump in your throat. It explores the rise of Britain's Navy between the late 17th century and the end of the Napoleonic Wars, talking about press gangs, volunteers, trade, exploration, war and - of course - Horatio Nelson.
We'd been to Chatham Dockyards, so I had an idea how big an "industry" the Royal Navy had been in the 18th and 19th centuries, how exploration and trade changed Georgian England, and how much was demanded of the fleet during the Napoleonic War.
There are numerous accounts of the Battle of Trafalgar and Nelson's last hours, but I didn't realise how many of Nelson's personal possessions had been preserved. I knew about his queue (the "ponytail" men wore in those days) having been sent to his lover, Lady Emma Hamilton, but being able to look at the uniform coat Nelson wore at the Battle of Trafalgar, and seeing the gash left by the musket ball that killed him…


---
Going "on" the River is Old Hat…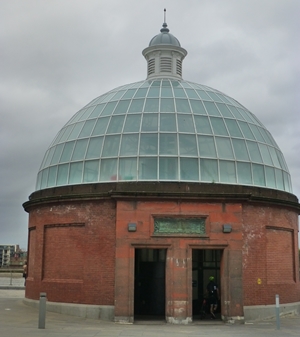 I'd initially planned for us to take the Riverbus from the Tower of London to get to Greenwich, but timetables simply were not lining up.

But that doesn't mean we had to forgo the river entirely, because apart from naval history, Georgian architecture, the Cutty Sark and more food than even I can cope with in one day, Greenwich has another attraction that should not be missed.

It has a Victorian tunnel that offers you the chance to walk under the River Thames!

And no, I'm not joking. Find the building in the picture… hint: beside the Cutty Sark… then look across the river to spot its counterpart. Cast iron steps guide you down to the entrance of the tile-clad tunnel (there's also a lift!) and then allow you to make your way to the other side of the river Thames, 14m below the riverbed.


---
No Chance to Go Hungry
Our day out exploring Greenwich very obviously hit all my buttons. So please forgive me if I'm skipping out on recipe writing today and simply talk about food. Though I offer in my excuse that it's food that really needs talking about, just in case you're going to visit Greenwich in the near future, and just because I had so much fun that it needs to be shared!

I had planned where we were going to have dinner that afternoon - and more on that later - but we arrived just before lunch and I was hoping to pick up a quick snack while we walked between attractions.

Boy was I ever wrong! My quest for a quick snack turned into an hour-long exploration of Greenwich Market, wandering from food stall to food stall, unable to decide what to choose.

It was a kind of heavenly torture, especially seeing that I was getting hungry. Starving while surrounded by food sounds idiotic, but imagine having to choose between Thai, beef and melted cheese sliders, Jamaican jerk chicken, curry goat, Lebanese falafel wraps, Indian snacks, Brazilian churros, Louisiana sausages, Japanese teriyaki, spicy Korean, raw food burgers, red velvet cake, Scotch eggs, sushi, Argentinian empanadas, Italian rice balls and pizza and - most unexpected - Ethiopian delicacies. My nose was practically tripping over itself and every time I turned there was another colourful sight, another mouthwatering scent, another something I just had to check out!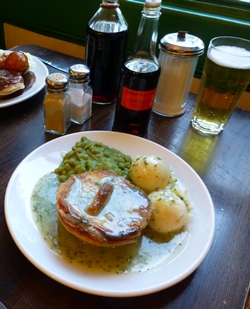 Yes, the market was busy, but it was also buzzing with the kind of cheer that is hard to come across these days. The stallholders were working like dervishes, but despite the crowds and bustle they had smiles and jokes for everyone. If you're visiting and are looking for good value meals, keep Greenwich Market in mind. The food is exceptionally tasty, the portions generous and the prices more than just reasonable.
And as for the dinner location I'd scouted beforehand?
Just off Greenwich Market is Goddards, one of London's oldest Pie & Mash Shops. Pie and Mash is a London sort of thing and Goddards have been serving theirs since 1890. The shop is a no-frills diner, but you can have a beer with your pie if you want. Steak & Ale is traditional, but they also offer chicken & ham, spicy beef and gravy, cheese & onion and a number of other recipes. Plus eels and liqueur, of course. None of which I'd had before. I left the eels for my next visit, but I can tell you that liqueur is a thin kind of parsley sauce, which goes very well with mash and mushy peas!


---
And Next Month …

I hadn't planned to write a whole Greenwich-themed newsletter, and I still haven't gotten around to cheese recipes, but there we go. I hadn't expected to have so much fun yesterday, either. Our day out definitely deserved to be talked about and I do hope I've given you at least one idea for a day out while in London. I know for sure that I won't wait another 20-odd years until I'm back here to nose around some more… And I suppose there's still plenty of time to deal with Christmas gift ideas for England lovers next month!

If there's something you'd specifically like to read about, please let me know. I'm trying to find an expert to talk to me about tracing family histories for one of next year's newsletters, since I know nothing about that but get asked a lot.

Please keep well, and I'll be back next month!





And why not join us on Twitter and LIKE us on Facebook? I'll be very happy to see you!


P.S. If you think that some of your friends or colleagues might like to read our newsletter, then please forward them this mail. They can read newsletter back issues and subscribe here.