Clambering over Stones
In the rain, too - but we weren't complaining, since holidays are to be treasured. And in the moments between the showers, when it was warm and the sun was out, Shropshire was pretty breathtaking. So, for this month's newsletter, you'll get plenty of stones and rocks in all shapes and sizes. Because if there's one thing Shropshire has enough of it's ruins. There are castles, prehistoric sites, Roman cities, abbeys and churches, and real, grown rocks too. And that's where I'm going to start this little Shropshire meander.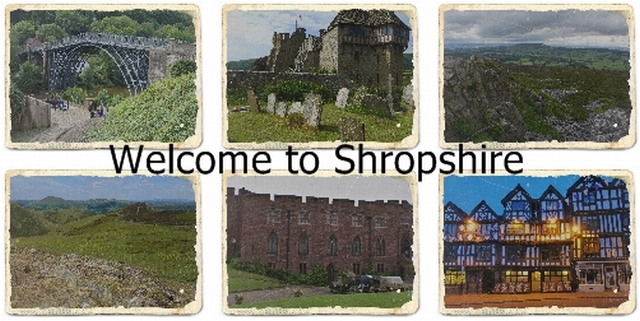 Shropshire has some famous rocks. The ones around Wenlock give their name to a time period in the Silurian and are about 430 Million years old. The ones we clambered over, the Stiperstones, are even older, 480 Million years or so. They're jagged when the rest of the Shropshire landscape has been planed mostly smooth by some hefty glaciers, suggesting the ice just flowed around them and left them alone.
Much younger than the native rocks, but making good use of them, is Wroxeter, the ruin of one of the largest Roman cities on English soil. The part that's exposed is rather spectacular, including a giant gymnasium and bathhouses, a market place and a replica Roman town house. It left us wondering what amazing sights had been buried again to keep them safe.
From the Roman ruins, we moved on to fortifications and castles. The latter also mostly ruined. Shropshire is borderland. Like Northumberland in the north forming the border between England and Scotland, Shropshire marked the boundary between England and Wales.
Even before the age of castles, the king of Mercia had the border marked by a massive dyke, a bank and ditch construction that ran the length of the border from the Severn Estuary and Liverpool Bay. I'd grown up with that bit of info tucked away in my brain, only to learn - at the Offa's Dyke Discovery Centre - that we don't actually know for sure why Offa had the dyke built, or even how he did it.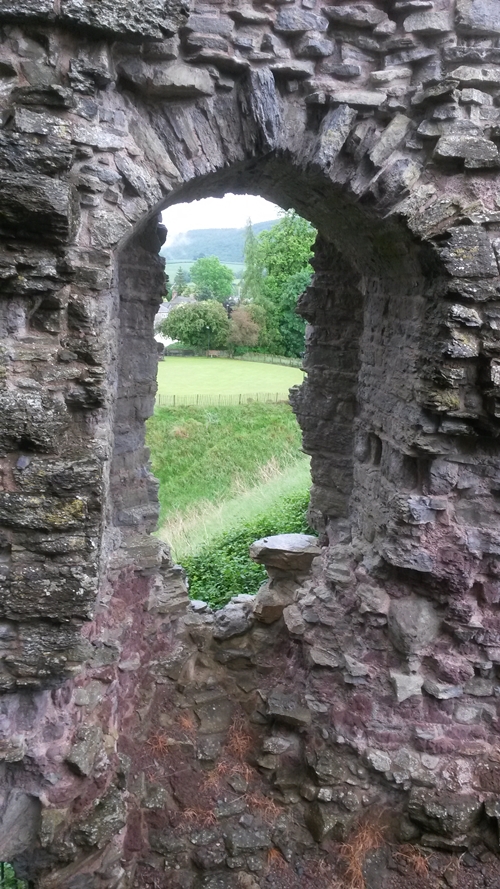 There's no argument about who caused the many Norman castles to be built. Or what they were for.
Shropshire was a fertile, rich county, and hard fought over.
William the Conqueror granted lands here to some of his most loyal allies, in return for their pledge to keep the border to Wales safe and secure. Some of the men who built the first of a slew of castles founded dynasties that grew to be the richest and most powerful in England.
And where the castle builders trod, the church wasn't far behind. Actually, the church might have been first on the scene, but these days, their abbeys lie as ruined as the castles.
Iron and steel of a different kind took over from the swords and, centuries later, Shropshire re-invented itself as the birthplace of the Industrial Revolution. Ironbridge Gorge is a byword for glowing furnaces, for steam-powered hammers, for soot and ash, for hard work and crafty engineering. There's a reason the whole area is now a World Heritage site, and the museums, including a giant outdoor living history one, are amazing.
As you can no doubt tell, we were enchanted. Let me add that Shropshire also has a reputation as something of a foodie hotspot and you'll understand why we enjoyed ourselves so much and never mind the weather! :-)


950 Years Ago...
When Duke William decided to wrest England's crown from Harold by force, he must have been well aware of the challenges he faced. Before his righteous claim, before even the Pope's goodwill, he needed an army. His household troops, while no doubt sufficient to hold Normandy, weren't nearly enough to face King Harold and the English levvies.

So William sent out the call, promised riches and land should his enterprise succeed and… a surprising number of people turned up willing to fight for a slice of England. Some were old, powerful allies, like William's half-brother Odo, the bishop of Bayeux, William's stepbrother Robert, count of Mortain, William, count of Evreux, a cousin of the duke's and his brother Ralph de Tosny. All willing to expand their sphere of influence across the channel.

Many of the others - and it's assumed that William's army totalled about 7,500 men - were local lords, younger sons or mercenaries. People who were ready to seize a chance to make a new life for themselves.

It is believed that William's army had a large Breton contingent and a host of Flemish fighters, too. But out of that body of men, we only know about 15-20 names with certainty. A very short roll call indeed for an enterprise of such wide-ranging consequences.

(So if someone tells you that their forebear fought with William of Normandy at the Battle of Hastings, it's... fairly unlikely that they can be sure!)

Note:
English Heritage is an English charity that looks after many of our historical places, ruined castles, battlefields and ancient monuments. To commemorate the 950th anniversary of the Norman Conquest, they are putting on a raft of events all throughout the year. And not just in 1066 country, but across all of England.

We've been members of English Heritage for years and it's really worthwhile. Our membership fee supports their work and in exchange we have free access to all the properties the charity looks after, over 400 of them.

Why am I going on about this now? Because right now - until July 10th - English Heritage offers 20% off all Memberships and Gift Memberships. Just enter code EP3 to save on your membership.

Exploring Roman ruins, Norman castles and prehistoric sites near you is a marvellous way to spend the summer!
A (Spinach) Tart - But not as you Know it!
We've been having a lovely, and vaguely hilarious, discussion about biscuits on the Essentially England Facebook page this week. Biscuits and gravy, that is. Not biscuits and tea. I now have several recipes to try out, as well as a recipe for cornbread and I'll shortly be headed to the kitchen.

Meanwhile, I would like to reciprocate with a recipe that is similar in spirit. (To me, at least.) I found it in a book of Old English Recipes and it's said to originate in the records of the Twisden family of Bradbourne Park. The records kept there date from 1675 to 1750 and, back then, Spinach Tart was…a sweet! It's on my list of things to try out and I challenge you to race me to it. Here are the instructions:
Boyle your spinage and put to it half a pint of creame a Little Rose watter half a pound of currants a Little Cinnamon and half a pound of sugar then fill your tart to bake.
I'm having soooo much fun with this book. I'm sure you can tell. Fortunately, the late Michael Berry, who compiled this delicious treatise on long-forgotten food has also translated the recipe into modern for us. He says we need:
6oz short crust pastry (that's about 150g)
1lb (500g) fresh spinach leaves, washed
8oz (200g) double (heavy) cream
2 egg yolks
1/4 lb (125g) currants
1/4lb (125g) sugar
1/2 teaspoon each ground cinnamon and rose water
Then all we have to do is follow the original instructions. Roll out the pastry and line an 8in tart tin. Blanch the spinach leaves in boiling water for 3 minutes and drain very well. Squeeze out all the water and chop the leaves. Stir the egg yolks into the cream, add the sugar and currants and stir until thoroughly blended. Add the spinach, cinnamon and rose water and mix again. Pour the mix into the pastry case and bake in a preheated oven - Gas 5 / 190°C / 375°F - for 35-40 minutes until the middle is risen and well browned. Test with a skewer for done-ness and serve warm or cold.
Please let me know how you get on if you try this. I'll do the same.


And Next Month …
Next month… well, that depends a bit on the weather improving and us getting a chance to go out and explore. Meanwhile, please keep well and to all the US citizens - Have a wonderful Independence Day weekend!

Meanwhile, please keep well, and I'll be back next month!





And why not join us on Twitter and LIKE us on Facebook? I'll be very happy to see you!


P.S. If you think that some of your friends or colleagues might like to read our newsletter, then please forward them this mail. They can read newsletter back issues and subscribe here.