Not Quite Winter Yet
So it's suddenly the middle of November, and I'm glued to my keyboard taking part in National Novel Writing Month. The idea is to choose a project and write 50,000 words in November. So far I'm doing nicely. So nicely, in fact, that I'm allowing the fiction muse a bit of time off to catch up with writing newsletters.

For some of you, it will already be winter (or summer!) Here, I'm still enjoying some very pretty autumn colours. They are bright enough to cut through the mist and when the sun comes out, it looks simply amazing.
Apart from that, I'm a little challenged on the news front this month… writing for a living and writing the next novel do take up a lot of time! So I thought that under history, I tell you a little about our local area.


---
Drovers and Highwaymen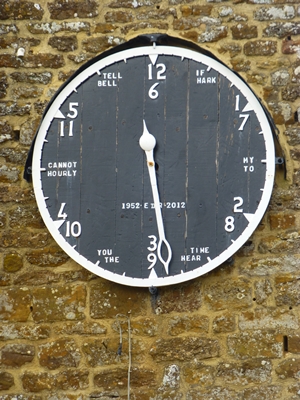 Culworth, a village just a few miles up the road from us, looks like a sweet, downright sleepy place whether you pass through by car or on foot.

It's got a lovely hill to try out tandem speed records on (downhill!) and a clock that I challenge anyone to tell the time with.

Apart from that, it's just another sleepy village, but if you'd visited 200 years ago, the story would have been very different.

Merchants and drovers travelled up and down the two roads that cross at Culworth, taking livestock from central Wales to London and from the Cotswolds to Northampton. Much money moved along those roads with the livestock, so it's not too surprising (or is it?) that highwaymen, thieves and cattle rustlers thrived as well.

For a while, the peaceful rolling countryside was terrorised by the Culworth Gang, who were robbing and stealing and challenging peaceful folk. I'm not sure if they were ever acquainted with Dick Turpin, but the writer in me can easily entertain herself by imagining how that might happen. And, as with most stories of that nature, the gang came to a sticky end and the local folks could sleep safely in their beds once more.

Maybe one of these days, when the fiction muse needs inspiration, I'll come back to this story. With a dashing heroine, perhaps, who isn't who she seems and takes everyone by surprise. And pots of tea. And crumpets.


---
Whimsical Teapots
Teapots and big, cheerful mugs are essential items in my house. A cup of tea first thing in the morning is bliss, cups of hot tea during the day are necessary to keep the words flowing. I like my teapots functional and the mugs positively huge, for lots of tea that doesn't get cold quickly.

But teapots aren't just about function. Sometimes, teapots are about whimsy, and snark and nostalgia. They're about creating a little slice of England in ceramic.

I know, I know… I'm waxing lyrical about teapots, of all things. But these ones, from The Teapottery in Yorkshire, really deserve a mention - especially with Christmas coming up and many of us on the hunt for unusual presents.

What makes these teapots so special? For me, it's the way they've caught the mood of what I like about England. Their designs are quirky, the teapots are hand-decorated so no two pots are ever exactly the same, and to top it off, they're fully functional. And while I might not want to serve tea from a teapot looking for all the world like a Marmite jar…. somebody else might.

You can check out this page on the site for my favourites.
---
A Grown-Up Cherry Pudding
Morello cherries, the deep red sour ones, are some of my all-time favourite fruit. Unfortunately, they're not that common, or maybe popular, in England, so oftentimes I have to rely on morello cherry jam or cordial to satisfy my craving for the taste.

A long time ago, one of our big supermarkets used to stock big jars of morello cherries preserved in little more than juice and sugar. I haven't seen them in ages, but I did find a very decent, ie. not overly sweet, morello cherry compote last week - which was a perfectly valid excuse to make one of my favourite puddings.

It's definitely a pudding for grown ups, hasn't really got a name and may - once upon a time - have been related to Blackforest Gateau or trifle. Handy for using up left-over rye bread, it's also great for parties, since it's a pudding that just requires assembling, and it ends up looking pretty spectacular.
Here's what you need for four:
Four decorative pudding bowls
4 slices of pumpernickel or dark rye bread
one small glass of kirsch, sloe gin or cherry liqueur
Morello cherry compote
your favourite dark chocolate
Whipped Cream
And here's how you turn these ingredients into a very fine pudding, indeed
1. Remove the crusts from the rye bread if they're very firm, then blitz the bread in a blender until you have fine breadcrumbs. Divide the breadcrumbs evenly between your four pudding bowls.

2. Moisten the breadcrumbs with the liqueur of your choice. Right now, my favourite is home-made sloe gin, especially the one I made that's flavoured with cinnamon. Don't let the bread go soggy. And red cherry juice works fine if you prefer your pudding without alcohol.

3. Grate a layer of your favourite dark chocolate over the bread.

4. Spoon a thick layer of morello cherry compote over the bread & chocolate.

5. Whip the cream until it holds its shape, then spoon or pipe over the cherries until the top of the pudding is covered.

6. Finish with chocolate curls over the top and chill until ready to serve.

Enjoy!


---
And Next Month …
That's it from me for the moment. Keep warm, if you're somewhere wintry, keep cool if you're enjoying summer. Right now, I can't imagine what to write about next month, but I promise to come up with something…

If there's something you'd specifically like to read about, please let me know, either by mail or on the Facebook page.

Please keep well, and I'll be back next month!





And why not join us on Twitter and LIKE us on Facebook? I'll be very happy to see you!


P.S. If you think that some of your friends or colleagues might like to read our newsletter, then please forward them this mail. They can read newsletter back issues and subscribe here.