The Wonderful Age of Steam
August has been a strange month for all manner of reasons. When I was writing last month's newsletter, bemoaning the strange mix of sunshine, rain and strong winds that passed for weather this year, I didn't know that I'd be reading about a more severe version on the news only a few days later. If you're living in the area affected by Harvey - and I know we have a few Texans on the mailing list - we hope you and your loved ones are safe.
And maybe reading about chillies and steam trains will take all our minds off the serious things for just a few moments.
---
Chillies and Cheese
We had a great time at the Chilli Festival, despite getting stuck in a traffic jam on the way down. If you have the chance to visit West Dean Gardens, I'd strongly recommend you take it. The landscaping is beautiful, the gardens are amazing, and the greenhouse - filled with more chilli varieties than I knew existed - will leave you green with envy.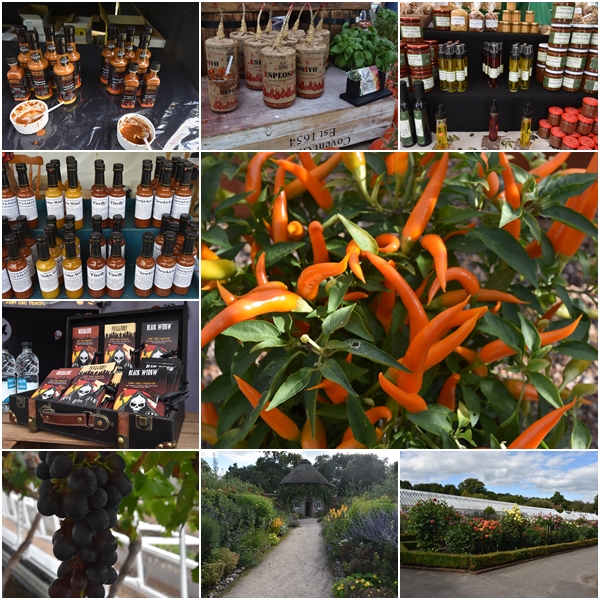 We lunched on burritos, I tried my first chilli-laced iced coffee and we tasted our way through a whole avenue of chilli sauces from mild and lemony to blow-your-head-off serious. There was even chilli chocolate, but... alas... no ice cream. Or chilli beer.
What I did find was a new cheese maker, whose cheddar is joining my list of favourites. Lymn Bank Farm is a family business in Lincolnshire, and their stand at the Chilli Festival had the most wonderful mature cheddar, as well as cheddar cheese flavoured with chillies (obviously), garlic, mango and chilli, and even horseradish, which I seriously hadn't seen before. Their website has two shops up (yay!) - Lymn Bank and Nibble Nose Cheeses - and between them you can stock up on some amazing cheddars and tasty gift packs. Keep it bookmarked in case you need a tasty gift or two. :-)
Steam, Change, and a Flying Scotsman
Last weekend it should have been raining. It usually pours when it's Bank Holiday weekend and we get an extra day off.  But just to prove us all wrong, it was blazing hot, blue sky weather. So we decided to go out. And look at trains.

Steam trains to be exact. A few years back, while on holiday in York, we watched the iconic Flying Scotsman being restored at York Railway Museum. He's all finished now, and drawing crowds wherever he appears. This weekend past, he was at Didcot Railway Centre, along with the Union of South Africa, a Mallard-class loco that's at home in Scotland. 

We'd not visited the railway centre before, but it's a fascinating place full of locos and carriages, turntables, demonstration lines, and a display of Brunel's broadgauge railway that got me thinking.

We often hear that we live in a time of change. That's difficult to deny when I distinctly remember a time before the internet and we can hardly do without it now. But one of the history displays at the Railway Centre made me wonder if we're seeing as much change as the people in Victorian times. In 1837, it took 12 hours to travel from London to Bristol. It had probably taken this long ever since the English had horses. But by the end of that century, that journey took as little as two hours! Communication sped up, too. Letters could be sent for a penny and arrived swiftly. All the changes we see now, broadband and the social media explosion included, all started with the railways. And I wonder how people back then felt, living in their rapidly changing world.



Great with Cheese
Since I have cheese on my mind at the moment - and please do check out Lymn Farm's offerings! - I was thinking of something to go with that cheese. My first thought was port, but since I'm neither a wine grower nor a port shipper, that duck won't swim. So instead I have pulled out a recipe for a very tasty onion and herb bread, that's great by itself, lovely with a bowl of soup, and simply wonderful with cheese.

It's adaptable and fairly straightforward, and you can even make it in a breadmaker, though I would suggest you just use the machine to mix and prove the dough and cook it in the oven because... I'll get to that reason in a little while.

First you need this:
1-2 tablespoons olive oil
1 onion, peeled and chopped
1 teaspoon instant dried yeast
350 g / 12oz white bread flour
250ml / 8 fl oz water
1 teaspoon salt
1/2 cup fresh green herbs, chopped

And here's what you do:
First, fry the onion in the oil on a lowish heat until it softens and turns translucent. You want to make sure it doesn't burn, so take your time. Then set it aside.
Next make the bread dough. Mix the flour, yeast and salt. Add the onions and herbs. You can mix any fresh herbs you like. Parsley, thyme and oregano are lovely and I also like to add a little very finely chopped rosemary. A little sage might go well, too. Make sure everything is evenly combined, then add the water and mix into a dough. Knead the dough for a couple of minutes, then place into a greased bowl and keep in a draught free place to rise until it's about doubled in size. - All of this can also be done in a bread machine. On mine, I would use the dough programme.
When your dough is risen (after about an hour), knock it back, knead it for another couple of minutes and then place it into a greased loaf tin. Leave to rise again until doubled in size, before baking it for 45 minutes at 200°C / 400°F / Gas 6.
The bread is cooked when the base sounds hollow when tapped.
If you want something extra special, place a layer of cheese slices on top of your bread halfway through baking. It makes an already tasty loaf extra fabulous.
Enjoy!
And Next Month …
This month is going to be extra busy on the work front, so whether we get to go out is anyone's guess. We'll try, I'm sure, especially as there's the Tour of Britain and Steve likes to go and support the race. Let's see what we'll bring back.

Until then, please take care.





And why not join us on Twitter or Instagram and LIKE us on Facebook? I'll be very happy to see you!


P.S. If you think that some of your friends or colleagues might like to read our newsletter, then please forward them this mail. They can read newsletter back issues and subscribe here.