Stone Circles and Ancient Tombs
Welcome to Essentially England's September newsletter! Summer is almost over, and it's almost time to head back to school and work and the dreaded routine. Almost, but not quite, because today I'm taking the time to reminisce a little - inspired by a trip around some of my favourite places. I had some American friends stop in England on their way back home and we rented a cottage in Fairford, four miles from where we used to live.
This was my first Airbnb experience, and it was perfect. We'd picked a quirky cottage with its roots in Tudor times that I'd driven past almost daily for many years on my way to and from work. Stepping inside was like stepping back into time - though it had all the modern amenities you'd expect, plus a fabulously romantic, secluded garden.
The owner had everything arranged for us just so, and if you want to spend a few days exploring the Cotswolds or Wiltshire's ancient sites, I can highly recommend a stay at Tudor Cottage in Fairford. You can find the cottage on the Airbnb site here.
Because it's so very well equipped, the cottage would have made a fabulous retreat for a few days, but we only had three nights and I wanted to show off some of my favourite sites, so sitting around wasn't for us. Instead, we drove over the Downs to Avebury, a place anyone with a liking for ancient history should go and see.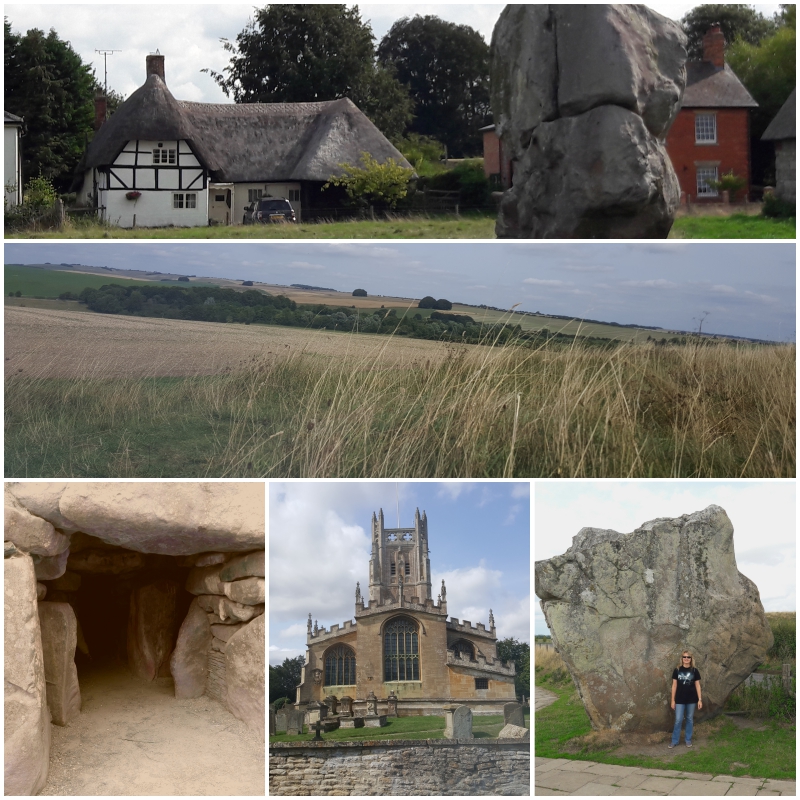 Between West Kennet Long Barrow - a neolithic chambered tomb that was used as a burial site around 3500 years ago - to Silbury Hill and the stone circles (plural!) of Avebury itself, there's so much to see on the site, you'll want to spend the day. 
Walk up to the long barrow and duck under the lintel stone into the darkness. It can be a bit eerie, walking along the spine of the tomb and peering into the small chambers that once housed human remains. But then, it's an ancient burial site, so eerie comes with the territory.
And once between the stones in Avebury, there'll be astonishment of a different sort. You can get just as up close and personal with the stones as you could with the tomb. And while you're there, imagine having to build Avebury. Find the stones, bring them to the site, put them up, and then dig that enormous bank and ditch. All without power tools.
Two things are for certain: the people who built Avebury were definitely not backwards.
And the views around the site are fabulous!
Pub Grub
Having friends from abroad to stay means they're keen to sample the local and traditional when it comes to food, which is bliss for me. And the Bull Hotel in Fairford does some lovely traditional dishes. Very tasty fish & chips, and - I'm told - a truly fabulous fish pie. I also had to try the local steak and ale pie and, as you can see, everything looked properly yummy!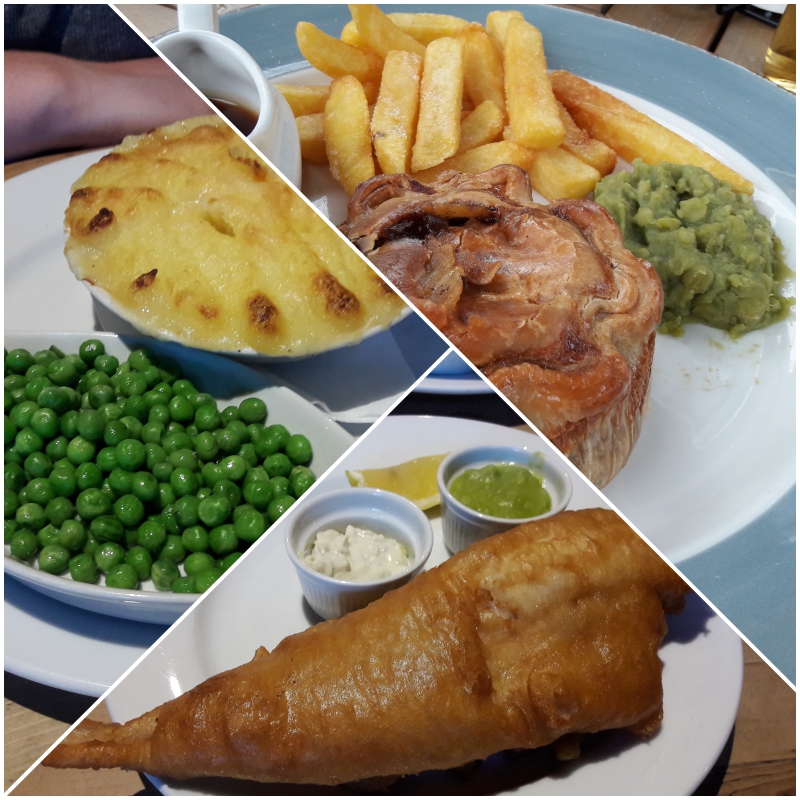 So, I'm sure you're not surprised if for today's recipe I picked something that has pub grub written all over it...
Gloucester Cheese and Ale
This is a very old-fashioned, very grown up version of cheese on toast that used to be served after the meat course at dinner in posting houses and inns in the West Country. And it's made from nothing more than Gloucester Cheese, wholemeal bread, and brown ale, with maybe a scraping of mustard for extra flavour.
For me, it would be too substantial as part of an evening meal, though it could probably serve as dinner with a salad alongside or a maybe a pudding after. And it would definitely make a lovely late night snack!
How does it work?
Slice 175g / 6oz Double Gloucester cheese and arrange the slices in the bottom of a shallow ovenproof dish. Spread a little English mustard over the cheese if you like.
Now pour over some brown ale - just enough to cover the cheese.
Cover the dish with foil and bake at 190 °C /  375°F / gas 5 for about 10 minutes or until the cheese is soft.
While the cheese bakes, toast four thick slices of bread. Then pour the warm ale and cheese sauce over the bread and enjoy!
Not at all difficult, right?


And Next Month …
It will be autumn, which means apples. And pears. And cheese to go with. I'm sure I can do something with that...

Until then, please take care.





And why not join us on Twitter or Instagram and LIKE us on Facebook? I'll be very happy to see you!


P.S. If you think that some of your friends or colleagues might like to read our newsletter, then please forward them this mail. They can read newsletter back issues and subscribe here.