A Scallop and A Castle on the Hill
Over the last twenty-five years we've spent a lot of time standing on roadsides to watch cyclists come past. Sometimes, at ridiculous hours in the morning to help as marshals during time trials. At other times we were bona fide spectators, enjoying a day out to cheer the race and enjoying a nice lunch in a pub somewhere close by. We've sweltered in the sun and have been drenched by rain and got so cold that three pairs of socks and two pairs of gloves were inadequate to keep me warm. My favourite memory of all is standing on a roundabout at three in the morning, cheering on my husband in a twenty-four-hour race and having random, long-distance lorry drivers interrupt their tea breaks to offer encouragement to the riders. If anyone knew about being on the road at all hours and in all weathers... these guys did.
Why am I rabbiting on about cycling? Because September is the time for the Tour of Britain and the organisers have a tendency to pick out Britain's most scenic places for the riders to pass through. And some of the more challenging roads. This year, the Tour's route meandered by close to our neighbourhood. So we took a day out to trek to Suffolk to cheer on the riders and while the weather wasn't all that kind, the atmosphere and some nice reminiscences made up for it.
If you listen to singer Ed Sheeran, you may be familiar with his song Castle on the Hill. (If you've never heard of it, you can listen to it here.) The castle in question is Framlingham, and while there's not much apart from the curtain wall left, I like it a lot.
The first Framlingham Castle dates back to the 1140s, but was destroyed by Henry II in the 1170s. The rebuilt castle is the one we can still see today. The curtain wall has survived and so have the remnants of the large mere, a kind of artificial lake, that used to surround the castle in the 13th century.
The castle is well worth a visit, as is the town of Framlingham itself and the surrounding area. And if you're desperate for a bite to eat, check out The Castle Inn - we've had some lovely lunches there.
The second stop of our whirlwind tour of Suffolk was Aldeburgh, right on the coast. Once upon a time, Aldeburgh was a large port and a well known shipyard. Sir Francis Drake's Golden Hind was built here and much trade passed through the town.
Unfortunately, the sea that brought the prosperity also took it away, and most of the medieval and Tudor town has been lost to the waves. More recently, Aldeburgh is better known as the home of composer Benjamin Britten. The town is famous for its arts and music festivals rather than bike racing, perhaps, but the Aldeburghers pulled out all the stops to give the riders a cheerful welcome. The crowd was fantastic and there was even time for a walk on the beach before we had to head back home.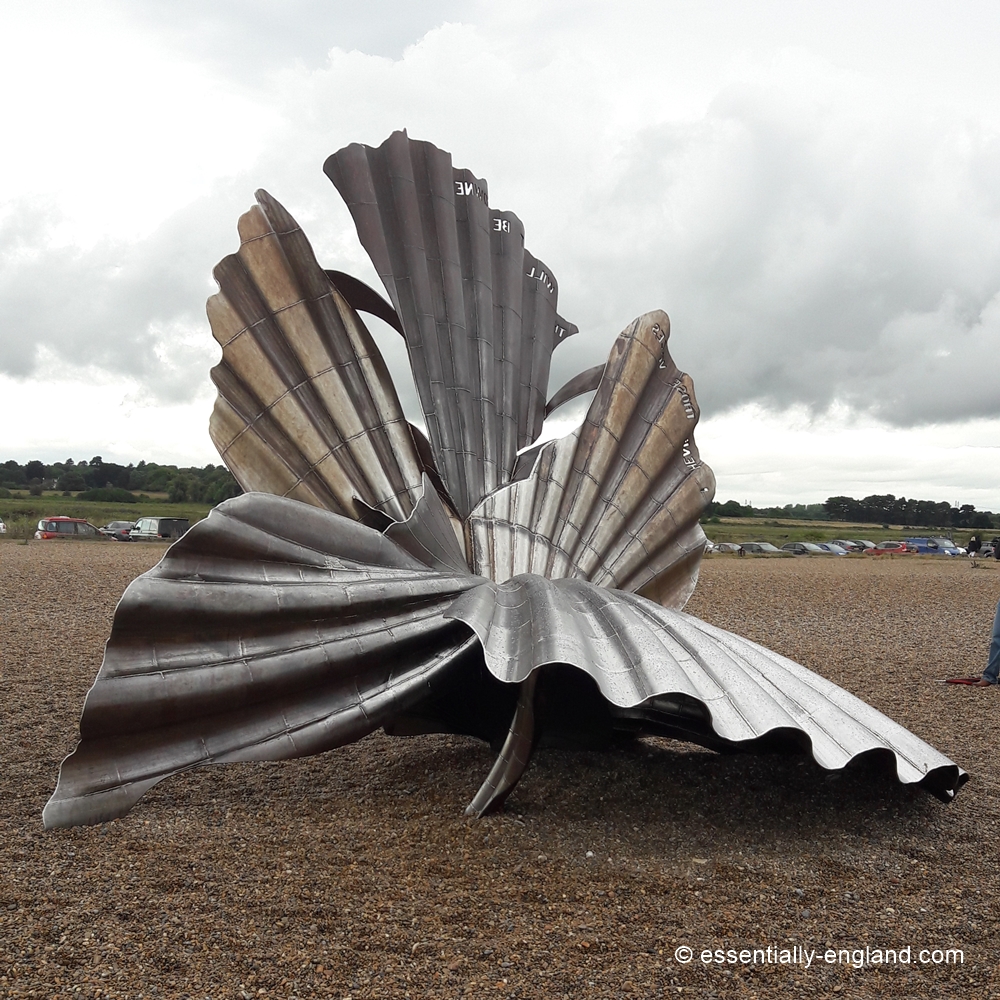 Of course I can't talk about Aldeburgh beach without mentioning The Scallop. It's a stainless steel sculpture dedicated to Benjamin Britten, who loved to walk on the beach.. and I think it's gorgeous!
Broad Bean and Bacon Soup
Broad beans are a summer treat, divine in salads or simply in a heap with sliced tomatoes, still warm from the sun, and my finest olive oil. They're lovely with goats cheese, or with parsley and garlic in a bright green dip. Where they're not quite so common is soup. But that's not gonna deter me.

In late summer, or very early autumn, the broad bean season comes to an end. The beans you do find are big, with tough outer skins. For salads and dips, that means double peeling, but for soup... nah. A good blender and maybe a sieve is all you need. Keep a handful of cooked beans back before you blend. Shell those and add them to the soup right at the end for an absolutely stunning look.

This recipe makes enough for four as a starter or two for a decent-sized lunch. It's very easy. And while it's just the dish to make use of broad beans when there's a glut, you can very easily use frozen broad beans if you want to make the soup out of season. And leaving out the bacon, or replacing it with a sprinkling of grated Parmesan cheese, makes this soup suitable for Vegetarians.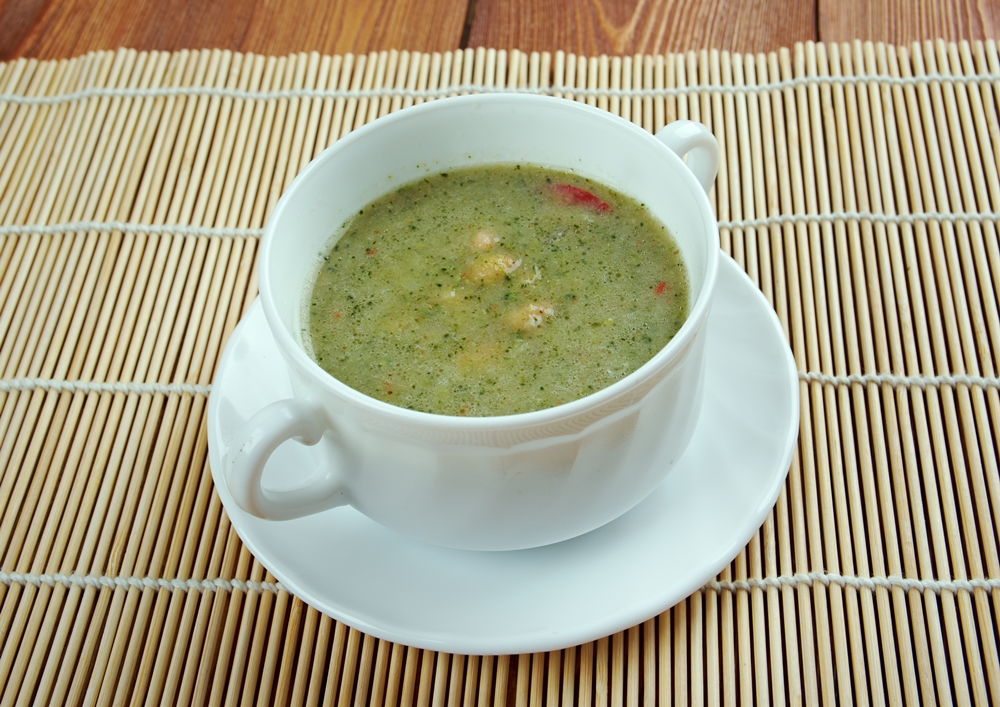 Here's what you need:
225g / 8oz shelled broad beans
225g / 8oz shelled peas
1 large onion, peeled and finely chopped
450ml / 3/4 pint milk
300ml / 1/2 pint vegetable stock
salt and pepper
2 rashers bacon grilled and chopped
And here's what you do:
Place broad beans, peas, onion, milk and stock in a large saucepan and bring to a boil. Turn heat down and simmer until the vegetables are tender. This will take about 20 minutes.
Grab a slotted spoon and remove about a third of the broad beans. Blitz the rest of the soup in a food processor or with a hand blender. Add salt and pepper to taste.
Peel the outer shell off the reserved broad beans leaving only the bright green inner.
Ladle the soup into bowls and decorate with the broad bean kernels and chopped bacon.
Enjoy!
And Next Month …
We're heading into autumn and I do love the colours, so hopefully we'll get a chance to go out looking at trees, or even have lunch somewhere...

Until then, please take care.





And why not join us on Twitter or Instagram and LIKE us on Facebook? I'll be very happy to see you!


P.S. If you think that some of your friends or colleagues might like to read our newsletter, then please forward them this mail. They can read newsletter back issues and subscribe here.