Books and Blackberries
A cheerful welcome to everyone who subscribed to Essentially England News during the last month! Here you'll find England news, site news, travel tips, reviews and our Recipe of the Month, all in one easy-to-digest email.
Apparently, England have just won the Ashes. I havenít been bitten by the cricket bug just yet, but I like the idea of a sporting competition that stops for tea (and the most delicious cakes, of course)! Essentially English, Iím sure youíll agree.
---
What's New at Essentially England?

Well, we finally made it to Highclere Ö and if you havenít been, then make the time. It was fabulous and somewhat surprising. A page about our visit is in the works. The castle is only open during a couple of months in the summer, so if you want to see the new Egyptian exhibition this year, youíll need to get there before Thursday 3rd September Ö

Iím often asked for recommendations for anything from guide books to England fiction. And the book section really needed an overhaul. So, Iíve taken a rainy weekend and put in some hours. Iíve split it into sections and added reviews for some of my favourite books. Please let me know what you think. And if you have a favourite England book, please share it with all of us.

I know itís too early to think of Christmas, but as weíre already talking books: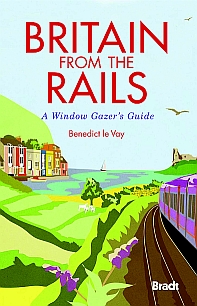 Bradt Travel Guides have just published a new book thatís guaranteed to be a Christmas favourite with dads and grandads Ė and quite a few mums I know!
Britain from the Rails Ė a Window Gazerís Guide is for anyone who enjoys travelling by train. It covers some of Britainís (not just Englandís) most scenic routes and Iím sure youíll enjoy Benedict le Vayís writing as much as the views.
Iíve just ordered my own copy and will post a review as soon as Iíve finished reading it.
And to make it really special, Bradt Travel Guides offer 25% off to all Essentially England newsletter subscribers. Just enter EE25 in the coupon code box when ordering.
---
Travel Tips and Reviews

Itís that time of year when lots of travel companies get their special offers out. If youíre planning an autumn holiday, but donít want to pay over the odds for accommodation and airport parking at Heathrow, then keep an eye on Radisson Edwardian.

Until the end of the year, theyíre offering Stay, Park & Fly-Rooms from just £78.50 per room, per night.
. That offer includes a double or twin bedroom, up to 15 days car parking in the hotel carpark and 2 for 1 dinner or lunch at The Brasserie and Henleyís restaurant, which for Heathrow is eminently sensible.
If youíre planning a visit to London in the near future, then check out the Summer Sale at the London Pass, which offers 5% off the retail price of the LONDON PASS with this code: londpas05. The pass gives you free and priority entry to a number of top London attractions and can be combined with a travel card. If youíre taking the family and want to save a wedge, then check this out. BUT NOTE: THE SALE ENDS ON AUGUST 31ST.
---
Fairs, Festivals and Things to Do

August sees lots of big and small produce shows. No wonder, really, with everything in the garden just bursting with freshness. But September is not without, either, with several large food festivals just waiting to make the most of fresh English food.
---
Recipe of the Month - Blackberry Surprise
Farmed blackberries just donít taste the same as blackberries youíve picked yourself out of the hedgerow. Shredded, stained fingertips notwithstanding. Most of mine end up in jam or partner the first apples in a bubbling crumble, but if youíre planning a Sunday lunch out of doors and need a quick pudding, try this one.

I think of it as the pudding version of beans on toast Ö and be generous with the blackberries.

All you need is good, buttery shortbread Ė I tend to go for the round, swallow-tailed version for this pudding, a pot of thick double or clotted cream, plenty of blackberries, sugar and a little lemon juice.

Place the shortbread on pudding plates and Ďspreadí gently with the cream.

Wash the blackberries and put them into a pan. Heat until they soften just a bit and the juice starts to run. Taste and add sugar and lemon juice to taste.

Spoon the warm berries and their juice over the shortbread ďtoastĒ and serve with more cream on the side.

If you must be posh, scatter a few mint leaves over the top.
---
And Next Month Ö

September is Elderberry month. Think purple stains everywhere and the smell of jam all over the house Ö Weíre decorating our sitting/dining room, so I donít think Iíll get much time to go exploring, but that will change in October, when weíre having friends from Germany to stay.



Until next month, keep well and think of EnglandÖ






P.S. If you think that some of your friends or colleagues might like to read our newsletter, then please forward them this mail. They can read newsletter back issues and subscribe here.