Mementos of a Royal Love Story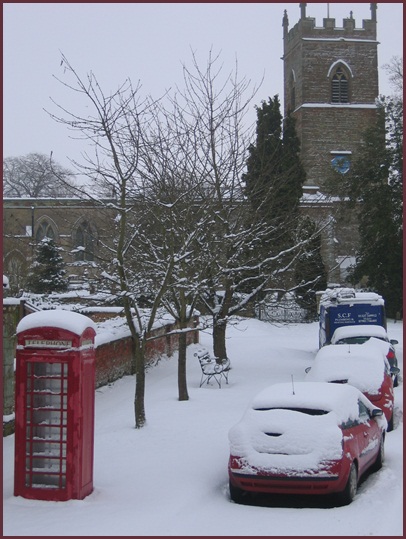 Yay, it's like the first day of spring today! For once, the temperatures are moving towards tolerable and as I write the sun's coming out and the crocus and primulas are positively glowing!
Very different from two weeks ago, when Steve took this picture from our front door. It looked very beautiful, but that night it turned unusually cold and we woke to frozen water pipes. Good thing that someone invented hairdryers, is all I can say.
What else is new in England? Pancake Day's just been and gone and everywhere people give up indulgences for Lent. And while I understand some of that, where's the sense in an MP giving up Twitter for Lent? Oh, well...
And with Valentine's Day just gone and our 20th wedding anniversary just around the corner, I'm feeling a little romantic. So for this month's little bit of history I'd like to tell you a Royal love story... or what's left of it.
---
A Little History: Eleanor Crosses

Geddington has one. Northampton has one. Waltham Cross has one. The one in Charing Cross is a Victorian replica. What am I talking about? Eleanor Crosses – the monuments to his late wife, Eleanor of Castile, built by order of her husband, King Edward I.

Eleanor died on 28th November 1290 at Lincoln and it took a 12-day journey to convey her body to London's Westminster Abbey for burial. A wooden cross was erected at each overnight stop to allow the local people to pray for the queen's soul. And a year later, King Edward ordered all the wooden crosses to be replaced with crosses made from carven stone.

Edward and Eleanor had been married for 36 years when she died. By all accounts, both were devoted to each other and rarely apart. Far from being just a trophy wife, Eleanor had some political influence, joined her husband on crusade and even gave birth to one of their sons while on military campaign with him in Wales. In their years together, Edward and Eleanor had 16 children and – in a time where such conduct was common and accepted – Edward apparently had no extramarital affairs or bastard children.

Little wonder then, that the king not only mourned his wife, but remembered her, too. And the Eleanor crosses, twelve of them originally at Lincoln, Grantham, Stamford, Geddington, Northampton, Stony Stratford, Woburn, Dunstable, St Alban's, Waltham Cross, Westcheap, Charing Cross, marking her last journey became a memorial of a English king's love.
---
Holiday Ideas

With the Queen's Jubilee and the Olympics, England's going to be one busy place this year and record numbers of visitors are expected. So if you're planning on being here during the summer, make sure you book early.

That's especially true if you want to stay somewhere really special like these two, for example:
| | |
| --- | --- |
| | |
| The Lookout at St Margaret's-at-Cliffe doesn't just have stunning views over the English channel. It's a former coast guard station that once played host to Winston Churchill. AND it has a teashop conveniently in the basement! | If early American history is your hobby, then this - the former home of Thomas Paine in Sandwich - is the place for you. Not just gorgeous inside and out, but equipped with a fine library of early American writings. |
For more great cottages check out Places to Stay. I'm slowly working my way round the counties, trying to find the prettiest, quirkiest and most historical cottages I can. (It's a hard job, but someone has to do it! :-)
---
Recipe of the Month
Pear and Almond Pudding
Still in the medieval vein, almonds were England's biggest luxury import during that period. They were endlessly useful for thickening dishes and for making a milk substitute – on the many fast days when meat and dairy products were forbidden. And they contributed to some of the lavish puddings that medieval banquets were justly famous for.

This pear and almond pudding – the recipe is for four people – is very simple to make. And definitely looks good enough to eat!
Ingredients
2 large pears, Comice or William
25g (1 oz) caster sugar
1/2 tsp vanilla essence, or a vanilla pod
100g (4 oz) ground almonds
50g (2 oz) self-raising flour (or plain flour + ¼ tsp baking powder)
75g (3 oz) soft brown sugar
3 eggs
175ml (6 fl oz) milk
Preparation
Peel the pears, then cut them in half and remove the core. Place in a pan with just enough water to cover, the vanilla and caster sugar. Poach for 5 minutes, then remove the pears from the syrup and leave to cool.

Preheat the oven to 190°C / 375°F / Gas 4.

Butter a soufflé or flan dish and place the pears in a single layer, cut side down.

Mix the ground almonds with the flour and soft brown sugar.

Beat the eggs and milk, then whisk into the flour and almond mixture.

Pour the batter over the pears and smooth down. Bake for 30-35 minutes until well risen and set. Test with a skewer – it should come out clean – that the pudding is cooked all the way through, but don't let it get too brown. Cover with parchment if the top looks as if it might catch.

Serve straight away, with pouring cream.
---
And Next Month …

I've previously written about England's Norman castles and how many there are that we know very little about. And just a couple of weeks ago, I found out that there's another one I'd never heard of almost right on my doorstep. So, I might just go and check that out...

So until then, keep well and think of England…





Now also on Twitter and Facebook


P.S. If you think that some of your friends or colleagues might like to read our newsletter, then please forward them this mail. They can read newsletter back issues and subscribe here.