Honouring England's Last Anglo-Saxon King
A cheerful welcome to everyone who subscribed to Essentially England News during the last month! Here you'll find England news, site news, travel tips, reviews and our Recipe of the Month, all in one easy-to-digest email.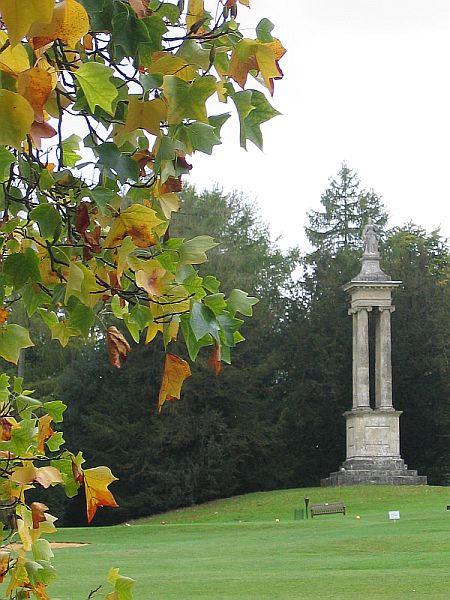 It's definitely autumn now.
Mist lies in hollows as I drive to work, turning to molten gold as the sun rises. And when it catches the trees… well, there's no better place to be than here.
We've spent a lot of time exploring some of England's best gardens and parks.
Stourhead is a little too far away now, but Stowe is right on our doorstep, and we spent a wonderful day out at Wrest Park looking at the garden restoration project. Pages and photos for all of these days out will be up shortly.
But the best part of this October had to be our visit to celebrate King Harold Day at Waltham Abbey. Not only did we visit Harold's grave and watch the re-enactors construct a Saxon shield wall, but we got the chance to see the most amazing replica of the Bayeux Tapestry.
---
A Little History: Honouring England's Last Anglo-Saxon King

Most people have heard of the Bayeux Tapestry, this 900-year-old embroidery telling the story of the Norman Conquest. Most people, however, will not have seen it, as the original is in France. There's a Victorian replica, the work of a large group of dedicated embroiderers, which you can admire in Reading Museum.

And then, there's this: Annette Banks' glorious, full-colour re-interpretation of the famous tapestry.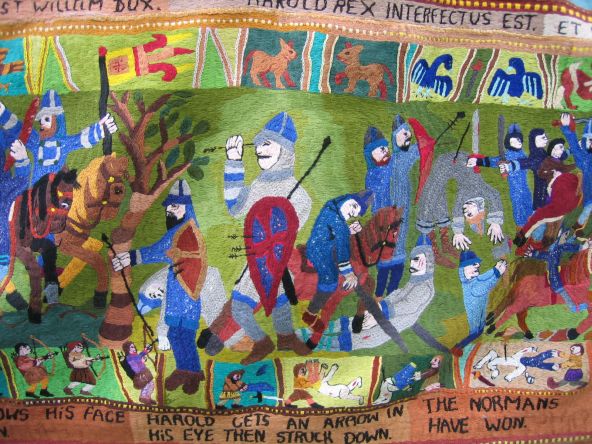 Harold Godwinson, King of England for only 9 months, nevertheless accomplished some amazing feats. He marched his army from the south coast to Stamford Bridge in Yorkshire and back to the south coast, fought two invasion forces in a month and defeated one of them.
He only barely failed to defeat the second invasion, that of Duke William of Normandy. His Saxon force, fresh from their battle with the Vikings and a long march south, held their shield wall for almost the whole day. But in the end, the battle went the way of the Normans and Harold lost his life.
There are arguments about where his grave really is: at Waltham Abbey, a church he founded and patronised during his life, or somewhere on a south coast beach, where he lies protecting England's shores as he swore?
We will never know the truth of that, but looking at Annette Banks' amazing rendition of the tapestry – a labour of love that took her over 20 years – I cannot but help thinking that this is one of the most awe-inspiring ways to honour England's last Anglo-Saxon king that I can imagine. Harold's love for England, his dedication, his stamina and courage are beautifully shown in metres of embroidered panels – clearly indicating that they are also the qualities of embroideress Annette Banks.
---
Getting Ready for Christmas

Christmas tends to creep up on me. One moment it's a glorious autumn between mist and apples, colourful trees and long canal-side walks – and the next it's all about mince pies and carol services and hunting for stocking fillers.

Actually, stocking fillers (or stocking stuffers if you're on the other side of the water) are my favourites. Even if you don't do Christmas anymore – maybe just having children's presents – stockings are an inexpensive way to get even the adults in the mood. I love to pick little things that match friends' personalities, things I've picked up here and there when I did not expect to. So, between now and then, here are a few stocking fillers for the England-lover in your life.

First up: England is Truly a Magical Place

Far from considering it a nuisance, I love it when publishers contact me with their newest releases, especially when they introduce me to England books and music I might have missed, but that go on to earn themselves a permanent place in my playlists and on my bookshelves.

Karl Woodbury's book is no exception. If you have children that love Harry Potter and English history, then you can't go far wrong with this one.

It's the story of Jenny and Lenny, twins extensively into mischief, as they discover all of England's historical places.

It's fun, it rhymes, it's unexpected and even if you're a history nut you're bound to find things you didn't know before you started reading it.

What I like: it reads easily, comes with an audio book CD, is entertaining, and made me stop to think and remember a few times – which means it's not just fun for the kids

Also available from: amazon.com
---
Recipe of the Month - A Most English Dessert
I love both apples and cheese – and autumn gives me just another wonderful way to enjoy them: as a warmish, sweet and savoury end to a meal. While in spring and summer I enjoy a salad made from lettuce, apples, grated cheddar cheese and walnuts, come autumn, I like something ever so slightly more substantial. So here it is: baked apples with cheese and nuts (and a little bit of honey if you like!)

You want dessert apples for this – cooking apples do not tend to hold their shape when baked. I like Russet apples, but Braeburn or Cox Orange Pippins or any other apple you like will do fine. Since this is dessert, serve half an apple per person.

I've left the cheese bit deliberately vague – my personal choice would be crumbly, milky Cheshire or Lancashire cheese. My other half loves a real mature Cheddar. Any crumbly, milky, full-flavoured cheese will do. Rubbery, tasteless cheese need not apply!

Now, heat the oven to medium hot – around 140°C.

Cut the apples in half and remove the core.

Brush a baking sheet with a little butter and place the apples on it, cut side down. Bake in the oven until soft – around 15-20mins or so. For the last 5 minutes, turn the apples cut side up and brush with a little runny honey.

Once done, place each apple half on a dessert plate next to a thick slice of the cheese of your choice. If honey's your thing, drizzle a little over the cheese – but just a hint.

Serve with a few walnuts and a glass of mead, or some port for a very fine dessert.
---
And Next Month …

It's Guy Fawkes' Night next month, something I'm not too keen on. Don't get me wrong, I like fireworks, but if you have a cat or dog, they're just not the best thing to look forward to.

Then again, it's my birthday in a little while, and this time I really HAVE something to look forward to: my very first, very own medieval sword. I'm as excited as a six-year-old and you can be very sure that you'll be getting a look as soon as it arrives.

So until next month, keep well and think of England…






P.S. If you think that some of your friends or colleagues might like to read our newsletter, then please forward them this mail. They can read newsletter back issues and subscribe here.