Elderberries, Floyd and a Hoard of Anglo-Saxon Treasure
A cheerful welcome to everyone who subscribed to Essentially England News during the last month! Here you'll find England news, site news, travel tips, reviews and our Recipe of the Month, all in one easy-to-digest email.
I was saddened to hear of the death of restaurateur and TV presenter Keith Floyd last week. He didnít strike me as a man whose time was up just yet. He was irreverent and politically incorrect, but I enjoyed watching him. He didnít pay much heed to recipes, cooked by instinct and enjoyed life to the full. At a time when that was unfashionable he championed local food Ė wherever local might be at the time Ė and introduced me (on TV only, unfortunately) to a very young, but already spiky-haired Gary Rhodes and the revival of traditional English food. Iíve no idea where the Just and Glorious have sent him, but I hope itís somewhere with lots of good food, good wine and good fun Ö Keith Floyd deserves it.
Another astonishing bit of news this month is the discovery of a vast hoard of Anglo-Saxon treasure. Someone with a metal detector got lucky in a field in Staffordshire Ö and the rest of us got lucky because we got a glimpse into the past. The collection of jumbled pieces of precious metal Ė knife hilts, shield bosses and arm rings amongst them Ė gives us a little indication what life was like for a warrior at a time when spoils and loot were the standard payment for services rendered. And it doesnít seem so different to the life of Uthred, described by Bernard Cornwell in his very enjoyable Anglo-Saxon Chronicles.
---
What's New at Essentially England?

I havenít had too much time to spend on the site this month as Iím preparing to teach a course at our local college while struggling with the long overdue decorating, but Iíve tidied up the Christmas recipes and added a bit of a survival guide for busy foodies. There you can find some of the tastiest shortcuts for a traditional English Christmas dinner Ö just in case you run out of time.

And if you need an early Christmas present (or stocking filler) for one of the men in your life, then check out Britain from the Rails, which I introduced you to last month. I still havenít got my mitts on the copy, as my husband grabbed it immediately Ė and according to him itís fun. I can see several holidays on the rails coming upÖ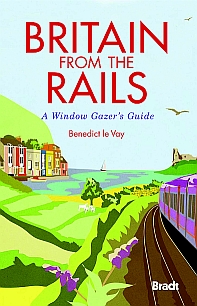 Bradt Travel Guides have just published a new book thatís guaranteed to be a Christmas favourite with dads and grandads Ė and quite a few mums I know! Britain from the Rails Ė a Window Gazerís Guide is for anyone who enjoys travelling by train. It covers some of Britainís (not just Englandís) most scenic routes and Iím sure youíll enjoy Benedict le Vayís writing as much as the views. Bradt Travel Guides offer 25% off to all Essentially England newsletter subscribers. Just enter EE25 in the coupon code box when ordering.


---
Travel Tips and Reviews

Christmas shopping with its crowds and chaos is my idea of horror, so Iím eternally grateful that someoneís invented the internet.

But I know that many people really love the rush and the atmosphereÖ and the shopping, I suppose. If thatís you, and you like to make an event of it, then keep an eye on Radisson Edwardian. If you reserve your rooms before 18th October, you can save 25% on the cost of your room between 14th December 2009 and 10th January!
So not only can you get your Christmas shopping done in comfort, you could also hit the sales and still save money Ö
If you like to go away for Christmas, but donít want the chaos of crowded airports, then you might like to check out English Country Cottages. Renting a cottage somewhere pretty over the holidays makes a real change and there are some terrific deals out there at the moment.
---
Fairs, Festivals and Things to Do

After September, things start to wind down a little. But if you love English history, then one very serious event is coming up. October 14th is King Harold Day Ö the day of the Battle of Hastings, when Anglo-Saxon England changed, brutally and comprehensively, into Norman England.

Waltham Abbey, maybe the last resting place of its one-time patron and benefactor King Harold Godwineson, puts on a goodly celebration. The other place to visit if you can at this time of the year is Battle Abbey in Sussex Ö the place where it all happened and try to imagine what it must have been like on that day all those years agoÖ
---
Recipe of the Month - Elderberry Soup
Ripe elderberries remind me that itís September, just as English marmalade tells me that itís February.

As with all wild foods you canít just conveniently pick up a packet at your local supermarket, but if you can find some close to where you live, try this recipe for pudding Ö itís delicious, easy and the colour is simply outstanding. The kids will love it! Just donít wear anything white while making or eating it Ö

Pick a few large heads of elderberries Ė maybe 500g / 1lb or so - and wash them carefully. Snip off the largest stalks and place the berries in a large saucepan. Just cover with water and bring to the boil. Simmer for 10-15 minutes. The berries will burst and mush and the water will turn an amazing shade of purple.

Now strain the liquid through a fine sieve into a clean pan. You should end up with about a 1 Ė 1.5 litres of juice. It will be rather tart. Heat the juice and add sugar to taste. When the soupís at boiling point thicken lightly with cornstarch or arrowroot. You want a deep purple, velvety finish.

Whip some cream with a little sugar until stiff.

Serve your elderberry soup in deep white plates or bowls to show off the colour, floating dollops of whipped cream on top. Shortbread goes nicely alongside as do Ė strangely enough Ė plain rusks.
---
And Next Month Ö

Weíre having friends from Germany to stay, so some exploration is on the cards. Cheddar Gorge is on the list, as are Avebury, Chedworth, Glastonbury and Wells Ö hope the weather will play ball.



Until next month, keep well and think of EnglandÖ






P.S. If you think that some of your friends or colleagues might like to read our newsletter, then please forward them this mail. They can read newsletter back issues and subscribe here.