East Anglia Calling
A very Happy New Year to you all! May the year 2019 be filled with health, happiness and success!
We spent Christmas Day walking along our favourite beach in North Norfolk, which—unsurprisingly—made me think about holidays. East Anglian ones, to be precise. To many people, East Anglia means huge skies, wonderful beaches, seaside breaks, birdwatching, and messing around in boats.
Those are certainly prime attractions – and Hunstanton, Cromer, Wells-next-the-Sea, Sheringham, Great Yarmouth and Southwold make fantastic holiday destinations. The marshes in both Norfolk and Suffolk, and the Norfolk Broads make fabulous birdwatching spots, but Norfolk, Suffolk and Cambridgeshire have lots of gems for history fans to explore, too.
So, where would you go and what would you see in East Anglia if you liked history? Here are a few ideas:
• Royalists could visit Sandringham, the favourite home of our current monarch, or Blickling Hall where Anne Boleyn grew up.
• For castle lovers there are Offord castle, Norwich castle, Framlingham, or Castle Rising to explore.
• If you love the prehistoric, then check out Grimes Graves, a neolithic flint mine.
• Treasure hunters and Viking lovers alike should include a visit to Sutton Hoo and explore the abbey town of Bury St. Edmunds.
• If you like medieval towns then make sure you add Lavenham, Woodbridge, and Aldeburgh to your itinerary.
• If exploring or photographing churches is high on your to-do list come holiday time, then East Anglia will spoil you. Check out Suffolk's round-towered churches, the many flint churches dotting Norfolk, or Norwich's two cathedrals. Ely makes a wonderful day out all by itself, with its famous cathedral partially paid for by eels. (And if England's civil war is your preferred period, then make sure you visit Cromwell's house while you're there.)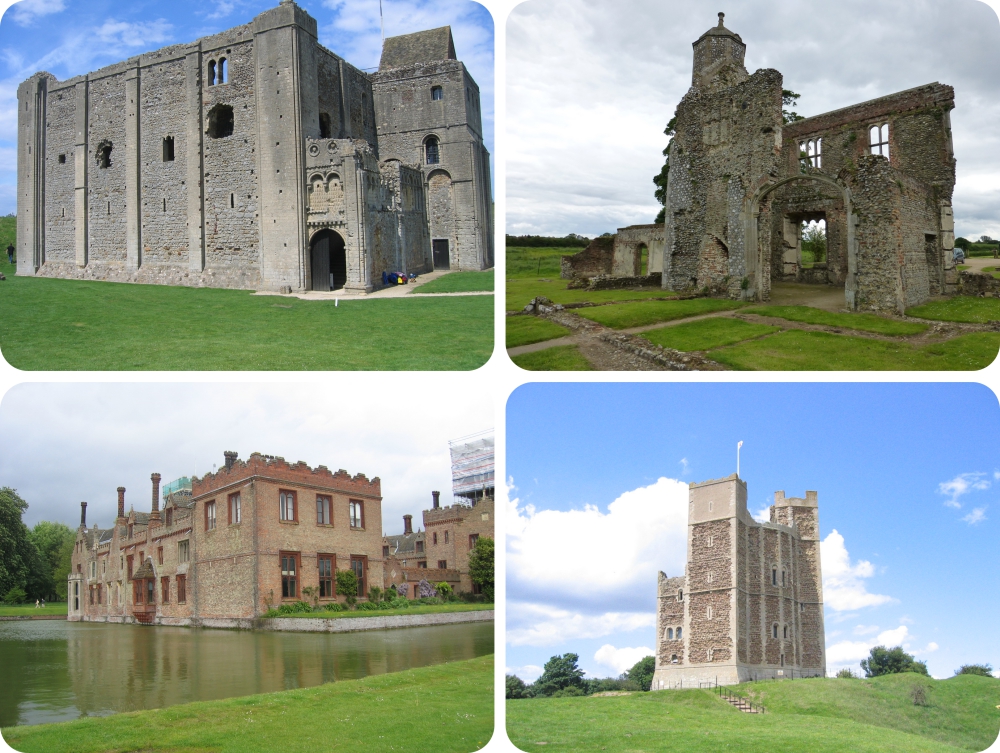 As you can tell, East Anglia has something for everyone, and I've barely gotten started.
What's missing from my very quick browse through England's easternmost counties?
Cambridge, of course!
We've not yet managed a visit, but it's on this year's to-do list…. And I'll make sure to report back when we've had a look around!

It's Still Sprout Season!
As you'll probably know, I looooove my Brussels Sprouts and they're at their very best right now, when it's cold and wet out and I'm craving comfort food. A cheesy bake is a great thing to come home to after a long day at work, so why not give this one a try.
1. Chop and fry a few slices of bacon until crispy.
2. Peel a generous quantity of sprouts and cut them in half (if small) or quarters (if larger)
3. Remove bacon from pan and add sprouts to the bacon fat. Fry over a gentle heat until soft. Depending on the size and age of your sprouts, that can take 10-15 minutes. Keep stirring, so they don't catch. Season with salt and paprika, or salt and a touch of cayenne.
4. While the sprouts cook, preheat your oven to 190&dg;C / 375°F
5. When the sprouts are ready tip them in an ovenproof dish, then add the bacon and a generous handful or two of grated cheese. Cheddar goes well. Cheddar and gruyere work well, too. If you want an extra-rich dinner, add a tablespoon or two of double (heavy) cream.
6. Then bake in the oven until bubbling and golden.
This is absolutely wonderful with rye bread and a glass of red wine, but there's no hard and fast rule about it. It's what I'd call a Monday recipe, when you come home hungry and wonder what's left in the fridge after the weekend. It's equally nice without the bacon, so if you don't like bacon or would like a vegetable dinner, then just cook the sprouts in butter rather than bacon fat.
After that, of course, you get to enjoy your dinner...
And Next Month …
It's the darkest, coldest part of the year, but we're determined to steam right past that by making plans for the summer and taking the tandem for a spin when the weather is looking friendly. I'm also sitting here looking through photos of holidays past for writing inspiration, so I'm sure some of that will make it onto the site or turn up on Facebook over the next weeks.

Until then, please take care.





And why not join us on Twitter or Instagram and LIKE us on Facebook? I'll be very happy to see you!


P.S. If you think that some of your friends or colleagues might like to read our newsletter, then please forward them this mail. They can read newsletter back issues and subscribe here.