Of Castles, Wellington Boots and Mulled Wine Crumble
A Happy, Healthy, Successful 2017 to all of you! Many thanks for all the good wishes - we much appreciate them. And we're jumping right in today with a variation on a theme.
For most of last year I've been talking about the Norman invasion, about the efforts William the Conqueror made to take over England. So it's only fair if I look at the problem from the other side, and take you on a tour of the many castles that dot England's coast to protect it. And to begin with, we're going to Walmer Castle, because all that talk of invasion fleets and beach landings reminded me of a wonderful, though very wet, day we spent exploring castles in Kent.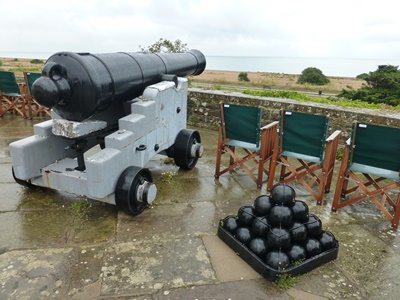 Back in the 12th century, the man charged with defending England's south coast was the Keeper of the Coast, a title that was later changed to the Lord Warden of the Cinque Ports. Besides safeguarding the coast against enemy ships, the Lords Warden also collected taxes and dealt with local criminals. Since 1706, the Lord Warden's base has been at Walmer Castle - and it's one of those places where I desperately wished for a magic mirror.
William Pitt the Younger, the Duke of Wellington, W.H. Smith, Lord Curzon, Winston Churchill and Her Majesty Queen Elizabeth The Queen Mother have all lived here or used Walmer as a base while carrying out their ceremonial duties as Lords Warden, and the castle is simply brimming with great stories.
Just take William Pitt, consummate politician and England's youngest ever Prime Minister, who moved to Walmer after he had to sell his house to pay gambling debts. There are stories of him carousing with Admiral Lord Nelson until the early hours of the morning….and yes, I'd have loved to have been a fly on the wall. :-)
My favourite part, though, was the exhibition about Arthur Wellesley, the Duke of Wellington. He actually died at Walmer Castle and his coffin was kept at the castle while a state funeral was being arranged. His room, and many memorabilia of the man have found their way into the castle's collection.
Walmer is a marvellous place with fascinating memories. Today it's a residence with a lovely garden, but in 1538 it would have been a state-of-the-art defensive work, brooding over England's shoreline. I'm sure Duke William would give thanks that costal defences weren't quite as developed when he made his bid for England.
And as for Wellington's boots… there's a pair on display at the castle. And they're lovely. And tall. But they're definitely not the rainwear we're associating with that name. I wonder when that changed?
Planning your 2017 England holidays?
Campsites, hotels, guest houses, cottages, holiday parks, bed & breakfasts… whatever your preferred comfort level and budget, there's accommodation to be found all around England. We love staying in holiday cottages for the privacy and home-from-home feeling they give us, but we've also camped, been looked after in many a good bed & breakfast and stayed in hotels.

Over the years, we've stayed in an 800-year-old manor house, a restored windmill, a 18th century music room, a cottage that served as a film set, a boathouse, and even a Victorian travelling showman's wagon!
We've always showcased cottages on the site. Those we stayed in and those we liked the look of. We're hoping to do more of that, and add interesting hotels, too. We're affiliates for cottages.com, Sykes Cottages, TripAdvisor and LateRooms.com and we're aiming to show more of the beautiful places they have on their lists this year, along with featuring special offers and late availabilities that can help save you money. Please keep an eye on the blog for deals and offers.
Here's what we already have on the site: cottages in Derbyshire, Norfolk, Suffolk, Kent, Sussex, Shropshire, and a selection of Shropshire hotels.
If you're looking for a holiday cottage, please consider checking out Essentially England first! If we send visitors to the cottage companies or laterooms.com from our website, we're paid a commission on any bookings made and those really help us keep the site running.


A Grown-up Winter Treat
If you're somewhere warm and sunny right now, then I hope you appreciate the lovely weather. It's not that I don't like winter. I do, actually, especially when the air is clear and crisp and the sun is shining. Snow is a bonus. I can enjoy a bright, cold day a whole lot. What I really dislike is the cold/damp/grey weather we get so much of at this time of year. When it's so dark that I have lights on at 10am and feel inclined to draw the curtains almost right after lunch. On such days, I want food that's warming and uplifting and here's one dish that fits the bill just perfectly. It's a crumble with added wow.

Crumble is something I've learned from my husband, since we weren't much for warm puddings where I grew up. But since making the discovery I've fallen thoroughly in love with them. A crumble straight from the oven, all bubbling juice and hearty crunch, makes a fine end to a meal. Or…and why not?… a meal in itself! Served with cream or custard, topped with oats and nuts, and made from any fruit that takes your fancy… crumble has to be a cook's favourite. It simply needs assembling, and then quite happily bakes away by itself.
This crumble is made with apples. And cranberries. And blueberries, but only because I had some. Most importantly, though… this crumble is made with mulled wine! And let me tell you… it works. You can use ready-prepared mulled wine or make your own. My favourite mulled wine mix is made up of one mug of very strong black tea, four mugs of wine, 2 slices of orange and one very large cinnamon stick with sugar added to taste.
To make the crumble set your oven to preheat to medium. Place 125g of dried cranberries in a saucepan and add 300ml of mulled wine - or wine and your favourite spices. Heat gently and let the cranberries plump up in the wine. Meanwhile peel, core and roughly chop four big Bramley cooking apples or any other apples you have handy. I like the Bramleys because they collapse quite a bit as they cook. Add 125g of fresh blueberries to the apples and mix gently.
Pour the wine and cranberries over the apples. Take out the cinnamon stick if you've used one, unless you're as mad keen on cinnamon as I am. Then you can leave it in while the crumble cooks and just take it out before you serve. If your apples are very sharp, you may want to add a little sugar.
Make a crumble mix from equal parts cold butter, sugar, porridge oats and plain flour - I use 60g of each for my usual crumble dish - and spread over your apple and berry mix. Bake in a medium oven until the crust is golden showing the first flecks of bubbling juice.
Leave to cool for just a few minutes and then serve with thick, cold cream. :-)
And Next Month …
That's it from us for the moment! Don't miss next month's edition for the next castle and more lovely food!





And why not join us on Twitter or Instagram and LIKE us on Facebook? I'll be very happy to see you!


P.S. If you think that some of your friends or colleagues might like to read our newsletter, then please forward them this mail. They can read newsletter back issues and subscribe here.