It's the Diamond Jubilee!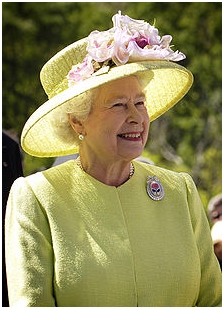 England is a curious place at the moment. On the one hand, there are all the preparations for the Jubilee celebrations – balls, picnics, tea parties, street parties, BBQs, concerts and all manner of entertainment, while at the same time the Olympic torch is making its way across the country ready to arrive in London in July for the opening of the Olympic Games.
That said, out of all the events going on, I most look forward to the Flotilla. Composer and Anglophile Georg Friedrich Handel wrote his famous Water Music to be played from boats while going down the River Thames. And I simply love it that the Jubilee organisers have adapted that idea for the Queen's Diamond Jubilee. They've commissioned a new 'water music' to be written and it will be performed from a flotilla of boats. I really can't wait to hear the music.
I'm hoping that the weather will play ball. So far this month we've had snow, hail, temperatures as low as 5°C ... and right at the moment I'm sitting in the garden after a late dinner, enjoying warmth and sunshine. It all changed in the space of a few days. And most of us are hoping that it will stay summer in England for the next three months at least.


---
A little bit of History: English Monarchs

How's your English history? Would you be able to tell me the name of England's longest-reigning monarch? (And no, it's not the Queen. Not yet, at any rate). Would you know why England never had a King Robert or a King Frederick? (Hint: cricket is a very dangerous sport at times!) Which English king loved to play tennis? Or which sports Prince Philip, Prince Charles and Prince William like best?

You'll probably know that I love historical trivia, and along with the more serious history, the English Monarchs section of the site has a lot of fun facts and trivia. Why not check it out? Here are a few pages you might like:




---
Recipe of the Month - Quick Asparagus Tart
If you've been reading Essentially England News for a while, you'll know that I adore English asparagus – imported asparagus just doesn't have the same flavour. So while its short season lasts, I eat it as often as possible, in as many different ways I can think of.

This time, with Jubilee parties happening up and down the country, I like to share a very quick and easy asparagus recipe. You can adapt it to suit your taste and it looks and tastes good enough to be served to Her Majesty.

You need a baking tray, puff pastry, at least 500g / 1lb asparagus, a little olive oil and salt. Optional items include bacon, cream cheese (I use Philadelphia) and fresh herbs like mint or basil.

Heat your oven to medium / 180°C / 350°F / Gas 4.

Lightly grease your baking tray. Roll out your puff pastry to fit. Or use a sheet of ready rolled pastry to make it even faster. Line the baking tray with the pastry.

Now take a very sharp knife and make a shallow cut all the way round the edge of the pastry, about 1cm away from the edge and without cutting all the way through. This will give your tart a nicely risen edge.

Wash your asparagus and snap off the ends. Pour a small amount of olive oil into your hands (about 1 teaspoon should be plenty) and coat the asparagus spears. If they're large, cut them into bite sized pieces, then spread them over your pastry.

Sprinkle with salt, then place in the oven and cook until the pastry is puffed up and golden and the asparagus bright green with a few darker flecks. Depending on your oven and the thickness of the asparagus, this takes about 15-20 minutes. Start checking after 10 minutes and if the pastry is browning too much before the asparagus is cooked, turn the oven down a little.

Leave to cool for a few minutes, cut into squares and serve with a dollop of sour cream and chives.

Alternatives:
Spread cream cheese over the pastry before adding the asparagus. Bake as before and then serve with a little watercress on the side
Wrap the asparagus spears in thin slices of bacon, or spread a handful of pancetta cubes over the tray before baking. Serve with torn mint leaves sprinkled over the top.
Whichever way you do it ... Enjoy!


---
And Next Month …

The last newsletter really hit a button – I haven't ever had that many comments and replies! Obviously, finding English products abroad and preparing for a holiday in England are issues close to many people's hearts.

Thank you to everyone who so generously shared their knowledge! We can extend the food shopping to Australia and South East Asia. Canada is still a bit of a problem. I apologise for assuming that amazon.com would work just as well in Canada as it does in the US. Apparently, it does not – so I'm trying to find out where Canadians can buy English food more easily and closer to home.

I'm busy putting all the information together into a separate newsletter, so if you want to know where to buy English goods abroad, please look out for the next issue.



So until then, keep well and think of England…





And why not join us on Twitter and LIKE us on Facebook? I'll be very happy to see you!


P.S. If you think that some of your friends or colleagues might like to read our newsletter, then please forward them this mail. They can read newsletter back issues and subscribe here.