Traditional English Recipes


Soups and Salads

I simply love soups and not just because they're tasty and quick. Soups make great starters to a dinner, or they can be a meal on their own.

Depending on the occasion or the mood of the cook, a soup can be as delicate as a Watercress Consomme, or as hearty as Split Pea Soup. It can be uplifting like a broth, or warming and fragrant.

Salads also change their face to please the cook.

Cold meats make substantial salads, leaves more delicate ones. And Constance Spry's famous Coronation Chicken Salad was even judged fit to be served to Her Majesty.
Watercress Soup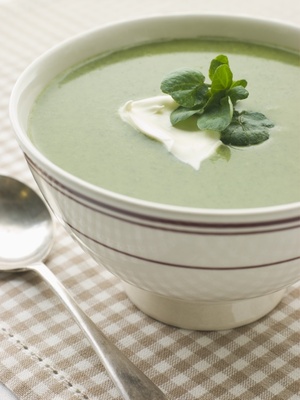 Watercress Soup is a favourite of mine, whether as part of a salad or in a soup. And here I can offer you three different recipes for delicious watercress soup. Serve it as a classy dinner party starter, a light lunch or something more substantial and simply adore the taste.

---
Chestnut Soup

A real winter warmer, this one - but oh so delicious! Chestnut soup was once the preserve of big county house kitchens, but really, it's so wonderful that everyone should try it.

---
Coronation Chicken Salad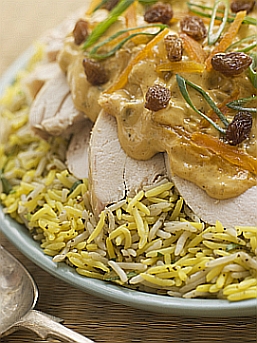 The recipe for coronation chicken salad only dates back to 1953 and Her Majesty's coronation, but it has quickly become one of the best loved and best known traditional English recipes. It's a delicate salad with curry spices and apricots, and well worth being served for lunch or make an appearance at a classy picnic.

---
Potted Shrimps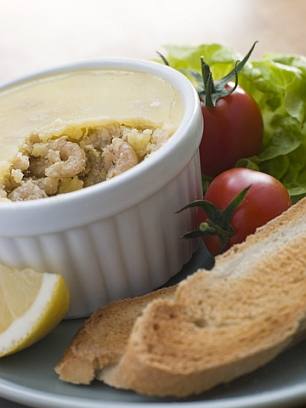 Potted shrimps are one of the most versatile foods you can find, whether you buy them ready to eat or make them yourself. They fit on the breakfast table as easy as they find favour at lunch, dinner or supper. They're great on crunchy brown toast and divine in scrambled eggs.

---
Traditional English recipes for soups and salads will cover a multitude of occasions: lunch with friends, a summer picnic, a classy dinner party or a quick snack can all benefit from a tasty soup or colourful salad. I'll add more recipes as I find them, so make sure to check back regularly for new additions.