Sheringham Park
Sheringham Park, above the seaside resort of Sheringham, with its scenic walks through undulating terrain and long vistas down to the coast makes a good day out at any time of the year.
The 1000-acre estate, designed by landscape gardener Humphrey Repton in 1812 for the Upcher family, is considered one of his finest works.
Sheringham Hall, which is privately owned, would fit easily into any Regency film set.
Its location is just perfect in a wide stretch of meadow just below a wooded hillside, with never ending views down to the coast and out to sea.
But it's the National Trust managed park that draws most of the visitors.
50 acres of the estate are given over to a wild garden of mature woodland, which contains one of England's most extensive collections of rhododendrons, azaleas, magnolias and camellias.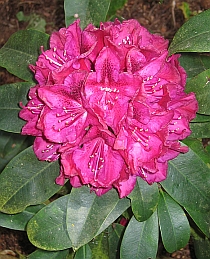 And if you love rhododendrons and azaleas, then make sure you visit in May or June.
At that time, all the trees are in full bloom and the wood blazes with truly amazing colour. But what usually takes my breath away is the view from one of the many towers.
Climb up above the canopy of the wood and look down on a cloud of rhododendron blossom. If you time your visit right, the view will be absolutely spectacular.
For the remainder of your day, there are numerous walks which meander over the hillside. They're well-kept and easy to follow and each turn in the path opens up yet another colourful view.
If you feel really energetic, there's a folly to climb for even wider vistas, or you can join the Norfolk Coast Path and make your way down to Weybourne Station on the North Norfolk Railway to watch the steam train pass like a memento from a bygone era.

Up in Sheringham Park, the National Trust maintains a visitor's centre, where you can find our more about Humphry Repton's work and the plants and wildlife that have made their home in the park.
You can also treat yourself to a traditional afternoon tea at the cafe, join the National Trust or look over the plants that are for sale in the shop. There are bound to be a few rhododendrons amongst them ... and what better memento to take home from a visit to Sheringham Park?
And if you're interested in learning more about Humphry Repton and his work
, then check out this beautifully illustrated book.
Sheringham Park can be much more than just a day out. This area of the North Norfolk coast lends itself to leisurely exploration and I can think of no better way to explore than to rent a holiday cottage and take it easy.