Castle Acre Priory
When William de Warenne, the castellan of Castle Acre, and his wife Gundrada visited the French monastery of Cluny in 1077, they were struck by the beauty of its buildings and the holiness of its monks.
Soon after their return to England, de Warenne offered to establish a Cluniac monastery in England and granted land close to his castle at Lewis, where St Pancreas Priory became the first Cluniac house in England. In 1089 - after his wife Gundrada had died in childbirth - de Warenne established a second Cluniac priory at Castle Acre, which soon grew into an important local institution.
Ruined after being suppressed in 1537, what is left of the priory today still allows us a glimpse into its long history.
On its foundation (and throughout its history) the priory received grants of land and money not just from William de Warenne, but from other nobles and merchants who hoped to ensure their salvation. So building works for a church and other monastic buildings were soon under way. The Cluniac order considered beauty a form of worship and that belief can be detected even in the priory's ruins.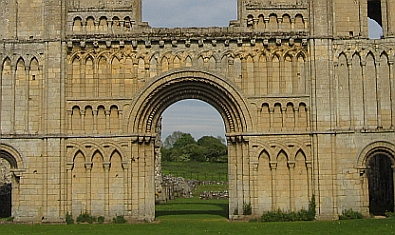 Decorated Doorway at Castle Acre Priory Church
© essentially-england.com
The church, built in the 12th century, had been planned to resemble the church of the mother house in Cluny. Only the west front now remains, but the great gateway and the tiers of intersecting arches show that austerity had no part in this church.
During the early Middle Ages, the priory grew wealthy. Royal grants from both King Henry I and his grandson Henry II exempted it from tolls, which was a very valuable benefit for a monastery with extensive lands.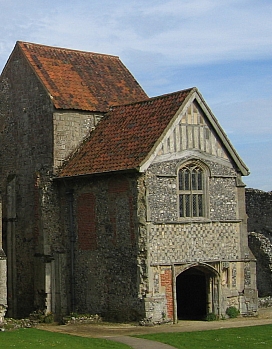 Gatehouse of Castle Acre Priory
© essentially-england.com
Nobles, merchants and even royalty - such as King Henry III and King Edward I and his Queen Eleanor - stayed at Castle Acre Priory while on their way to the shrine at Walsingham.
And most of these visitors would have walked through the late medieval gatehouse towards the prior's lodgings.
Timber-framed and decorated with flint, it stands guard over the priory's remains. Inside, the prior's lodgings still show traces of wall paintings and the huge fireplaces seem to hint at home comforts and cosy evenings.
Accommodating about 35-40 monks during its heyday, the Black Death, a sheep epidemic and quarrels with the priory in Lewis all affected Castle Acre's fortunes.
In the aftermath of the Black Death people seemed less drawn to the religious life and many monasteries struggled to find a sufficient number of monks to perform the daily offices and administer the large estates they had accumulated. Castle Acre Priory was no different and when the priory was dissolved in 1537 only the prior and 10 monks are recorded as living here.
Fortunately for us, parts of the Cluniac house have survived the dissolution and the ravages of time. What is left of Castle Acre Priory is now being cared for by English Heritage. Check out this page for opening times and events.
Wander around the ruins and marvel at the beautifully decorated stonework. Or try out the audio tour, which tells the story of the priory through the ages.
And if you always wanted to know what a medieval monastery herb garden would have looked like - here's your chance to find out.
Castle Acre and its priory make a wonderful day out on your Norfolk holiday. But if you want to explore the area in more detail, then that's easy to do, too. The whole area boasts holiday cottages galore, from small, romantic hideaways for two to large Victorian town houses!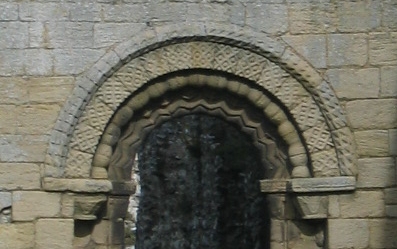 Decorated Stonework at Castle Acre Priory Church
© essentially-england.com
Are You Planning to Visit Norfolk?

Where You Could Stay

We love this part of the country and were really sad when the holiday cottage we liked so much in Blakeney became a private home. However, it did make us research the area again and try something new - Honey Barrel Cottage in Stiffkey. Again, we were close to the salt marshes and could explore new parts of the north Norfolk coast path. So my selection of holiday cottages are spread along our favourite parts...

To see other holiday cottages in Norfolk click here. Or check out holiday cottages in other parts of England by clicking here.
Or, if you fancy staying in a hotel here are some nice examples...

Please click here if you would like to review more Norfolk hotels.
What You Could See and Do

Are you feeling in need of a holiday yet? Here are a few more pages that might give you ideas...

For more holiday ideas return from Castle Acre Priory to the Norfolk page.