Burnham Thorpe

Birthplace of a National Hero
We first heard about Burnham Thorpe, a small north Norfolk village beside the River Burn, as we were driving to Norfolk for our first cycling holiday. As we crossed into the county, a "Welcome to Norfolk" road sign told us that we had reached "Nelson's County". This piqued our interest, and a quick internet search told us that Vice-Admiral Lord Nelson, hero of the battle of Trafalgar, was born in Burnham Thorpe.

So, in typical Essentially England fashion, the maps came out, and we designed a cycle ride to take us there to explore.
Most of us are probably aware that Lord Nelson stands proudly watching over us from high up on his column in Trafalgar Square, London. It was on the 21st of October 1805 that Lord Nelson died a national hero after leading the British to defeat the combined Franco-Spanish fleets from his famous ship HMS Victory at the Battle of Trafalgar, just off the Spanish coast.
The Burnham Thorpe Village Sign
© essentially-england.com
Such was his dedication to the cause of protecting Great Britain that he continued sailing even though he'd lost an arm and an eye.
His attitude to his role as a naval officer can be summed up by the last prayer he wrote in his journal.
"May the great God, whom I worship, grant to my country and for the benefit of Europe in general, a great and glorious victory, and may no misconduct in anyone tarnish it; and may humanity after victory be the predominant feature in the British fleet. For myself individually, I commit my life to him that made me; and may His blessing alight on my endeavours for serving my country faithfully. To him I resign myself, and the just cause which is entrusted to me to defend. Amen."
Exploring Burnham Thorpe
Horatio Nelson was born on the 29th of September 1758 in Burnham Thorpe. His father, Edmund, was rector of All Saints Church which is where you can still find family gravestones, mementos, and stories. You can even read about the Battle of Trafalgar in a copy of The Times from 1805!
Unfortunately, the parsonage in which Edmund, Catherine, his wife, and their eight children lived was demolished and replaced after Edmund died in 1802. Local legend has it, though, that Horatio wasn't born in the parsonage as it was being redecorated at the time, so the house in the village in which he was born may still be standing. There's some homework for you!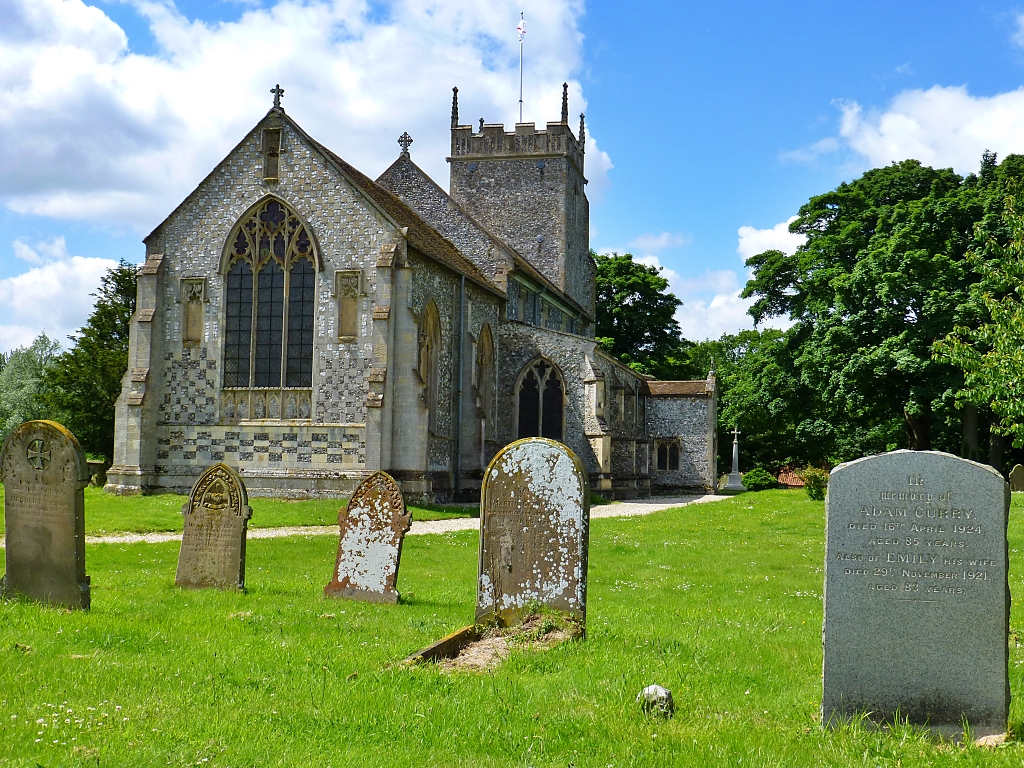 All Saints Church in Burnham Thorpe © essentially-england.com
Not surprisingly, almost everything around Burnham Thorpe appears to be named after Lord Nelson.
The village pub was built in 1637 and was originally called The Plough. But in 1798 the pub owner renamed it The Lord Nelson after his victory at the Battle of the Nile. Inside you'll find wooden benches that Lord Nelson used, original stone floors which he walked upon, and lots of collectables hanging on the walls.
Inside All Saint's Church
© essentially-england.com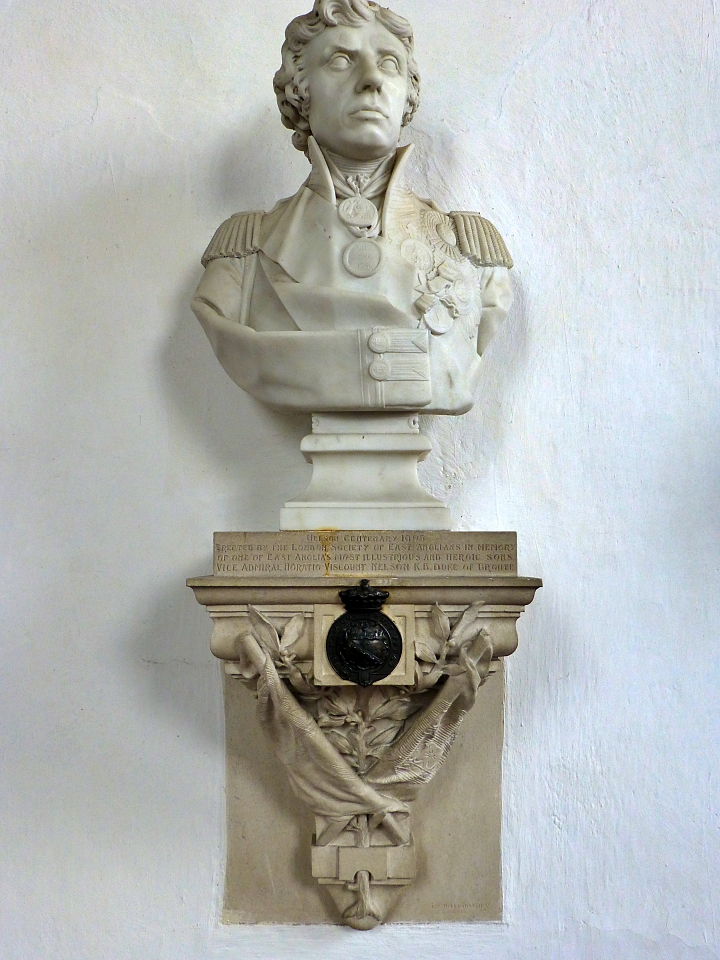 Lord Nelson Bust in All Saint's Church
© essentially-england.com
Then there's the Nelson Memorial Hall village hall and its fabulous children's playground with an HMS Victory climbing frame.
A very recent addition to Burnham Thorpe is Nelson's Carving, which is a life-size Lord Nelson chainsaw carving from the trunk of a maple tree. This monument of Norfolk's greatest hero overlooks the playing fields next to the playground. The photos I've seen of it are very good, so I think we'll try and stop to have a look during our next Norfolk day-out!
HMS Victory Climbing Frame in Burnham Thorpe © essentially-england.com
If you would like to learn more about Lord Nelson, who is regarded as the greatest Royal Navy officer, you should try the exhibition in the National Maritime Museum in Greenwich, London. Alternatively, you could visit Portsmouth and see HMS Victory, or visit his tomb in the crypt of St. Paul's Cathedral.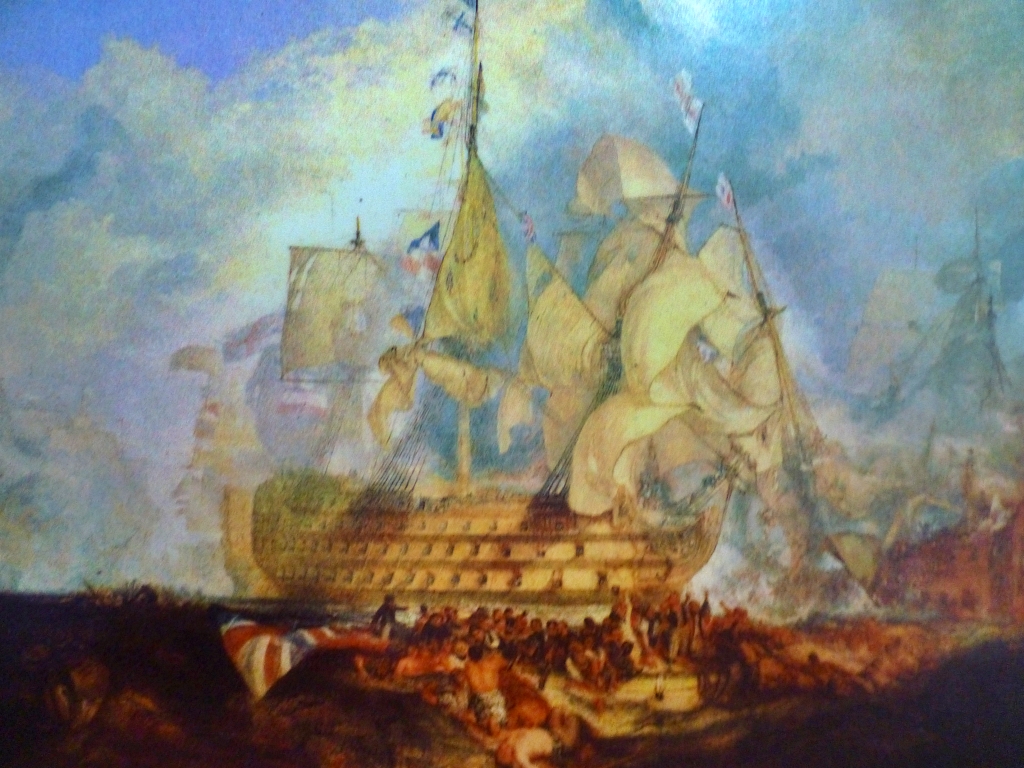 The Battle of Trafalgar by JMW Turner (Photo from information board inside All Saint's Church)
© essentially-england.com
Are You Planning a Holiday in Norfolk?

Where You Could Stay

Norfolk has no shortage of fabulous holiday accommodation whether you want to spend time on the beach, love boating or want to explore inland. You may covet a tiny fisherman's cottage like the one in Blakeney we kept returning to. You may like something larger and more modern like a loft overlooking the Norfolk Broads, or the right place for you may be a chic city apartment perfectly placed to explore Norwich...

To see other holiday cottages in Norfolk click here. Or check out holiday cottages in other parts of England by clicking here.
However, if you fancy a hotel how about some of these...

To view more hotels in Norfolk click here.
What You Could See and Do

It's next to impossible to be bored in Norfolk, there's just so much to do and see. The list below includes some of our favourite places

For more holiday ideas return from Burnham Thorpe to the Norfolk page.