Cley-Next-The-Sea
When you drive from the village of Blakeney towards Cley-next-the-Sea, you first notice the windmill. It sits on the edge of the Cley Marshes Nature Reserve, its sails silhouetted against the endless horizons beyond.

The small Norfolk village of Cley-next-the-Sea is so beautiful that the BBC has even used it as a backdrop between programs. And you really can't blame them.
Cley is picture-postcard perfect with its flint houses and flower-filled window-boxes.
As other villages along this stretch of coast, Cley was once a thriving trading port. Its Medieval harbour was in front of St Margaret's Church - in an area now silted up and overgrown. It appears quite a way from the sea now, with the beach, the Marshes and even the main road separating it from open water.
But what caused the decline of the wealth brought by shipping, eventually brought wealth by tourism. Cley-next-the-Sea is renowned for its peace and tranquillity, for its wonderful views, for long leisurely walks and spectacular wildlife.
Cley's a friendly, busy place and like Blakeney just three miles up the road, makes a good base for a relaxing Norfolk break.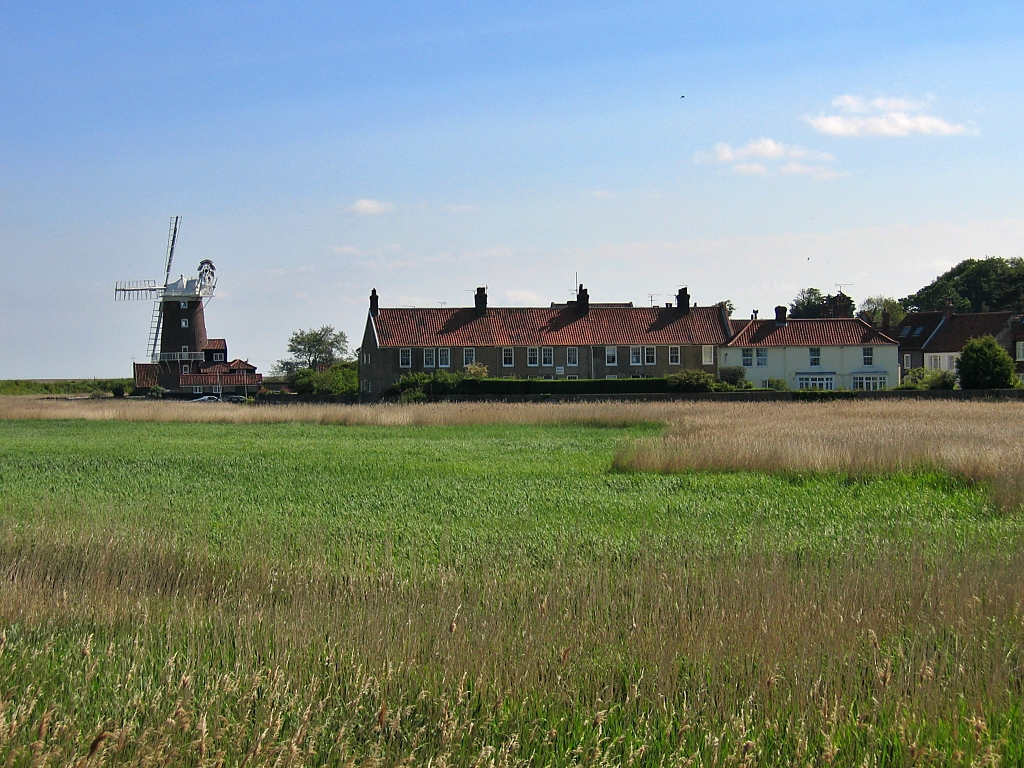 Cley-next-the-Sea Windmill
© essentially-england.com
Picnic Fayre, the deli at the corner is richly stocked with all manner of tasty bits for breakfast, lunch and dinner. Often we stop for food when going to picnic on Cley Beach. There's fresh bread and a very fine selection of cheeses. There are pastries and cakes, olives and antipasti, oils and sauces, fresh and dried pasta ... and even ready meals for those who are not at all in the mood to cook. Alongside all of this bounty you can find snacks, super fresh vegetables, wines and even fresh coffee.

And if this is not enough food, there's a great place selling truly mouthwatering ice-cream and just across from the deli you'll find the Cley Smokehouse offering the tastiest of smoked goods.
But don't think for a moment that you'll now have to go hungry in Cley-next-the-Sea. You could not be more wrong. The village is host to several small cafes and a pub.
And you can find lots of good artwork, too. The Pinkfoot Gallery in the High Street usually has beautiful landscapes in its windows, and Made in Cley opposite is a dream if your taste runs to handmade pottery or jewellery.

Panorama of Cley-next-the-Sea and Cley Marshes Nature Reserve
&copy essentially-england.com
If you want to walk to Blakeney Point to see the seals, the start point is the Cley Beach car park which is about a mile outside of Cley itself. It's a beautiful walk, but can be quite tough on the knees and ankles as most of the time you're walking on stones and shingle. We believe the best time of day to do the walk is at low tide as then you can walk close to the sea and the slope into the water is less steep.

So - all in all - there's really no reason not to make a stop in Cley when you're spending time on the North Norfolk coast. I promise you'll love it!

Are You Planning a Holiday in Norfolk?

Where You Could Stay

Norfolk has no shortage of fabulous holiday accommodation whether you want to spend time on the beach, love boating or want to explore inland. You may covet a tiny fisherman's cottage like the one in Blakeney we kept returning to. You may like something larger and more modern like a loft overlooking the Norfolk Broads, or the right place for you may be a chic city apartment perfectly placed to explore Norwich...

To see other holiday cottages in Norfolk click here. Or check out holiday cottages in other parts of England by clicking here.
However, if you fancy a hotel how about some of these...

To view more hotels in Norfolk click here.
What You Could See and Do

It's next to impossible to be bored in Norfolk, there's just so much to do and see. The list below includes some of our favourite places

Explore Norwich with its shops and two cathedrals and pay a visit to Norwich Castle and its teapot museum.

Visit Admiral Lord Nelson's birthplace at Burham Thorpe and read the report of the Battle of Trafalgar in a copy of The Times from 1805
Spend a day at Sandringham and Castle Rising Castle
Take a ride on the Holt to Sheringham Railway and explore the beautiful little town of Holt and the seaside town of Sheringham

Explore the ruins of Castle Acre  and Castle Acre Priory

Shop in Burnham Market
Wander around the small town of Blakeney, explore the church and harbour before making an attempt to reach the seals at Blakeney Point

Admire the famous windmill and go birdwatching in Cley-next-the-Sea
Be wowed by the rhododendrons in Sheringham Park
Visit Anne Boleyn's family home, Blickling Hall, or explore Oxburgh Hall, a fabulous manor house with a moat.
Go wildlife spotting while walking through the Cley marshes from Blakeney

Or even fish for crabs and wander along the famous pier at Cromer.

For more holiday ideas return from Cley-next-the-Sea to the Norfolk page.