Cycling in Northumberland
Cycling in Northumberland can be hard work. For whatever else it may be, flat it is not! But there's much on offer to reward you for your efforts. There are stunning views, lonely roads, sweet little villages and long fast descents, which you can explore on day-rides or by testing your stamina on one of the county's long-distance trails.
Along the coast, the landscape is flatter and riding is easier. This is balanced by larger, somewhat busier roads and fewer small lanes. Seaside towns like Alnmouth and Seahouses are worth exploring, but can be busy - especially at weekends or in the summer holidays.
The further you move inland the hillier the terrain becomes. But winding between the hills are many small (and not so small) roads, which make excellent cycling routes. Eventually, you'll reach Kielder Forest and the Northumberland National Park. Roads disappear, but off-road and trail riding is excellent here, with trails taking you into the wild and dramatic parts of the park, allowing you space to ride your bike without meeting another soul. This area is also becoming one of the best places for MTB enthusiasts to practise their skills.
Planning a Holiday Cycling in Northumberland
The better your planning and preparation, the more you'll enjoy your holiday. That old maxim applies just as much to cycling holidays. Here this means bring the right stuff, be prepared and know where you're going.
Cycling in Northumberland can be a bit harder than what you're used to from home. So start with a shorter ride or choose one in relatively flat terrain until you can gauge the effort it takes to ride your bike here.
Make sure your bike is in good nick and bring appropriate cycling gear to wear. A thin waterproof jacket is always recommended, but depending on the time of year you're taking your holiday you might also pack gloves, a hat and a pair of overshoes. You might not think of sunscreen, but the air in Northumberland is so clean and clear that you can burn faster than you think!
Some of the rides take you quite a long way from civilisation. So a puncture repair kit and a decent pump are a must. A mobile phone might also be handy to call for help.
And one other thing: don't rely on a handy pub for your lunch. If you're riding in the sticks there won't be one. And even in the more populated parts of Northumberland, we found a real shortage of pubs. Best be prepared and bring lunch. And make sure you carry enough water if you're planning to be out all day. Some of the climbs can leave you gasping for a drink!
Day Rides
If you want to explore on your own and design your own routes, you need at least an Ordnance Survey Landranger Map
of the area.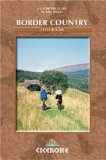 Alternatively, select your rides from one of the many cycle touring books.
Many of the trusty Philip's Cycle Tours books are currently out of print, but if you find one second-hand I'd recommend you pick it up. They're useful as an introduction to an area you've not visited before, and also provide some good ideas if you're planning to design your own ride.
Border Country Cycle Routes
, which is still in print and available takes you into some of the lonelier places on either side of the Scottish-Northumbrian border. It lists on and off-road tours of varying distance and difficulty, so makes a useful guide for first time visits.
Long-distance Tours
Cycle tours are a lovely way to explore an area, and Northumberland has some extremely popular ones. Some, like Hadrian's and Coast and Castles take you past some of Northumberland's best historical sites. Others - for example Reivers - can make you think you're alone in the world. All can be done in stages.
Hadrian's Cycleway lets you travel 150 miles along England's most famous Roman monument, Hadrian's Wall.

If you love cycling and Roman history, then cycling in Northumberland simply cannot get better than this. Enjoy the dramatic scenery and explore the forts, Roman towns and museums that line the well-signed route.
One of the best known and most challenging long distance rides in the north of England has to be the Reivers Cycle Route.

From Tynemouth on the North Sea coast, this route runs through 187 miles of Northumberland's most dramatic and much fought-over scenery into Scotland's border country, before returning to England to finish at Whitehaven on the Cumbrian coast.
| | |
| --- | --- |
| The 355 mile long Pennine Cycleway is England's longest 'challenge' cycle route, running from Derbyshire to Northumberland. The Northumberland section of the route, the Pennine Cycleway North, takes you from Kendal to England's most northerly town, Berwick-upon-Tweed. Passing through some outstandingly beautiful scenery, this is cycling in Northumberland at its finest. | |
However you choose to experience this beautiful county, whether on a long-distance trail or a more gentle day ride, cycling in Northumberland is a pleasure. You'll see views you never imagined existed, you explore ancient monuments and busy little towns ... but more often than not you'll think you're alone in the world.
Or check out one of my all-time favourite Northumberland rides around the smart little town of Rothbury in Coquetdale.
And if you want to know beforehand what the area looks like: Images of Northumberland is the page for you.