Barter Books
Just Chill and Relax with a Book or Two...

If you're a book lover, then Barter Books in the historic town of Alnwick in Northumberland is a very special place. It is one of the largest secondhand bookshops in England. Set up in the old buildings of Alnwick train station, it's the place to hunt for those books, records, CDs, tapes, and DVDs missing from in your collection. Barter Books claim to have over 350,000 secondhand books on its shelves. And not just that. It's also home to the original "Keep Calm and Carry On" poster.
What makes Barter Books different from your usual bookshop is its ambience. The Victorian station building has been preserved and the decoration with murals, signs, and poetry is all very fitting. Even if you're not a big book reader, you can wander around and marvel at the time and energy taken to restore this lovely Victorian building while keeping with the railway theme of its history. Which means that as an extra bonus, railway enthusiasts get to watch model trains run along tracks above the bookshelves.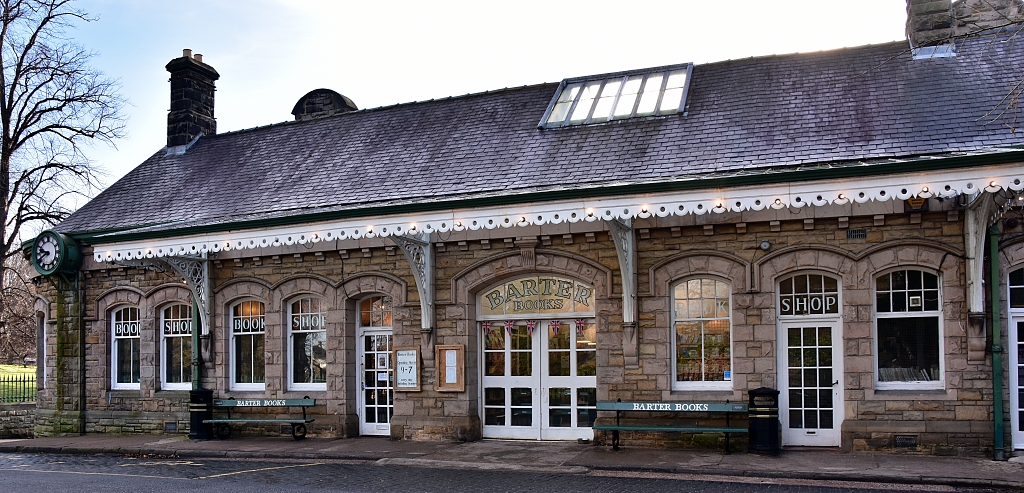 Barter Books in Alnwick Station © essentially-england.com
The current Alnwick Station building dates to 1887, replacing an earlier station from 1850. The size and splendour of the station demonstrates the determination of the North Eastern Railway company to impress Alnwick Castles' royal visitors. The station closed to passenger trains after the Beeching cuts in 1968.
This short enjoyable YouTube video captures the essence of Barter Books and gives a little history on the "Keep Calm and Carry On" poster and Alnwick Station.
Inside Barter Books
If you are visiting Alnwick, a visit to Barter Books is a must. It's just a short walk up from Bondgate, past the War Memorial and on the other side of the road to The Tenantry Column. Just a quick word of warning, though, you may spend more time here than you thought!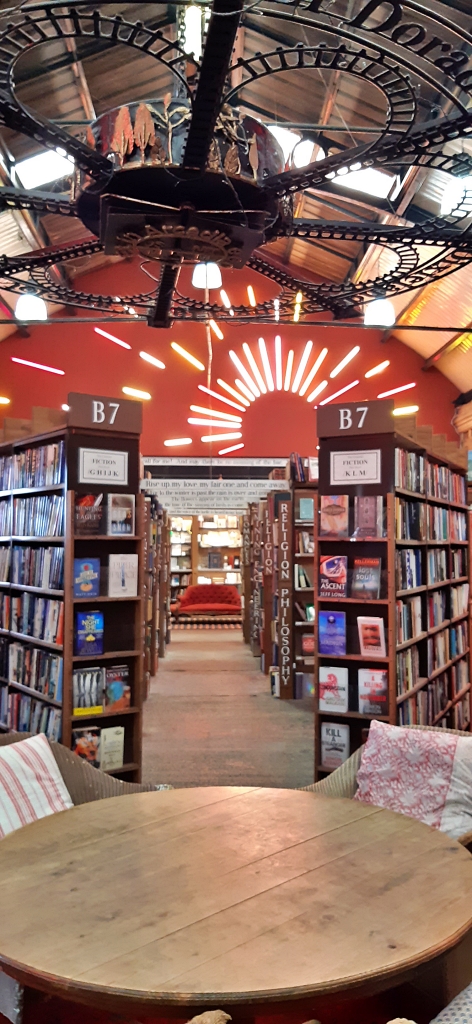 Shelves of Books, Quotes, Murals, and Railway Paraphernalia at Barter Books © essentially-england.com
Barter Books is not just a bookshop, but a real place for book lovers. It has plenty of comfortable areas in which to sit and browse through your chosen books. Food and drinks - including breakfast and afternoon tea! - are available from the station buffet, and if you visit during the cooler months of the year, you can sit in front of a cosy open fire. How nice is that!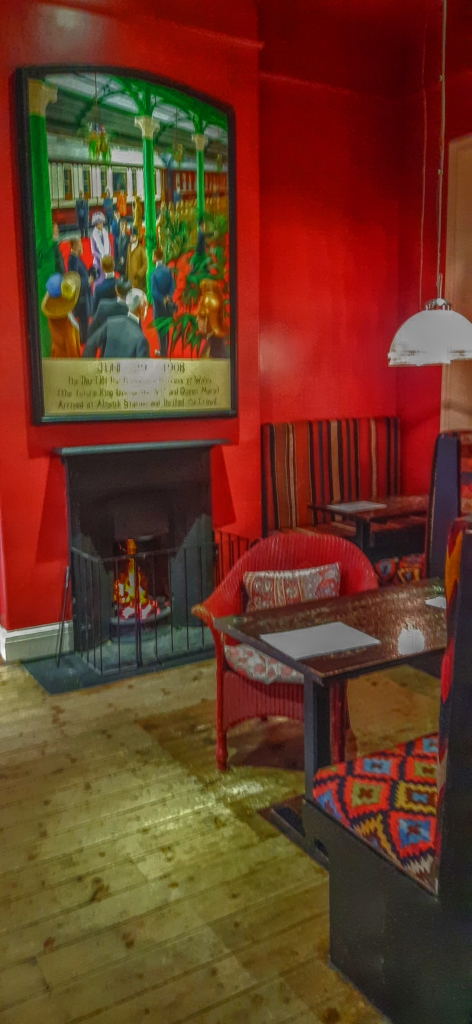 Cosy Fires at Alnwick Station © essentially-england.com

We love our books and have visited several book towns including Wigtown, Hay-on-Wye, and Mundal in Norway, but while they offer miles of book-stuffed shelves, they have a very different vibe. Here at Barter Books, you feel that you could just settle in front of the crackling fire with a great book and your favourite hot drink and transport yourself into another world. I'm sure you could spend the whole day there, especially since the opening hours are 9am to 7pm seven days a week!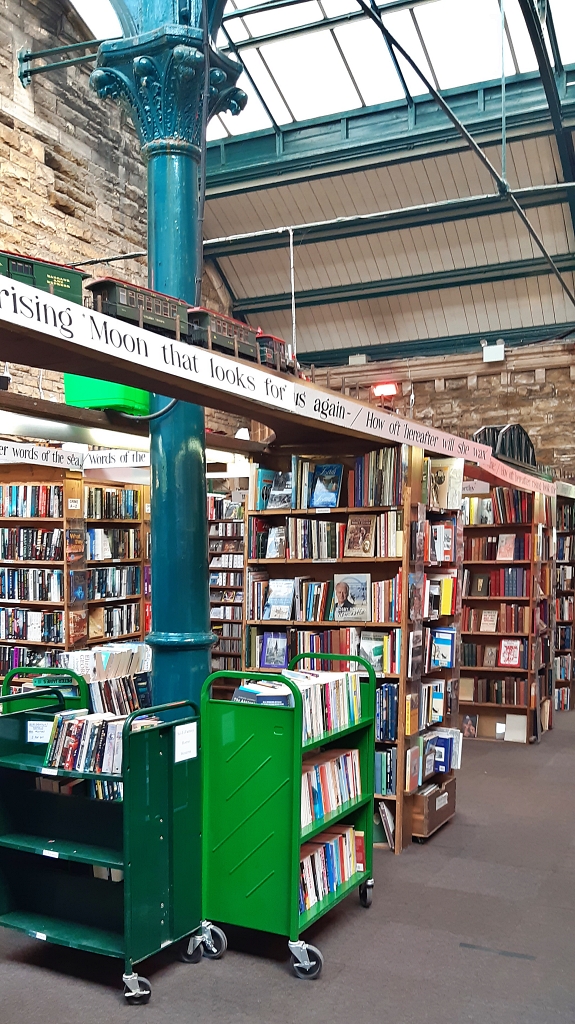 Trains Still Run at Alnwick Station © essentially-england.com
Did we treat ourselves? Yes, of course we did! We've wanted to replace two of our very well-read Desmond Bagley books for a while now, but these were not available. However, we found a Desmond Bagley novel that was completed and published after his death and that we hadn't even known existed!
If you are hunting for a specific book, then you can use the search function on the Barter Books website. I would say it may save you a wasted journey, but no journey to this lovely bookshop will ever be wasted.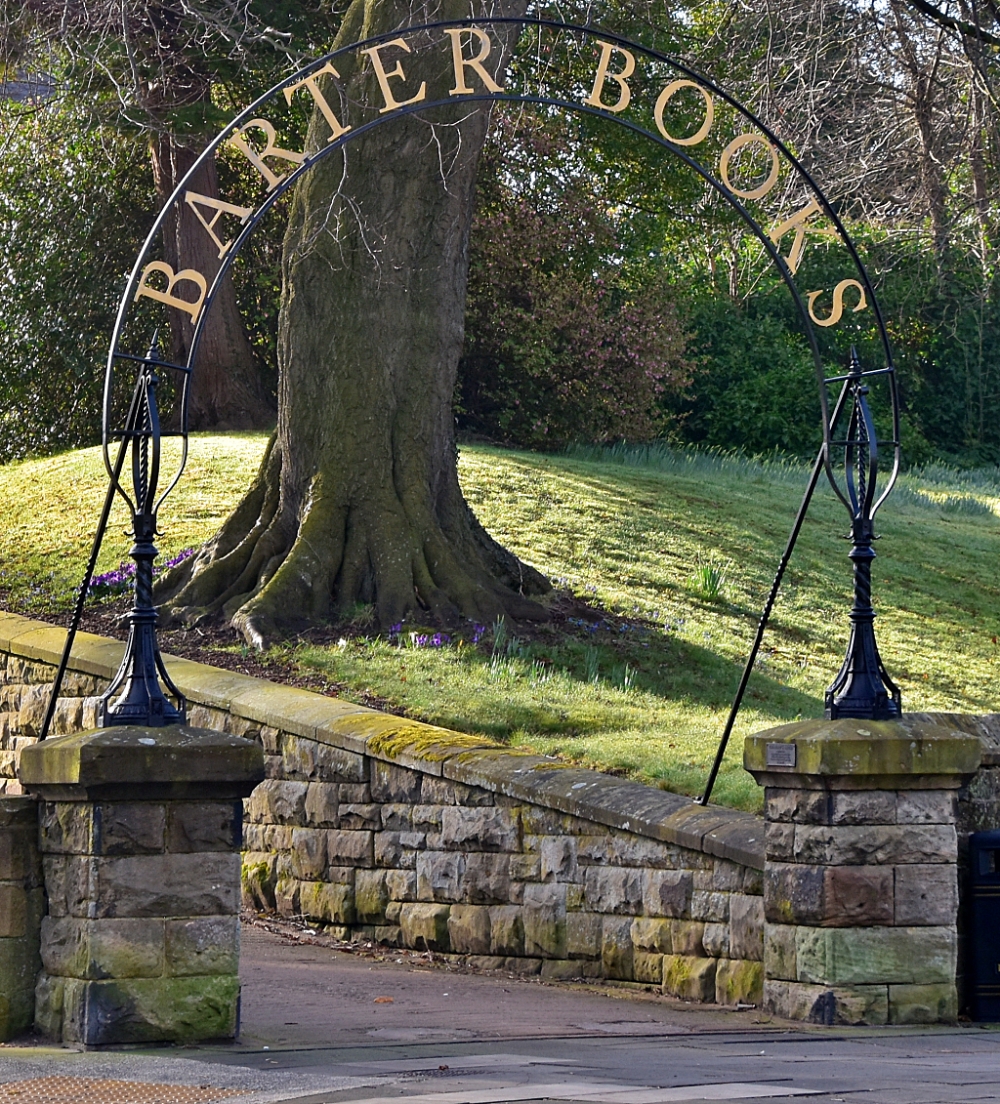 Alnwick Station Entrance © essentially-england.com
Are You Planning to Visit Northumberland?

Where You Could Stay

There's a reason Northumberland is one of my favourite English counties. Its landscape is utterly gorgeous with long beaches and empty sweeps of hills that just beg to be walked. In between you can find small towns and pretty villages, conntected by lanes that are great on the bike as long as you have the legs for climbing. And there are holiday cottages to suit all tastes and budgets.

To see other holiday cottages in Northumberland click here. Or check out holiday cottages in other parts of England by clicking here.
Or, if you fancy staying in a hotel here are some nice examples...

Please click here if you would like to review more Northumberland hotels.
What You Could See and Do

Even if you stayed a month, you'd find that you don't have enough time to explore the county top to bottom and see everything it has to offer. There's plenty of history from Hadrian's Wall near Hexham to Lindisfarne in the north with reams of castles and ruins in between. There are beaches and seaside towns like Craster, Alnmouth and Seahouses - and some of the best fish & chips in all of England. There are market towns like Haltwhistle, Rothbury, Bellingham, Berwick, Warkworth and Harbottle to explore. And there are hillsides to climb and the great outdoors to enjoy.
Are you feeling in need of a holiday yet? Here are a few more pages that might give you ideas...

And if you want to explore more of Northumberland and its martial history, check out this Northumberland Castle Tour.
For more holiday ideas return to the Northumberland page.