Heavenfield and St Oswald's Church


Upon a hilltop in beautiful Northumberland countryside is a small area called Heavenfield. Here you'll find a small church dedicated to St Oswald. From the roadside, the church appears surrounded by trees, but as you climb the gentle grassed slope towards the enclosure you find that the circle of trees isn't complete, and the northern side offers fine views across the wonderful landscape.
We first heard about Heavenfield from an Essentially England Facebook follower, who suggested we check out this beautiful small church. We donned our research hats and - since we were planning a weekend stay in Northumberland - added Heavenfield and St. Oswald's church to the to-do-list!
You find Heavenfield and St. Oswald's on the B6318 between Low Brunton and Port Gate. There is a small lay-by - easily identified by a large wooden cross - where 5 or 6 cars can park. The church and its graveyard can be seen about 400 metres away. Pass through the wooden gate and follow the worn path up to the hill.
Heavenfield and St. Oswald's Church © essentially-england.com
The Battle of Heavenfield
In the year 635, this peaceful location was the site of the Heavenfield Battle in which King Oswald of Northumbria defeated King Cadwallon of Gwynendd. The story goes that King Oswald's army camped at Heavenfield, in the shadow of Hadrian's Wall. The wall is gone now, but may have been as high as 20 feet tall and up to 10 feet wide!
King Oswald had spent his early years in exile on the Scottish island of Iona, a centre of Celtic Christian learning. Educated by the monks and eventually baptised, Oswald returned to Northumberland a steadfast Christian. Before the battle, he and his army built and raised a large wooden cross and then prayed to God, asking Him for protection.
On the day of battle, the smaller army of King Oswald held a strong, defensive position on higher ground, gaining advantages from the protection offered by Hadrian's Wall, and the power of their faith. King Cadwallon and his army had no chance and soon dispersed, with the Northumbrians chasing them mercilessly. King Cadwallon was killed around 10 miles away at a place called Rowley Burn. 
King Oswald, who ruled Northumbria for a further seven years, died during the Battle of Maserfield against King Penda of Mercia on the 5th of August 642.
The Wooden Cross at Heavenfield
© essentially-england.com
The current wooden cross is from around 1930 and the stone before the cross is engraved:
Heavenfield
Where King Oswald being about
to engage in battle erected
the sign of the holy cross and
on his knees prayed to God and
obtained the victory as his
faith deserved AD 635
laus Deo

St. Oswald's Church
One of the greatest scholars of the Anglo-Saxon period, St. Bede, recorded miracles that had occurred at the Heavenfield site. Splinters of wood taken from the wooden cross were being mixed with water and used to help the sick and maimed. The site became a popular pilgrimage location, and a small two-cell Saxon Church was built, the foundations of which were detected by dowsing in the 1950s.
A medieval church replaced the early Anglo-Saxon building, and further modifications were added in the 18th and 19h centuries, including a bellcote and porch.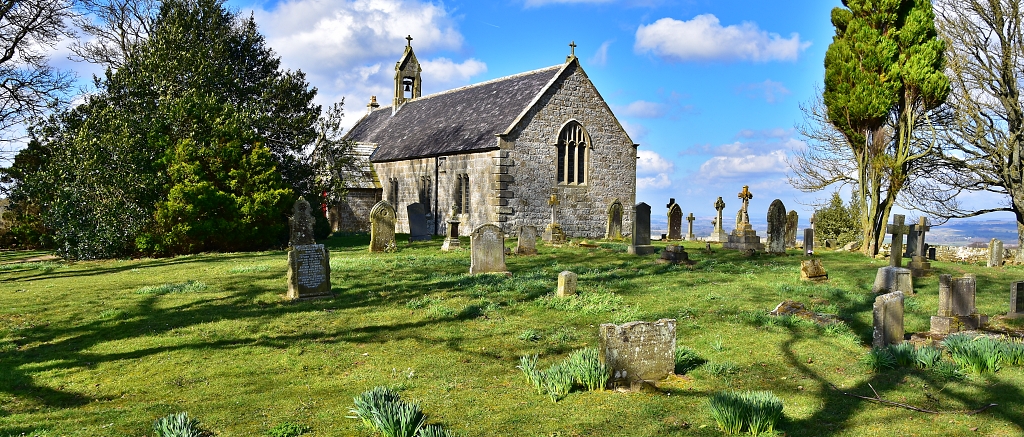 St. Oswald's Church © essentially-england.com
We visited Heavenfield and St. Oswald's Church on another fantastic "blue sky" Northumberland day, when smiling comes easy.

The church has retained the simple two cell structure of the earlier Saxon building, having only a chancel and vestry. The walls were simple white painted stone, no plaster, and a dark-stained wooden roof. The only real colour in the chancel were two painted figures of St. Aidan and St. Oswald on the wall behind the altar, and the coat of arms of the Andrews' family on the north wall.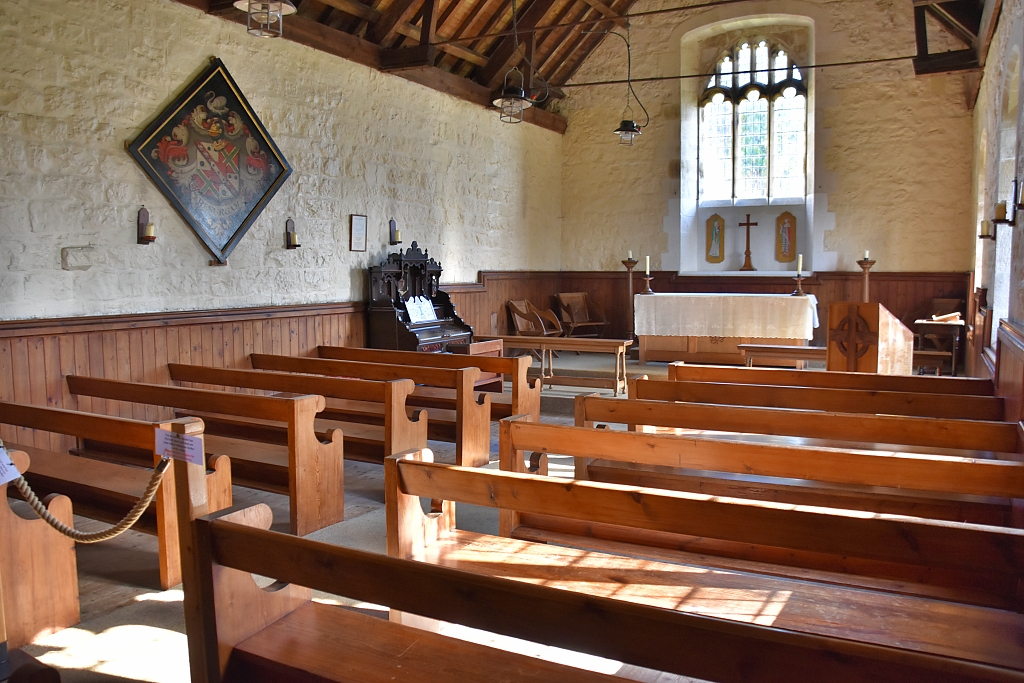 The Chancel of St. Oswald's Church © essentially-england.com
Continuing with a simple theme, no mains power, gas, or water are connected to the church. The interior is lit by  candles, or as for us on our visit, sunshine. Some old gas lamps hung from rails, but these have been disconnected for safety reasons. With no electrical power, it also means the organ must be "human" powered!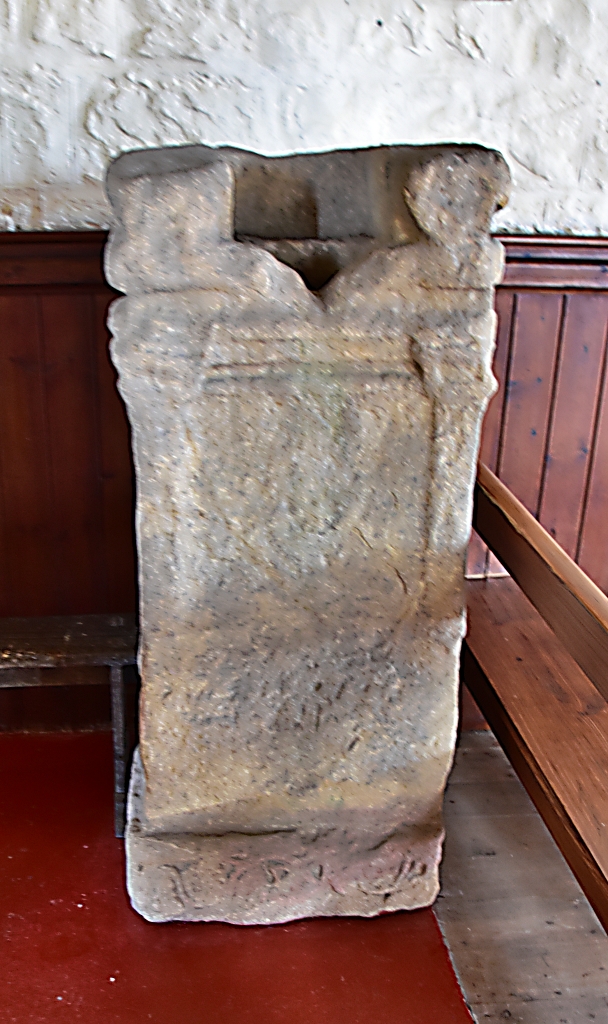 The Roman Alter
© essentially-england.com
Sitting in the church was very, very peaceful. It had a lovely sense of tranquillity that encourages use to let go our cares and just de-stress. I could have sat there for hours and chilled, but there was the long drive home…
One interesting item in the church is a nicely decorated Roman altar.
It had been modified at one point so that it now has a socket for a cross. And guess what, in the porch there are two pieces of a medieval cross shaft. I wonder if they go together!
Back outside the church, you're greeted by great views over the open countryside. It really is a stunning location. No wonder people come from around the world to take in the peace and tranquillity.
Views from St. Oswald's Church at Heavenfield © essentially-england.com

St. Oswald's Church is a very popular pilgrimage site. An annual pilgrimage from Hexham Abbey takes place on the first Saturday in August to commemorate St. Oswald's Day. The church at Heavenfield is also the start/finish point of the St. Oswald's long-distance path, which winds all the way north to Lindisfarne.
Talking of long-distance paths, Heavenfield is also on the Hadrians Wall Path.
St. Oswald's Church in Springtime © essentially-england.com
For those of us who love a good detective novel, Heavenfield was used as the crime scene in one of my favourite mystery series. Being a bit slow on the uptake, it only clicked when I started to research keywords for this page. The book even has the same name, Heavenfield, and is the third book in the DCI Ryan series by LJ Ross. After our lovely Northumberland weekend away, I think I'm going to have to re-read the series!

Are You Planning to Visit Northumberland?

Where You Could Stay

There's a reason Northumberland is one of my favourite English counties. Its landscape is utterly gorgeous with long beaches and empty sweeps of hills that just beg to be walked. In between you can find small towns and pretty villages, conntected by lanes that are great on the bike as long as you have the legs for climbing. And there are holiday cottages to suit all tastes and budgets.

To see other holiday cottages in Northumberland click here. Or check out holiday cottages in other parts of England by clicking here.
However, if you prefer to stay in a hotel, then here is a small selection to consider.
Many years ago, on our first visit to Northumberland we did use the campsite attached to Clennell Hall Hotel. The location is fantastic, and the camp site lovely and clean. The hotel bar was very welcoming!
You can view all hotels in Northumberland by using this link.
What You Could See and Do

Even if you stayed a month, you'd find that you don't have enough time to explore the county top to bottom and see everything it has to offer. There's plenty of history from Hadrian's Wall near Hexham to Lindisfarne in the north with reams of castles and ruins in between. There are beaches and seaside towns like Craster, Alnmouth and Seahouses - and some of the best fish & chips in all of England. There are market towns like Haltwhistle, Rothbury, Bellingham, Berwick, Warkworth and Harbottle to explore. And there are hillsides to climb and the great outdoors to enjoy.
Are you feeling in need of a holiday yet? Here are a few more pages that might give you ideas...

And if you want to explore more of Northumberland and its martial history, check out this Northumberland Castle Tour.
For more Northumberland ideas return from Heavenfield and St. Oswald's Church to the Northumberland page.