Alnwick Castle

Home of the Mighty Percys
All those who loved "Harry Potter and the Philosopher's Stone", "Downton Abbey", "Braveheart", "Elizabeth", "Robin Hood Prince of Thieves", "Becket", "The Spaceman and King Arthur" or "Mary Queen of Scots" will immediately recognize Alnwick Castle.
It's been the location for these movies and many other movies. But Alnwick Castle is much more than just a movie location
It's a home for the Percy family, who have been Earls of Northumberland for hundreds of years
It's a place where history is carefully preserved and proudly displayed
It's a major business employing over 1000 people
And it's one of only a few places in England where children can attend a Knight's School, or have broomstick flying lessons!
The name Alnwick hints at Saxon or Viking origins for the town, making it older than than the castle, which has guarded a crossing over the River Aln ever since Gilbert Tyson (de Tesson), the standard bearer to William the Conqueror, built a wood and earth fortification in the eleventh century.
When Tyson joined an ill-fated rebellion in 1093, the property passed to Yvo de Vescy and he began the construction of a stone castle. His daughter married Eustace Fitzjohn. And when he completed the construction in 1137 the castle looked much like it does today.
Alnwick Castle © essentially-england.com
12th and 13th century Northumberland was an unquiet place, with near constant wars between the English and the Scots. Alnwick Castle also faced its share of attacks and sieges - the most famous perhaps being the attacks by the Scottish king William the Lion in 1172 and the one by William (Braveheart) Wallace in 1297.
Alnwick remained in the de Vescy family until 1309, when Henry de Percy purchased both the castle and estate. He immediately began a major rebuilding program to improve the castle's fortifications. He also appears to have had an eye for business, because on his death the Percys had become one of the most powerful and influential families in Medieval England.
Alnwick Castle Gatehouse © essentially-england.com
And where Henry de Percy brought the family influence and wealth, his great great grandson Harry Hotspur added fame. Hotspur, who was immortalised by Shakespeare, was a gallant, courageous soldier. He won his nickname at the siege of Berwick and cemented it at the Battle of Otterburn.
Harry Hotspur Statue © essentially-england.com
But as his nickname also implies, Hotspur was not the most thoughtful of men, and after helping Henry Bolingbroke to the English throne, he soon fell out with the man who was now King of England and met his death at the Battle of Shrewsbury, still as courageous as he'd always been.
Hotspur was not the only Earl of Northumberland to die a violent death. One of his descendants fell leading the vanguard at the Battle of Towton in the Wars of the Roses, another was beheaded for this Roman Catholic beliefs. But through all these events, the Percy family held on to Alnwick Castle and remains its proud owner to this day.
Today, Alnwick Castle is the second largest occupied castle in England, after Windsor Castle. It's open to visitors and there's usually much going on. And while you're at the castle make sure you visit the Alnwick Gardens too. There are over 12 acres to explore and it makes an excellent day out. You can admire the water sculpture, the Poison Garden, and the world's largest tree house made of wood.
There are restaurants close by if you tire and want a bit of lunch after winding your way through the Bamboo Labyrinth. And don't even try to count the over 16,500 plants in the ornamental garden!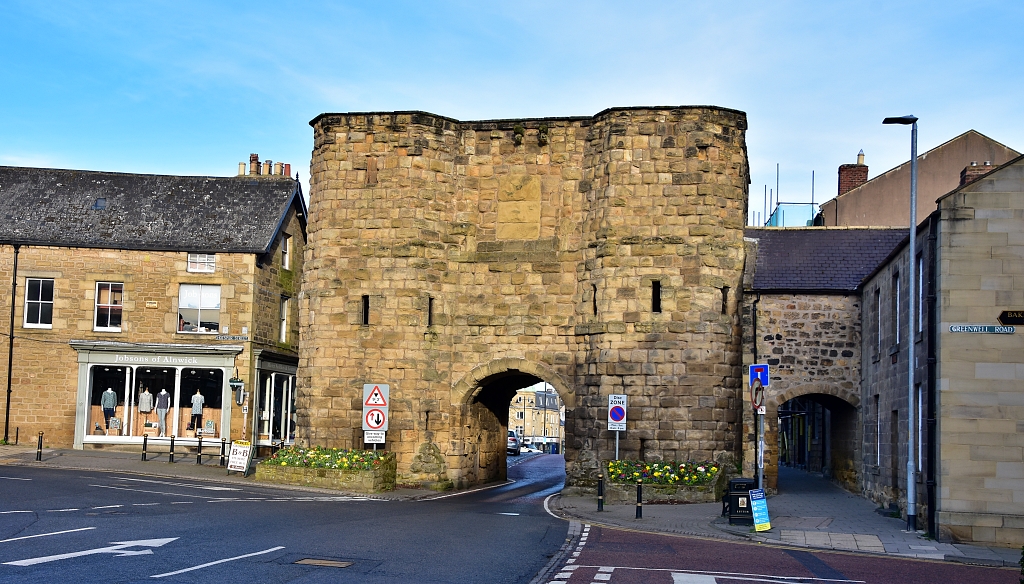 Bondgate in Alnwick © essentially-england.com
Don't forget to spend at least the night in Alnwick. It's a friendly, welcoming town (like most places I've visited in Northumberland!), with cobbled streets and narrow alleys. Many of the stone buildings in the centre remain intact and are home to speciality shops and small businesses. If you're a book lover, you can visit the one of the largest second hand bookstores in England.
You'll be spoilt for choice when deciding where to stay or where to eat. Alnwick offers an array of hotels, Bed and Breakfasts, self-catering and camping facilities. If you like your food local, there's a farmers market the last Friday of every month. And on the entertainment side of things, Alnwick hosts a multitude of events throughout the year ranging from the International Music Festival to the Alnwick Fair.
So there's really no reason not to check out Alnwick Castle and the delights of Northumberland!
Are You Planning to Visit Northumberland?

Where You Could Stay

There's a reason Northumberland is one of my favourite English counties. Its landscape is utterly gorgeous with long beaches and empty sweeps of hills that just beg to be walked. In between you can find small towns and pretty villages, conntected by lanes that are great on the bike as long as you have the legs for climbing. And there are holiday cottages to suit all tastes and budgets.

To see other holiday cottages in Northumberland click here. Or check out holiday cottages in other parts of England by clicking here.
Or, if you fancy staying in a hotel here are some nice examples...

Please click here if you would like to review more Northumberland hotels.
What You Could See and Do

Even if you stayed a month, you'd find that you don't have enough time to explore the county top to bottom and see everything it has to offer. There's plenty of history from Hadrian's Wall near Hexham to Lindisfarne in the north with reams of castles and ruins in between. There are beaches and seaside towns like Craster, Alnmouth and Seahouses - and some of the best fish & chips in all of England. There are market towns like Haltwhistle, Rothbury, Bellingham, Berwick, Warkworth and Harbottle to explore. And there are hillsides to climb and the great outdoors to enjoy.
Are you feeling in need of a holiday yet? Here are a few more pages that might give you ideas...

And if you want to explore more of Northumberland and its martial history, check out this Northumberland Castle Tour.
For more holiday ideas return to the Northumberland page.