Essentially England
For England Lovers Everywhere
What is in your mind if you hear someone speak of England?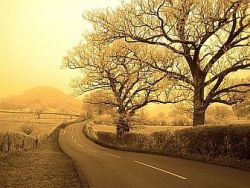 A mist-shrouded island?
Ancient stone circles?
Roman villas or proud castles?
Quaint villages of mellow stone?
A cricket match on a village green?
A lavish afternoon tea?
Or do you see a bright, vibrant metropolis with busy streets, shops, restaurants, clubs, galleries and theatres?
Whichever it is, you'd be right.
The British Isles - of which England is the largest part - boast stunning landscapes, more than 5000 years of history, top hotels and restaurants, a thriving art scene and modern, buzzing cities. But this country also has a quirky, unexpected side. It has castles and ruins galore, unusual buildings, glorious parks and gardens, traditional festivals and events and truly wonderful regional food.
All these you'll find on the site along with:
English History
Over 6000 years of it. Whether you prefer the Tudors or prehistoric stone circles, whether you want to explore Norman castles or Saxon fortresses or to know when Richard the Lionheart was king - you've come to the right place. Explore different periods in history, or browse our long and eventful history a month at a time.
English Food
Take a new look at English food. Check out the wonderful, regional foods made here, look up old favourites in the extensive recipes section or eat your way around our food festivals.
Travel Tips
Everything you need to know to plan a successful business trip or holiday. Travel information from visas to weather, from finding cheap flights to means of getting around and suggestions where to stay, where to eat and drink and shop with reviews of old English pubs and traditional English restaurants.
What to Do and See
Ideas for the perfect holiday. Explore this island's counties - one at a time. Check out historical and picturesque sites and English gardens, find ideas for amazing days out or try one (or more) of our England tours.
Turn your visit into that one special memory by sharing my love for this country's quirky side. So go where your whimsy takes you and do things you've never attempted before:
Stay in a lighthouse or drive a steam train.
Follow the invading Romans across the country.
Solve an ancient murder.
Join a cheese rolling contest.
Walk in the footsteps of your favourite characters from books or films.
Eat your way around the country if your waistline can handle it.
Or just sit back, relax and soak up the atmosphere.
Come with an open mind and discover the unexpected.
We will be here to welcome you!
---
Like Essentially England?