Stay in an English Castle


Who wouldn't dream of an overnight stay in an English castle? I think most people would love the chance to pretend they're the King or Queen of England, ruling the land from their fortress of a castle.
Well, dreams do come true. In fact, if you like to treat yourself to your very own slice of history, you can stay in one of England's mightiest castles! Warwick Castle offers very special overnight accommodation in the 14th century Caesar's Tower.
Warwick Castle was founded by William the Conqueror in 1068. It was originally a wooden motte and bailey castle, but over the years was rebuilt in stone to become one of the greatest castles in England. Once the seat of the Earls of Warwick, it has a rich history and played an important role during the Wars of the Roses.

The castle is now owned by the Merlin Entertainments Group, who also manage several theme parks in England. At Warwick Castle, they've created an atmosphere that is family-orientated without detracting from the historical backdrop. When you visit Warwick Castle, you can look forward to a wide choice of medieval displays and experiences including archery, birds of prey, trebuchet, storytelling, and jousting.
Our last visit to Warwick Castle was in the early Autumn, and we found that if you wanted to see all the displays and spend your time marvelling at all the history, then you would need the best part of the day. And if you visit on one of the bigger days, such as a jousting day, then you'll need even longer.

Caesar's Tower
Caesar's Tower - the place that could be your home from home if you choose to stay in an English castle - was designed and built for military action on the orders of Thomas de Beauchamp. The tower has a dungeon, then three storeys designed in an unusual clover-leaf shape with a crenulated platform, and another storey that was a guardhouse. In total, the tower rises 45 metres above the River Avon.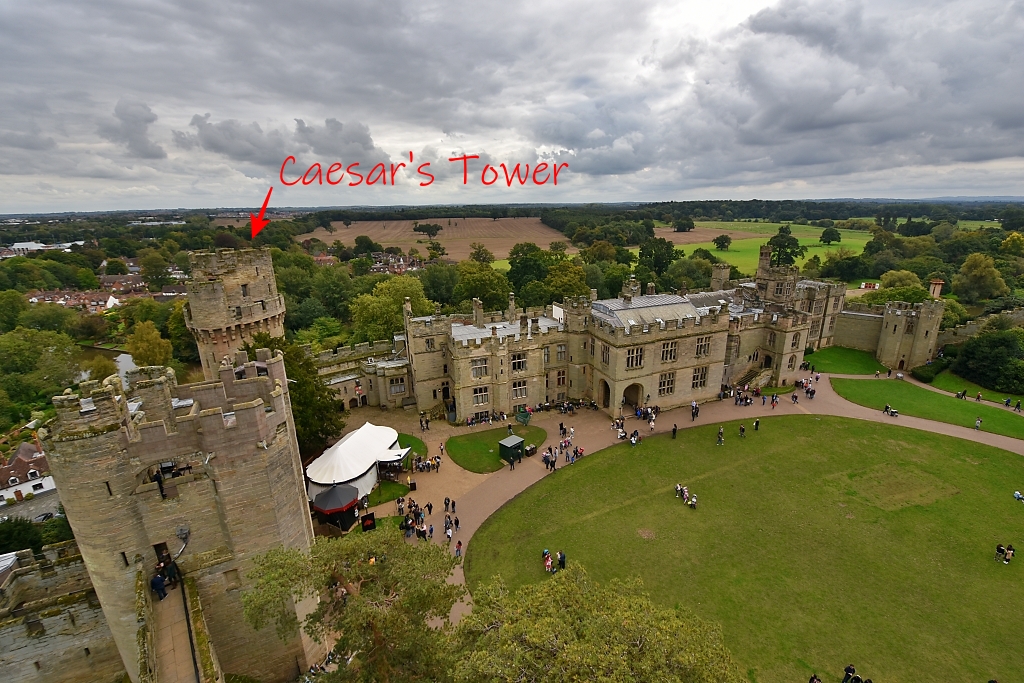 View Over Warwick Castle Showing Caesar's Tower
© essentially-england.com
The Gatehouse and Caesar's Tower at Warwick Castle
© essentially-england.com

Stay in an English Castle - The Rooms
You will agree that staying in an English castle is a very special experience! Warwick Castle offers just two luxurious medieval themed rooms for budding lords and ladies. The Peacock Suite sleeps two people and would make a great romantic hideaway, while The Rose Suite has a two pull out beds in case you want to bring the kids along. As you can see, the rooms do look lovely, and I'm sure not many people get to sleep in the tower of an English castle nowadays!
The two private suites are on different floors of Caesar's Tower, and both have the original high vaulted ceilings, stunning four-poster double beds, and tapestries hanging from the walls. You really will feel like a medieval King and Queen!
But you're not just getting an exquisite room for the night, look at what else is included…
Two-day Warwick Castle entry tickets.
Concierge service and chilled champagne on arrival.
A delicious, Full English breakfast served in one of the stunning staterooms.
A private tour of the castle with an expert historian outside of general opening hours.
Enjoy afternoon tea in The Conservatory Tea House whilst taking the views of the Peacock garden and fountain.
A privilege card that offers you 20% discount at the food outlets during your visit to the castle.
Priority parking and free WiFi.
It sounds magical, right? And it would make a great gift or surprise for any castle lover!
Wondering where to eat or what to do in the evening?
Why not try out the Knight's Village restaurant at the castle, which is a medieval-themed banquet hall? Or why not leave the castle and explore Warwick? It is a very beautiful town with lovely old buildings, pretty parks beside the River Avon, and a wide choice of eating establishments.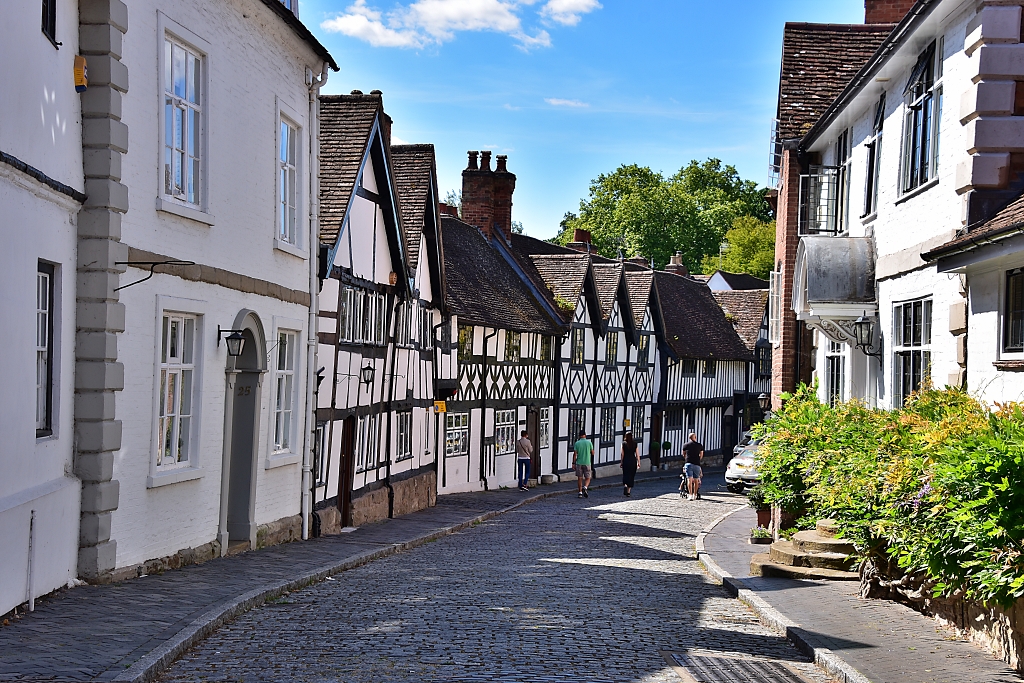 Mill Street in Warwick © essentially-england.com
The Lord Leycester Hospital in Warwick © essentially-england.com
We've enjoyed several days out at Warwick Castle and Warwick. It's a beautiful part of the world with lots of history. Some other attractions in Warwick include The Lord Leycester medieval hospital, St Mary's Church, The Market Hall Museum, haunted Guy's Cliffe House, the Catholic Church St. Mary where J.R.R Tolkien got married to Edith Bratt, and West Gate.
And if you want to make it a really exciting short break, around 10 miles away are Stratford-upon-Avon, the birthplace of William Shakespeare, and Coventry with its medieval streets, museums, and cathedrals. These would make excellent places to visit after exploring Warwick and its castle.
Please remember, the details described in this article were correct at the time of publication.

For more holiday accomadation ideas return from our stay in an English castle page to our home page.