Medieval Glamping at Warwick Castle

Exploring one of England's greatest castles is one thing, but how about making the day even more amazing by trying to live like a medieval knight and staying overnight within the castle estate? At Warwick Castle, you can do both. During the summer months, the Castle offers medieval glamping at Warwick Castle in its Knight's Village, which sits just a few minutes' walk from the castle.
Which child, young or old, wouldn't love to sleep under the stars in a medieval tent after discovering Warwick Castle's history?
What you can do at Warwick Castle

William the Conqueror built the first castle at Warwick in 1086. Originally a wooden motte and bailey castle, it grew into a strong stone-walled fortress in the twelfth century. The early motte still exists and can be climbed to get excellent views of the stone castle and surrounding landscape.
The castle was the ancestral home of the Earls of Warwick and - as with any building that's been used for centuries - has seen kings and queens, wars and weddings, harvests and famine. Even now, Warwick Castle puts on a great show, offering some of the best exhibitions and medieval performances we've seen. The curious can find many little nooks and crannies to explore, while the adventurous can explore the narrow and steep tower staircases while wondering how fully-armoured and armed fighting knights negotiated these in the height of battle!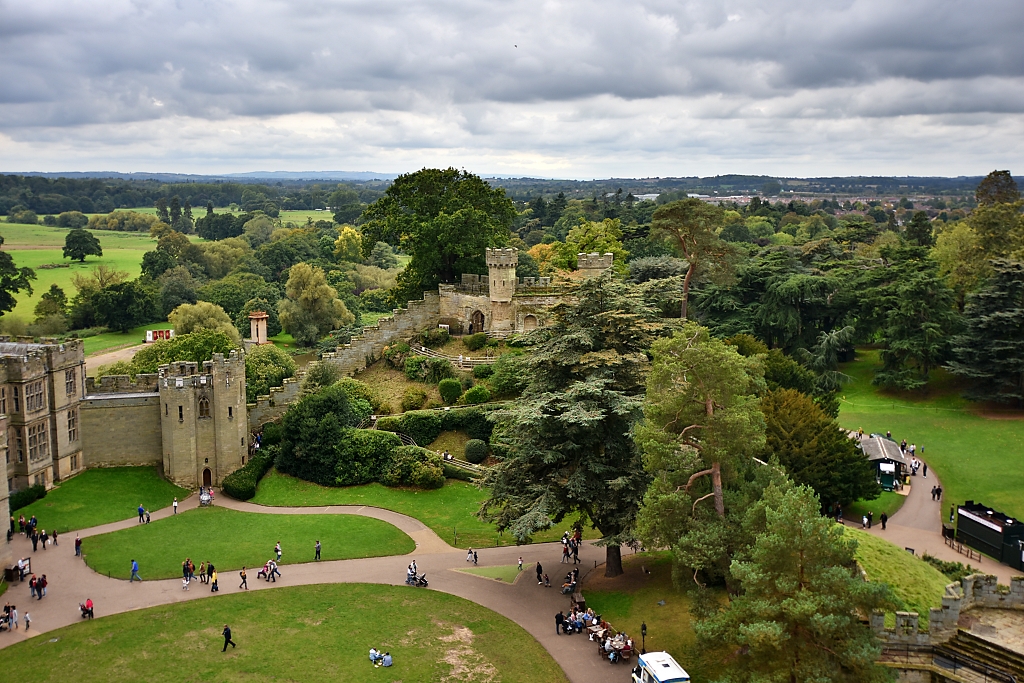 The View Towards The Motte at Warwick Castle
© essentially-england.com
Warwick Castle As Seen From The Motte
© essentially-england.com
The dungeon experience isn't covered by the standard admission ticket, but we thought it worth adding on. It's a shiver-inducing journey through Warwick Castle's history as a medieval prison, and the performers really make their stories come to life.
As you move through the dungeon, you pass through a series of different medieval scenes: a doctor explaining medical practices, a court case, an unnerving maze, and a storyteller telling haunted stories. This is the one I remember the most as the storyteller kept changing positions in the room whenever the lights went out, and at the next flash of lightening, she would be standing right in front of someone. The woman sitting next to me kept screaming and grabbing my leg. I've no idea who she was!
Action From The Birds of Prey Display at Warwick Castle
© essentially-england.com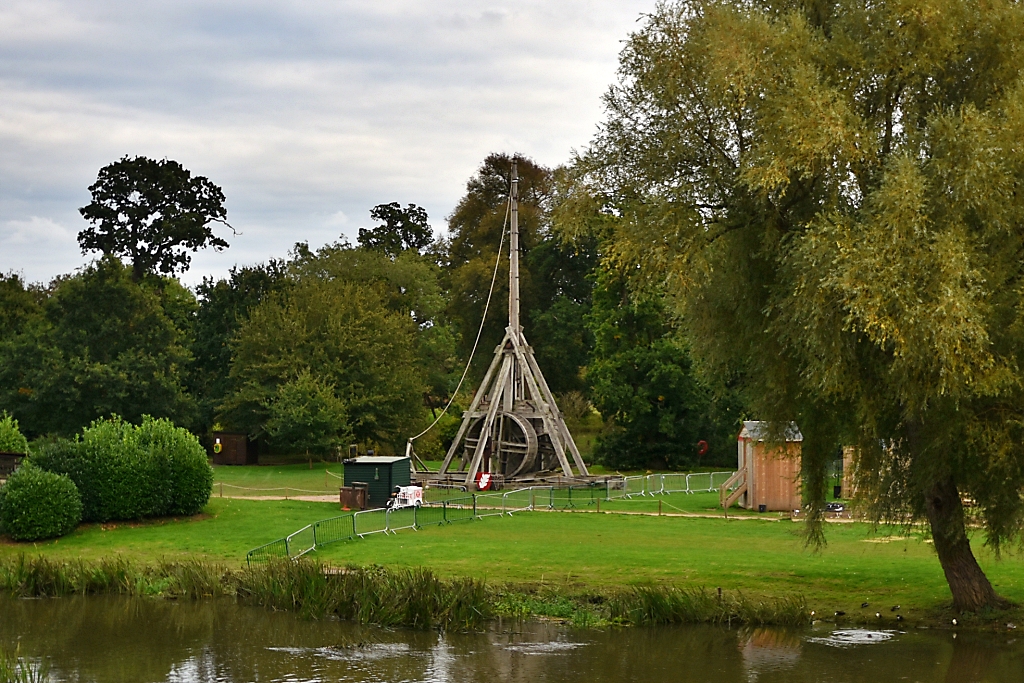 The Impressive Trebuchet Was An Excellent Demonstration
© essentially-england.com

Medieval Glamping at Warwick Castle - The Tents

Nestled in peaceful woodland, the Knight's Village offers a choice of two types of glamping tent, the Warwick, and King's tents. Both sleep up to 4 people, have wooden floors and medieval themed decoration, but the King's Luxury Tents are slightly larger and have a regal four-poster bed and two thrones for a true royal adventure. Surely this will put a smile on any young knight's face!

In the evening, you can enjoy dinner in the Knight's Village Restaurant, a fully themed medieval banquet hall that is open exclusively for overnight guests, or you could wander out of the village and explore Warwick and its many eateries. Do this, though, and there is a good chance you may miss the evening entertainment with real Warwick Castle Knights!
When the weather is dry, why not join the resident Warwick Castle Knights in the events arena for Knight School, Jester School, archery, and storytelling? Better than an evening watching TV and great fun for everyone!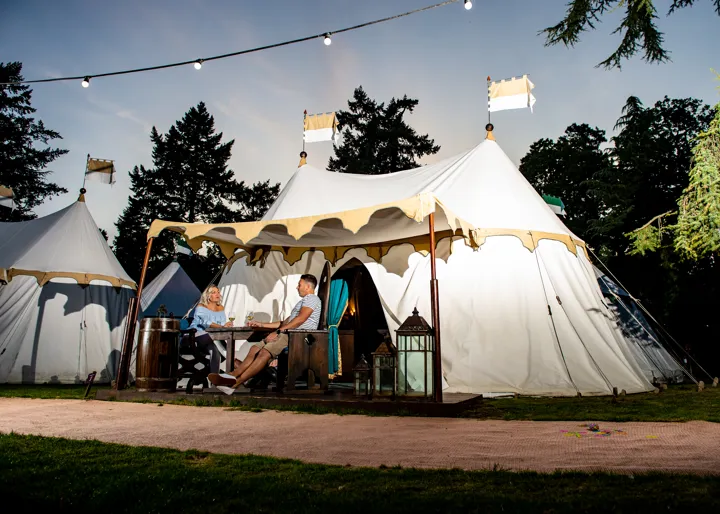 What's included in your glamping package?

One-day Warwick Castle entry ticket with the option to buy discounted second-day entry tickets.
An exciting overnight stay in either a Warwick or King's glamping tent.
Morning breakfast in the Knight's Village Restaurant.
Medieval themed evening entertainment.
Car parking and unlimited free WiFi.

Knight's Village Lodges
If glamping is not your thing, but you would like to experience an exciting stopover in the Knight's Village to complete your visit, then how about staying in one of the comfortable wooden lodges? These are available all year round, fully heated and tastefully decorated with a medieval theme. They come in two sizes that can sleep up to 5 or 7 people.
Finally - for the ultimate castle experience, or that very special date in your calendar - you could even stay in the castle itself! The owners of Warwick Castle have turned one of the castle's towers into two luxurious suites. So how about spending your wedding night or that significant birthday in one of the Caesar's Tower Suites? It will certainly be a unique experience!
For more holiday accomadation ideas return from our medieval glamping at Warwick Castle page to the England Holidays page.