Traditional Apple Recipes
Devonshire Apple Scones
Nobody really calls the county Devonshire these days, which leads me to think that apple scones have been around for a very long time already. Not surprising, given they're very tasty and make an excellent addition to any traditional afternoon tea.
Devon grows some of the best apples in England - and makes some very tasty cider - so I've no problem believing that apple scones have graced Devonian tea tables for generations.
I read that they should be served split in half, with butter. To my mind, that also agrees with the recipe coming from Devon. That county is justly famous for its rich butter and cream. But I like the scones just as they are with a nice cup of Earl Grey tea. The bergamot flavour of the tea compliments the apple and cinnamon taste of the scones to perfection.
Devonshire Apple Scones cooling on a rack
© essentially-england.com
The scones have the look of rock cakes, but once you break one open you'll find that the apples keep them wonderfully moist, while the cinnamon adds spice and a lovely heady scent. Truly... if you love apples and cinnamon as much as I do, then you really have to try these.
The scones take only minutes to mix and about 25 minutes to bake. You can use white or wholemeal flour and either cooking or dessert apples. I don't even peel the apples unless they're damaged.
So there's really no excuse to have mass-produced biccies with your cuppa, is there?
Ingredients
I tend to get about 8-10 scones out of this mixture, but it obviously depends on how large you shape them. If you're feeling generous make 6 large ones, but remember to bake them a couple of minutes longer!
8oz / 200g self-raising flour (wholemeal or white)
1 teaspoon baking powder
1 teaspoon ground cinnamon (or a bit more if you like it!)
4oz / 100g unsalted butter
2oz / 50g brown sugar
1 egg
2 medium apples (Bramley's or any dessert apple you fancy)
How to Make Apple Scones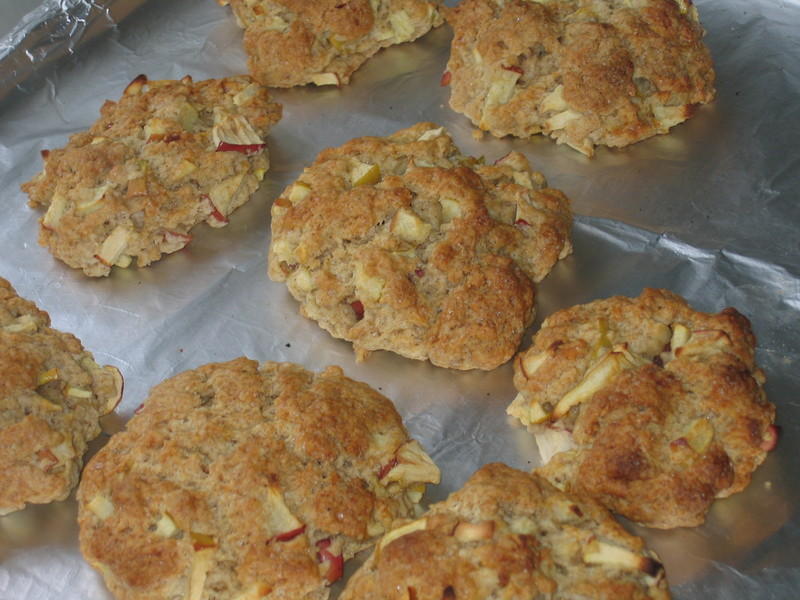 Devonshire Apple Scones
© essentially-england.com
Heat your oven to 190°C / 375°F / Gas mark 5.
Mix together flour, baking powder, sugar and cinnamon.
Rub in the butter until the mix resembles fine breadcrumbs. (If you're in a hurry, you can do this in your magimix or with a hand blender.
Core the apples. Peel them if you feel like it. Then cut them into small dice.
Stir the apples into the flour mix.
Beat the egg before adding it to the mix and mix in well. (Note: This mixture will look very dry and crumbly. Resist the urge to add milk even if you think it needs it. Mix a little longer - using your hands if you don't mind - and it will sort of come together. If you add milk the scones will run while baking.)
Shape 8-10 scones and place on a lined or non-stick baking tray. Keep a good gap between the scones, as they will spread a little.
Bake for about 20mins, then check and bake for another 5 minutes or so to get them nice and brown. Cool on the tray for a few minutes before turning out onto a rack.
And this is what they look like, straight out of the oven ...Now where did I put the Earl Grey?
For more traditional apple recipes, return from Devonshire Apple Scones to the recipes page.