Shropshire

A Land of Strife and Industry
Shropshire offers a raft of historical sites of all ages for visitors to explore, claims the food capital of England, has dramatic scenery for walking or cycling, and is one of the most rural and unpopulated parts of the country. This all sounds like Essentially England heaven!
It's a flat fertile land interrupted by a number of outstandingly beautiful hilly ridges like Long Mynd, the Stretton Hills, Stiperstones, the Wrekin, and Hawkstone. They cover about a quarter of the county and give lovely views across  a much coveted part of England.

It's a county of two parts, split by Britain's longest river, the River Severn. It's this river that created the Ironbridge Gorge, the birthplace of the Industrial Revolution. But Shropshire's history goes further back than that. Forming the border between England and Wales, this county has been a battleground for centuries as the many forts and castles dotting the landscape can attest.
There is Shrewsbury, the county town, where you can wander around medieval streets with names such as Grope Lane and Butchers Row, and admire the old wooden buildings, some so wonky you wonder how they stay standing. Ludlow is regarded as the food capital of England and blessed with a large number of high quality eating establishments and local food producers. Food is a big thing in and around Ludlow, as you can't fail to notice when you visit. And, of course, there's Much Wenlock, the birthplace of the modern Olympic Games. In between you find ruined castles, Roman remains, abbeys and manor houses and some exceptionally fine bridges.

And all of that is Shropshire.

Travel Tips

Although tucked away on the western side of England, the county has good travel links. One of the oldest, the Roman Watling Street passed through the county on its way from Dover and into Wales. Now there is the M54 motorway, and airports at Manchester, Birmingham, and East Midlands and a number of main line train stations from which you can join a local network to travel within the county.
And just as there are copious places to visit in Shropshire, there are equally many wonderful places to stay. Shropshire has some fabulous hotels. There are guest houses and bed & breakfasts if you're on a short break or just on the way through. And there are holiday cottages in Shropshire for parties from a cosy two to a raucous family party.

Shropshire History

This is a county where a bit of almost every historical period has survived. From mammoths to Roman cities, from Norman castles to the wonders of the Industrial Revolution its all here, over 10,000 years of history to be explored and discovered.

Prehistoric Shropshire

The Shropshire Mammoth is one of the most significant English natural history discoveries. The skeletons of an adult and three baby mammoths were found in a gravel quarry just outside Shrewsbury. Some 10,000 years ago they got stuck in a tar pit and at the Shropshire Hills Discovery Centre in Cravens Arms you can find out about their life and death in Ice Age England
In the hills to the south west of Shrewsbury, and near the border between England and Wales, you can explore stone circles and burial cairnes and also a manufacuring site for prehistoric axes. The best of these, and probably the easiest to get to, is Mitchell's Fold Stone Circle.

Roman Shropshire

It wasn't until AD47 that the Romans got this far west, almost four years after their successful invasion. Here they met and fought the local Cornovii tribe who lived around the Iron Age hill fort on the Wrekin. There is evidence of a number of Roman marching camp sites in the county, but the large city of Viroconium (Wroxeter) on the old Roman Watling Street is the main surviving Roman site in the county. This was the fourth largest walled Roman city after London, Cirencester and St. Albans, and at its peak was inhabited by almost 15,000 people. It is one of the most impressive Roman sites in England.
Now you can walk around the public baths, gymnasium, and streets as the Romans did many years ago.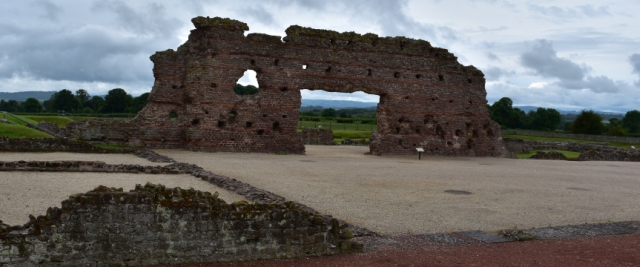 Wroxeter Roman City © essentially-england.com
Anglo-Saxon Shropshire

After the Romans left English life became tribal again and England soon split into kingdoms. Little remains of this time as most buildings were wooden and only few written records were kept. This area, however, comes up trumps with one of the most significant  and substantial Anglo Saxon monuments. Offa's Dyke, running the length of the English-Welsh border, was created in the 8th century by King Offa of Mercia. There is an Offa's Dyke visitors centre in Knighton and for the keen walkers an Offa's Dyke long distance trail of 182 miles that travels along its length.
Shropshire as a county dates back to around 920, just after the reign of Alfred the Great.  Named after, and centred around, Shrewsbury its aim was to increase the defence of English Mercia against the Vikings. Although the Vikings settled in here, nothing much remains to show they were there, perhaps only an odd Danish place name, Danesford.
For lovers of the legendary King Arthur, there are arguments that he was born in this area and there is a trail you can follow to see the "real" sites  of the stories about the sword in the stone, the Holy Grail, Camelot, and Lady Guinevere.
Norman Shropshire

Shrewsbury Abbey
© essentially-england.com
Shortly after the Norman Conquest in 1066, King William made Roger de Montgomerie Earl of Shrewsbury and requested that he control the locals' dislike of the new Norman rulers and to stop the Welsh from raiding.

The new Earl built his main castle in Shrewsbury and around another 70 castles througout the county, Clun and Ludlow amongst them, making it the most fortified shire in England.

But the building wasn't all about castles and defence, as during the Norman period a number of religious centres were also constructed. Wenlock Priory, Buildwas Abbey, Haughmond Abbey, Lilleshall Abbey, and Shrewsbury Abbey can all still be visited today.


Medieval, Tudor and Stuart Shropshire

The Normans may have imposed order with a violent fist, but the centuries after were filled with strife.
This close to the border, there was always the chance of Welsh raids, so castles were built stronger and many manor houses were fortified, like Acton Burnell Castle, owned by King Edward I's chancellor Robert Burnell.
The Wars of the Roses, the dissolution of the monasteries and abbeys, and the English Civil War all left their marks on the county. Many of the buildings were ruined or damaged beyond repair during these times and this is how we find them today. Moreton Corbet Castle is one such ruin, the remains of the grand Elizabethan hall looking out over the surrounding countryside.
Stokesay Castle Gatehouse © essentially-england.com
Fine and almost complete examples that  remain today include Shrewsbury Abbey, which is still in use, Shrewsbury Castle which houses the Regimental Museum, and Stokesay Castle maintained by English Heritage.

Georgian Shropshire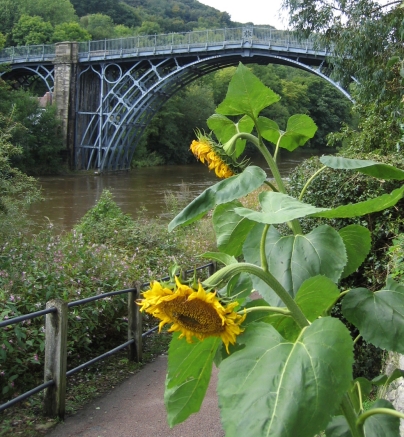 Iron Bridge
© essentially-england.com
The Georgian period was a time of significant advancement in science and industry. In the Ironbridge Gorge area, Abraham Darby revolutionised the process for casting iron, soon leading to the first iron bridge, the first cast iron cylinders for steam engines, the first iron rails for wagon transport, and also the first iron boat. Soon, when Thomas Telford was surveyor for Shropshire, iron bridges spread across the county. One of them, Cantlop Bridge, was on our to-visit list.

However, Ironbridge Gorge is not all just about iron, as ceramics, pottery, and clay pipe making were all part of the industrious activity in the area. Broseley, on the opposite side of the Ironbridge Gorge, was a centre of clay pipe making. Some of the old town's infrastructure - the Broseley Jitties - are still there to be explored. In fact, the whole area has a number of great museums that tell the story of the rise and fall of this productive area, how people lived, their homes, and there is a wonderful living history museum.

And in case you were wondering what the local well-to-do were spending their money on you could visit Attingham Park estate. This National Trust property tells a wonderful story of how the Hill family built and furnished an amazing house, bankrupted themselves in doing so, and the love and hate relationship further generations had with their ownership. It's a really captivating story and the house and grounds are beautiful.

Modern Shropshire

The shire's reputation as a centre of industry and innovation continued throughout the Regency and the reign of Queen Victoria. Canals were built and railways traversed the county to transport materials and people, Snailbeach Mine became Europe's biggest producer of lead, and many of the local businesses contributed works to The Great Exhibition of the Works of Industry of all Nations, held in the newly built Crystal Palace in London's Hyde Park in 1851. 
When the Industrial Revolution ran out of steam, so did Shropshire, which turned into the county we know now. It's no longer a place where skies glow red from working furnaces. It's not a place shrouded in smoke and covered in dust. Instead, it's a vibrant green where the main activities are farming and agriculture, a place to stop for a delicious leisured lunch or an equally declicous tea. It's a county full of ruins and half-forgotten treasures to explore. 
Ruins and treasures that remind us that Shropshire is truly a land of strife and industry.

Shropshire on Essentially England

Our Ideas for Fabulous Days Out
For more great ideas on things to do in Shropshire click here.

To explore other English counties, or England's history and food, please click here to return to the home page.