Gloucestershire

Between Fashion and Opportunity
For fifteen years, the county of Gloucestershire has been our home. We lived alongside the baby River Thames, right at the edge of the county's most famous attraction: the Cotswolds. Gloucestershire does picturesque like few others in England, and sometimes it feels as if it's been photographed to death. And then you turn a corner and see a view ... and you apologise.
Because it really has more to offer than just rolling hills and quaint Cotswolds villages. A share of the flat, fertile valley of the River Severn and the entire Forest of Dean are part of the county, too. And it has a very different flavour from neighbouring Wiltshire.
While Wiltshire feels undeniably ancient, from its stone circles to its calm and laid back attitude, Gloucestershire has more fashionable and mercantile streaks running through its history.
From centrally heated, mosaic-floored Roman villas to the Regency splendour of Cheltenham, from the antique shops of Moreton-in-the-Marsh to the wool-derived wealth of Cirencester or Stow - the inhabitants of the county appear to have a head for commerce.
It was this eye for trade opportunities that turned Lechlade - the highest navigable point on the River Thames - into a thriving inland port, that spun wool into wealth, that saw iron and coal mined in the Forest of Dean and that converted the Vale of Evesham into a fruit and vegetable garden.
And it is that same business sense and the county's location at the crossroads of trade that make the county so welcoming to visitors. There's plenty of scope to explore, there's excellent shopping, there are welcoming hotels and there's truly wonderful food. So please, come and explore ...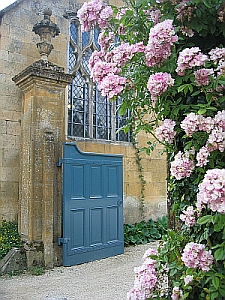 Hidcote Manor Garden Entrance
© essentially-england.com
Travel Tips
This county is a dream for visitors, both for day trips and longer stays. Transport links in and out of the area are excellent and accommodation is plentiful. The country has plenty of tea rooms, cafes, pubs, restaurants and bars, while you can stay in Bed & Breakfasts, Guest houses, holiday cottages, and hotels throughout the Cotswolds and the rest of the county. Or you might follow one of our driving tours...
Gloucestershire History
Compared to the ancient splendours of Wiltshire, prehistoric finds here are on a much smaller scale. But this county is by no means a historical desert ... as long as you don't mind starting a little later!
Roman Gloucestershire
The Romans showed a marked preference for this part of England. Corinium, known today as Cirencester, was a prosperous Roman town that even boasted an amphitheatre, while Gloucester was the base of the 20th Legion. Between both towns, the remains of more than a dozen Roman villas have been found ... some, like Chedworth with surviving mosaics. Start your exploration of our Roman past in Cirencester's Corinium Museum.
Anglo-Saxon Gloucestershire
If you look carefully, you can still find evidence of the Saxons. Cirencester Museum has pieces from the 5th century Saxon cemetery that was excavated in Lechlade and across the county several churches - like the ones at Duntisbourne Rowse or Malmesbury - show Saxon foundations.
Norman Gloucestershire
Most of the county belonged to King Harold's earldom of Wessex and passed to the Normans when he lost his life at the Battle of Hastings. And some wonderful Norman artwork has survived the ravages of time and politics. Malmesbury Abbey may be a ruin, but its beautiful Norman porch still stands. And Robert Curthose, the eldest son of William the Conqueror and one of the monarchs that England never had, is buried in Gloucester Cathedral.
Medieval Gloucestershire
I'm unrepentant about my love for early history and this county has plenty to offer if you care to look:
Berkeley Castle, built from 1153 on the orders of King Henry II, still belongs to the same family who held it then and was the scene of a royal murder mystery;
Sudeley Castle, where Kathrine Parr, King Henry VIII's last wife is buried;
and Tewkesbury, which saw one of the bloodiest battles of the Wars of the Roses.
Georgian Gloucestershire
Cheltenham is justly famous for its Georgian architecture. Along with the city of Bath it was one of the country's most fashionable resorts. But it was also during this period that new industries came to the region to supplement farming and wool production. Silk weaving was introduced in the Stroud valley and brick, tiles and pottery were produced along with pins, buttons, lace, stockings, rope and sailcloth.
Modern Gloucestershire
The county is still largely rural, and tourism has come to play a large part in its economy. But it's also becoming well known for producing exceptionally good food, from cheese to sausages and bacon to the most wonderful vegetables.
Gloucestershire Towns
This is a busy county with many small and large market towns. As I wander my way round them, from Gloucester and Cheltenham in the north-west to Lechlade in the south-east, they'll all appear here.
Gloucestershire Attractions
There's so much you can see and do here that it's difficult to know where to start.
History lovers can find much to marvel at in the county's Roman villas, medieval castles, grand churches and listed properties.
If you like walking or cycling, the rolling hills and narrow lanes provide plenty of scope and friendly pubs offer a warm welcome, while shopaholics can browse to their hearts' content in the many antique shops of Lechlade, Stow-on-the-Wold or Moreton-in-the-Marsh, or take in Cheltenham's classy fashion stores.
Food lovers are in luck, too. And if you want something really different you could try cheese rolling or polo. And if all of this is too strenuous for you, why not just stroll through the old picturesque towns and villages and stop off for a proper afternoon tea.
And if you fancy some sporting fun and are around in early summer there is always the Cotswold Olimpicks!

Cotswold Scene © essentially-england.com
Discover other England counties!
Return from Gloucestershire to the Essentially England home page.